"The harm that comes to souls from the lack of reading holy books makes me shudder . . . What power spiritual reading has to lead to a change of course, and to make even worldly people enter into the way of perfection." St. Padre Pio
Today's

Meditation

"I was sure that it was better for me to give myself up to your love than to give in to my own desires. However, although the one way appealed to me and was gaining mastery, the other still afforded me pleasure and kept me victim. I had no answer to give to you when you said to me, 'Rise, you who sleep, and arise from the dead, and Christ will enlighten you.' When on all sides you showed me that your words were true, and I was overcome by your truth, I had no answer whatsoever to make, but only those slow and drowsy words, 'Right away. Yes, right away.' 'Let me be for a little while.' But 'Right away—right away' was never right now, and 'Let me be for a little while' stretched out for a long time."
—St. Augustine, p. 152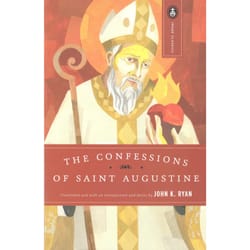 Daily

Verse
"I have also created the ravager to destroy; no weapon that is fashioned against you shall prosper, and you shall confute every tongue that rises against you in judgment. This is the heritage of the servants of the Lord and their vindication from me, says the Lord." Isaiah 54:17
St. Monica
Saint of the Day
St. Monica (322-387 A.D.) was raised in a Christian home in Tagaste, North Africa. Early in life she struggled with alcoholism, sneaking draughts of wine from the family cellar, before being caught and overcoming the habit. She was later given in marriage to an ill-tempered and adulterous pagan Roman official. She suffered greatly on account of her husband, and that of her unkind mother-in-law with whom she lived, and she fervently prayed for their conversion over the course of many years. Her patience and kindness became a source of encouragement to other unhappy housewives with whom she came in contact. Monica gave birth to three children, and she was grieved that her husband would not allow them to be baptized. Her eldest son, Augustine, was a wayward child and caused her the most pain, and she prayed fervently for decades for him to become a Christian. Through her persistence in prayer and good example, her husband was converted shortly before his death. When Augustine became entrenched in heretical sects and moved to Milan, St. Monica followed him. Monica befriended the Bishop of Milan, St. Ambrose, who consoled her by saying, "The child of those tears shall never perish." Augustine was eventually brought into the Church by St. Ambrose. Everything we know of St. Monica's heroic virtue is from the writings of her son, who became the great St. Augustine of Hippo, one of the most influential saints in Church history. St. Monica is patron of housewives, difficult marriages, alcoholism, mothers, widows, abuse victims, victims of adultery, and disappointing children. Her feast day is August 27th.
Find a Devotional for this Saint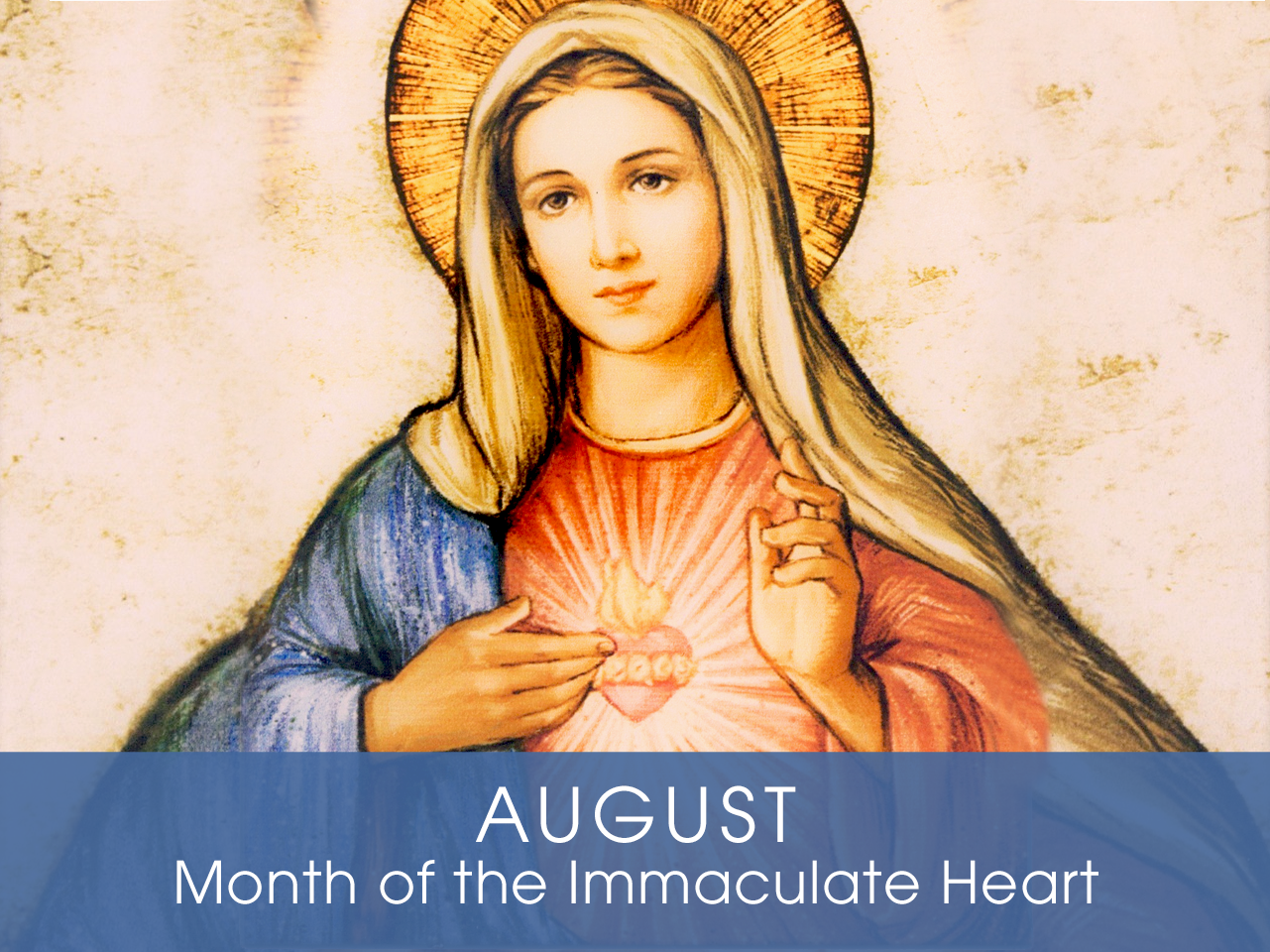 Month of the

Immaculate Heart of Mary
Devotion of the Month
The Church dedicates the month of August to the Immaculate Heart of Mary. It is a dogma of the Catholic faith that Mary is the Immaculate Conception; that is, in preparation for the Incarnation of the Second Person of the Holy Trinity in her womb, she was conceived without the corruption of sin through the foreseen and infinite merits of her Son, Jesus Christ. Over the centuries, as saints and theologians reflected on how Mary pondered and treasured the sacred events from the life of Christ in her holy heart, as attested in Scripture, her pure heart was recognized as something to be imitated. Devotion to Our Lady's purity of heart began to flower—so much so that in the 17th century, St. John Eudes promoted it alongside the Sacred Heart of Jesus. The devotion rose to a new level after the apparitions of Our Lady of Fatima, when Mary revealed an image of her Immaculate Heart to Lucia, Jacinta, and Francisco.
Find a Devotional or Sacramental
Daily Prayers
Prayer for the Dead
In your hands, O Lord, we humbly entrust our brothers and sisters.
In this life you embraced them with your tender love;
deliver them now from every evil and bid them eternal rest.
The old order has passed away: welcome them into paradise,
where there will be no sorrow, no weeping or pain,
but fullness of peace and joy with your Son and the Holy
Spirit forever and ever. Amen.
Prayer of Spiritual Communion
My Jesus, I believe that You are present in the most Blessed Sacrament. I love You above all things and I desire to receive You into my soul. Since I cannot now receive You sacramentally, come at least spiritually into my heart. I embrace You as if You were already there, and unite myself wholly to You. Never permit me to be separated from You. Amen.
Prayer for the Holy Father
Almighty and everlasting God, have mercy upon Thy servant, Pope Francis, our Supreme Pontiff, and direct him, according to Thy loving kindness, in the way of eternal salvation; that, of Thy gift, he may ever desire that which is pleasing unto Thee and may accomplish it with all his might. Through Christ Our Lord. Amen. Our Father. Hail Mary.