"It is requisite for the relaxation of the mind that we make use, from time to time, of playful deeds and jokes." St. Thomas Aquinas
Today's

Meditation

"He who is humble, even though he fall through frailty, soon repents with sorrow and implores the divine assistance to help him to amend; nor is he astonished at having fallen, because he knows that of himself he is only capable of evil and would do far worse if God did not protect him with His grace. After having sinned, it is good to humble oneself before God, and without losing courage, to remain in humility in order not to fall again . . . But to afflict ourselves without measure and to give way to a certain pusillanimous melancholy, which brings us to the verge of despair, is a temptation of pride, insinuated by the devil . . . However upright we may be, we must never be scandalized nor amazed at the conduct of evildoers, nor consider ourselves better than they, because we do not know what is ordained for them or for us in the supreme dispositions of God."
—Rev. Cajetan da Bergamo, p. 56-57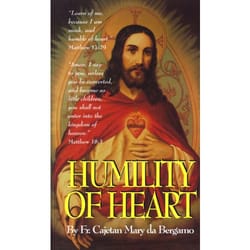 Daily

Verse
"And the king will say to them in reply, 'Amen, I say to you, whatever you did for one of these least brothers of mine, you did for me.'" Matthew 25:40
St. Giles
Saint of the Day
St. Giles (7th c.) was born to a wealthy and noble Greek family. He devoted his life to the things of God and grew in sanctity, but found that his material and spiritual riches drew unwanted praise and attention. To escape prestige, he sold all of his possessions, gave his wealth to the poor, and moved away to Gaul (present day France) to live in solitude in the wilderness as a cave-dwelling hermit. He lived in this way without companionship for many years while practicing severe penances. He became so impoverished that God sent a deer to be his companion and to nourish him with its milk. One day a royal hunting party in pursuit of the deer chased it into the saint's cave. A hunter shot an arrow into the cave, and instead of hitting the deer, he injured the saint. St. Giles was discovered and soon became known throughout the countryside as a holy hermit, the king himself often coming to visit him. St. Giles consented to receive disciples who desired to imitate his way of life. The king built a monastery for these followers, who lived as monks under the Rule of St. Benedict with St. Giles as abbot. St. Giles was known as a miracle worker during his life, and his monastery and the town that grew around it became a shrine and place of pilgrimage, especially for crippled beggars. St. Giles became one of the most popular saints in the Middle Ages, and is the patron of many causes including lepers, hermits, cripples, epileptics, cancer patients, the mentally ill, the disabled, and the poor. St. Giles' feast day is September 1st.
Find a Devotional for this Saint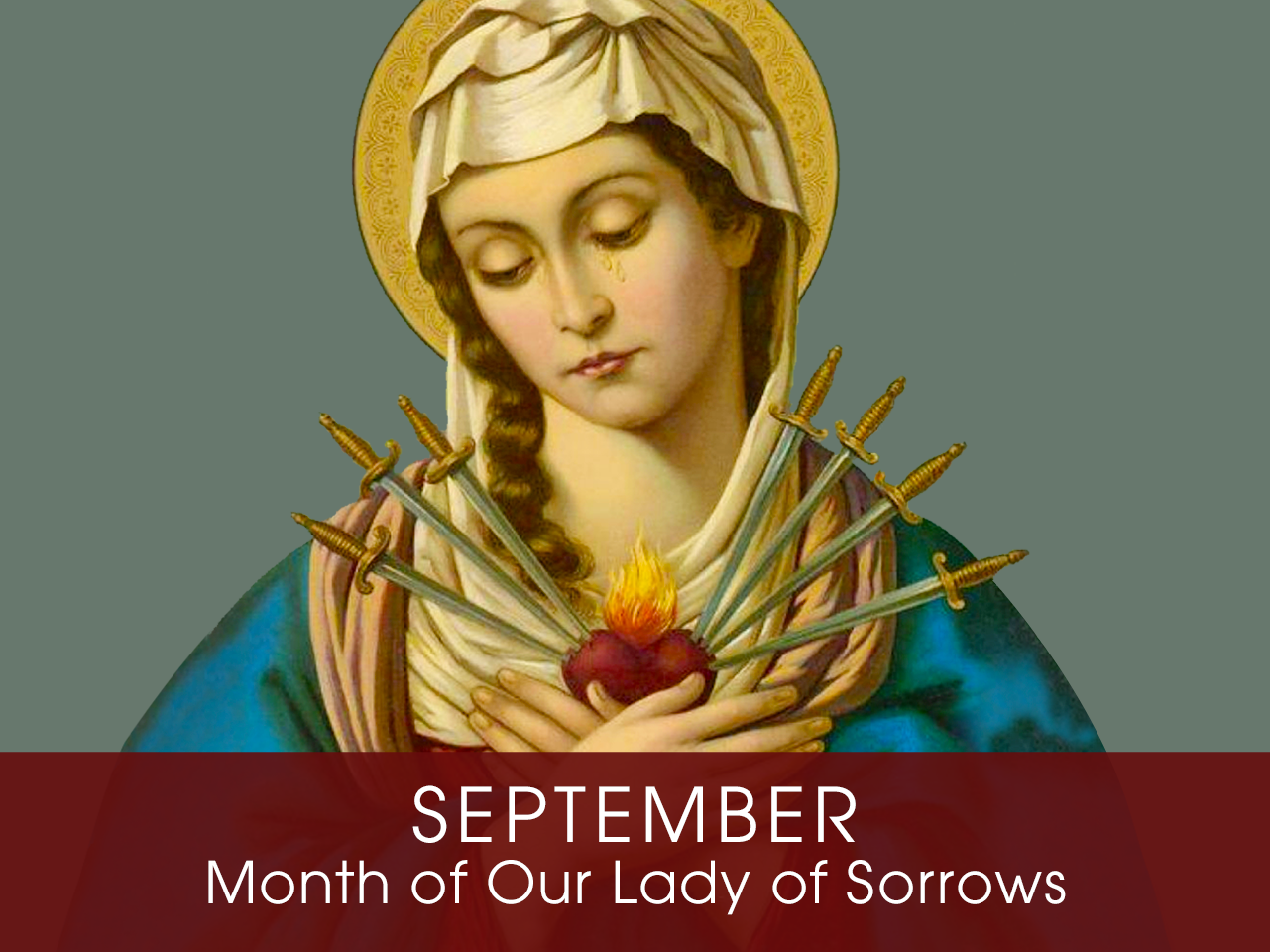 Month of the

Our Lady of Sorrows (Mater Dolorosa)
Devotion of the Month
The Church dedicates the month of September to Our Lady of Sorrows, also known as Mater Dolorosa (Mother of Sorrows). This devotion recalls the Blessed Virgin Mary's spiritual martyrdom in virtue of her perfect union with the Passion of Christ. This was her role in salvation history, and what merited her place as the spiritual Mother of all Christians. This is symbolized by a single sword, or seven swords, piercing Mary's suffering heart, as foretold in Simeon's prophecy. Traditionally the Church meditates on the "Seven Sorrows" of our Blessed Mother: the prophecy of Simeon; the Holy Family's flight into Egypt; the loss of the Child Jesus for three days; the meeting of Mary and Jesus as he carried his cross; Jesus' crucifixion and death; Jesus' sacred body taken down from the cross; and Jesus' burial. The feast of Our Lady of Sorrows (Mater Dolorosa) is September 15th.
Find a Devotional or Sacramental
Daily Prayers
Prayer for the Dead
In your hands, O Lord, we humbly entrust our brothers and sisters.
In this life you embraced them with your tender love;
deliver them now from every evil and bid them eternal rest.
The old order has passed away: welcome them into paradise,
where there will be no sorrow, no weeping or pain,
but fullness of peace and joy with your Son and the Holy
Spirit forever and ever. Amen.
Prayer of Spiritual Communion
My Jesus, I believe that You are present in the most Blessed Sacrament. I love You above all things and I desire to receive You into my soul. Since I cannot now receive You sacramentally, come at least spiritually into my heart. I embrace You as if You were already there, and unite myself wholly to You. Never permit me to be separated from You. Amen.
Prayer for the Holy Father
Almighty and everlasting God, have mercy upon Thy servant, Pope Francis, our Supreme Pontiff, and direct him, according to Thy loving kindness, in the way of eternal salvation; that, of Thy gift, he may ever desire that which is pleasing unto Thee and may accomplish it with all his might. Through Christ Our Lord. Amen. Our Father. Hail Mary.