"I am sent not only to love God but to make Him loved. It is not enough for me to love God, if my neighbor does not love Him." St. Vincent de Paul
Today's

Meditation

"In God there is no difference between His goodness and His power. God is infinite being itself, and we have to make distinguishing categories in our minds in order to understand Him. But God is solely one perfect, simple act of being, or perfection. So, there is no way God can misuse His power for evil because He is, by definition, good…We are fallen creatures, and because of this we need checks and balances to keep us from using our power to abuse others…The only being that can handle absolute power is that being Who is also absolute goodness by necessity, or God."
—Matt Fradd, p.63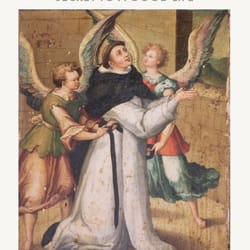 Daily

Verse
"Therefore, we are not discouraged; rather, although our outer self is wasting away, our inner self is being renewed day by day. For this momentary light affliction is producing for us an eternal weight of glory beyond all comparison, as we look not to what is seen but to what is unseen; for what is seen is transitory, but what is unseen is eternal." 2 Corinthians 4:16-18
St. Brocard
Saint of the Day
St. Brocard (d. 1231 A.D.) was a Frenchman who traveled to the Holy Land to enter into religious life there. He was among the first group of hermits to establish a community of monks on Mount Carmel. Details of his life are scarce, but it is believed that St. Brocard was the prior of the community after the death of St. Berthold, who is considered to be the founder of the Carmelites. Brocard, as the new leader of the community, desired to formalize the monks' way of life on Mt. Carmel. He requested that St. Albert, the Latin Patriarch of Jerusalem, write and establish a rule of life for the community, which he then imposed on the group as their discipline. The Rule of St. Albert established the Carmelites as a new religious order. St. Brocard was considered an expert on Islam and Eastern affairs and was to accompany St. Albert to the Fourth Lateran Council, were it not for St. Albert's murder before the Council convened. The Council suppressed the creation of new religious orders, which put the Carmelites in a tenuous position as they were not approved by the Holy See prior to this new decree. St. Brocard led the community through an uncertain period until they achieved special approval from the Holy Father. St. Brocard's feast day is September 2nd.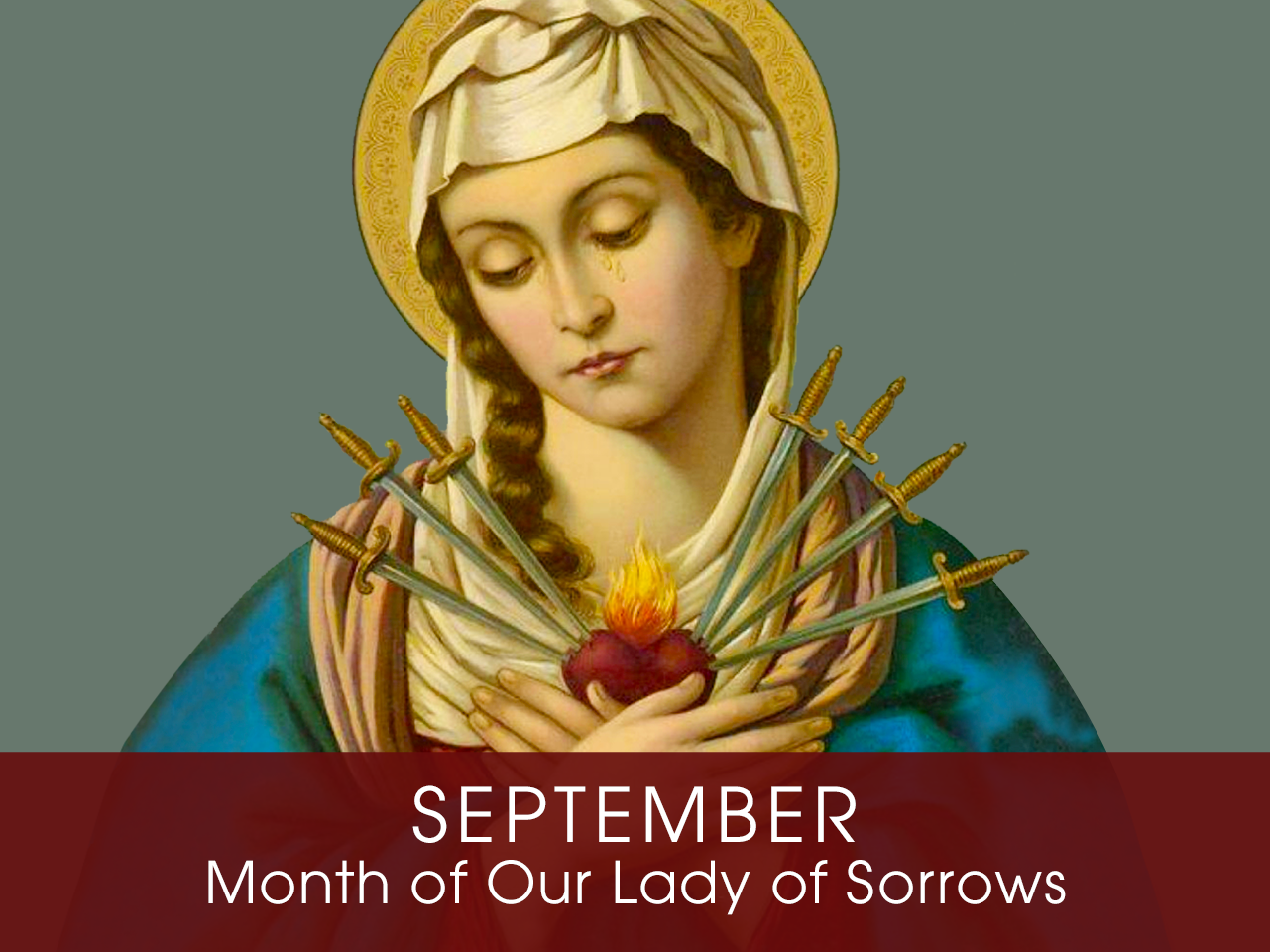 Month of the

Our Lady of Sorrows (Mater Dolorosa)
Devotion of the Month
The Church dedicates the month of September to Our Lady of Sorrows, also known as Mater Dolorosa (Mother of Sorrows). This devotion recalls the Blessed Virgin Mary's spiritual martyrdom in virtue of her perfect union with the Passion of Christ. This was her role in salvation history, and what merited her place as the spiritual Mother of all Christians. This is symbolized by a single sword, or seven swords, piercing Mary's suffering heart, as foretold in Simeon's prophecy. Traditionally the Church meditates on the "Seven Sorrows" of our Blessed Mother: the prophecy of Simeon; the Holy Family's flight into Egypt; the loss of the Child Jesus for three days; the meeting of Mary and Jesus as he carried his cross; Jesus' crucifixion and death; Jesus' sacred body taken down from the cross; and Jesus' burial. The feast of Our Lady of Sorrows (Mater Dolorosa) is September 15th.
Find a Devotional or Sacramental
Daily Prayers
Prayer for the Dead
In your hands, O Lord, we humbly entrust our brothers and sisters.
In this life you embraced them with your tender love;
deliver them now from every evil and bid them eternal rest.
The old order has passed away: welcome them into paradise,
where there will be no sorrow, no weeping or pain,
but fullness of peace and joy with your Son and the Holy
Spirit forever and ever. Amen.
Prayer of Spiritual Communion
My Jesus, I believe that You are present in the most Blessed Sacrament. I love You above all things and I desire to receive You into my soul. Since I cannot now receive You sacramentally, come at least spiritually into my heart. I embrace You as if You were already there, and unite myself wholly to You. Never permit me to be separated from You. Amen.
Prayer for the Holy Father
Almighty and everlasting God, have mercy upon Thy servant, Pope Francis, our Supreme Pontiff, and direct him, according to Thy loving kindness, in the way of eternal salvation; that, of Thy gift, he may ever desire that which is pleasing unto Thee and may accomplish it with all his might. Through Christ Our Lord. Amen. Our Father. Hail Mary.