"There are in truth three states of the converted: the beginning, the middle, and the perfection. In the beginning they experience the charms of sweetness; in the middle the contests of temptation; and in the end the fullness of perfection." Pope St. Gregory the Great
Today's

Meditation

"The first level of contrition is a contrition of fear. It's called, "imperfect contrition" or "attrition," because it's motivated by awareness of the ugliness of sin and by fear of eternal damnation. Prompted by the Holy Spirit, it begins a process of inner conversion that disposes us to grace and is completed by sacramental absolution…The second level of contrition, called "perfect contrition," [is] motivated not by a self-oriented fear, but by love for God and the awareness of how good He is. This is much more personal, leading to a deeper relationship with God and a growing desire to avoid anything that might offend Him."
– Vinny Flynn, p.118-119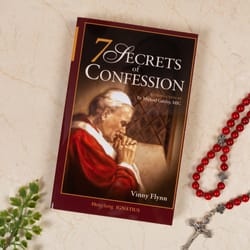 Daily

Verse
"For those he foreknew he also predestined to be conformed to the image of his Son, so that he might be the firstborn among many brothers. And those he predestined he also called; and those he called he also justified; and those he justified he also glorified. What then shall we say to this? If God is for us, who can be against us?" Romans 8:29-31
St. Gregory the Great
Saint of the Day
Pope St. Gregory the Great (540-604 A.D.) was the son of a wealthy Roman senator. His mother and two of his aunts are also saints, which provided him with a strong and devout religious upbringing. His skill in grammar and rhetoric were exceptional, and he followed in his father's political footsteps by serving in public office as the prefect of Rome. Discerning a call to the religious life, he sold all of his possessions and converted his home into a Benedictine monastery. He used his liquidated assets to build six other monasteries. Because of his talent and intelligence he was unanimously chosen to become the Roman Pontiff, the first monk to become Pope. During his lifetime Rome was sacked by invading barbarian hordes, and the city also suffered severe damage from floods and pestilence, causing his pontificate to be an important one. He brought stability and order to the Church in a time of great societal and cultural upheaval. His profound influence on the doctrine, organization, and discipline of the Church cannot be underestimated, thus earning him the title "The Great" which he shares with only two other popes. For his abundant doctrinal and spiritual writings he is also considered to be one of the four great Doctors of the Latin Church. He is most commonly known for promoting and standardizing the sacred music of liturgical worship, now called "Gregorian Chant." Pope St. Gregory the Great is the patron of popes, masons, choir boys, singers, teachers, and musicians. His feast day is September 3rd.
Find a Devotional for this Saint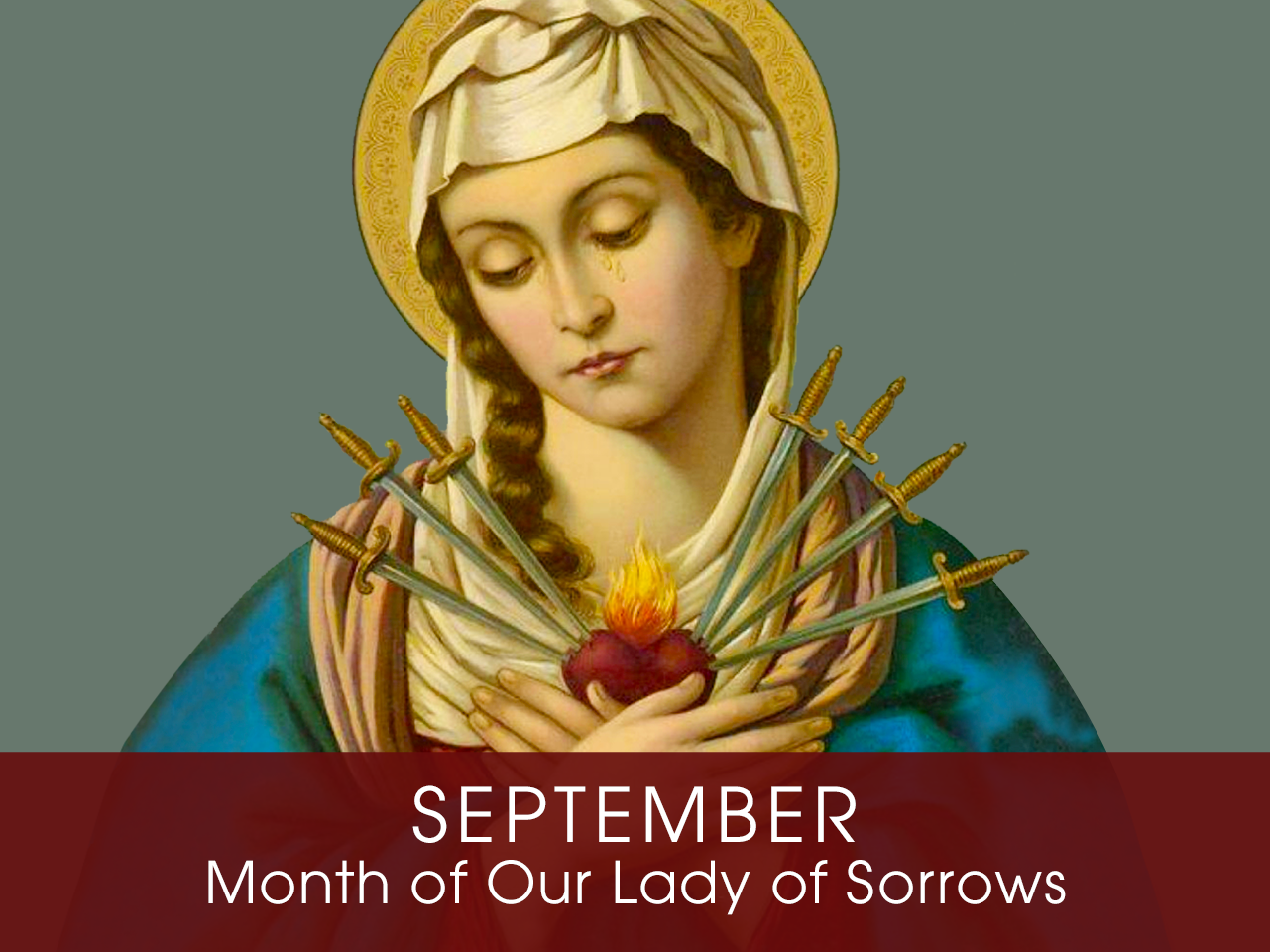 Month of the

Our Lady of Sorrows (Mater Dolorosa)
Devotion of the Month
The Church dedicates the month of September to Our Lady of Sorrows, also known as Mater Dolorosa (Mother of Sorrows). This devotion recalls the Blessed Virgin Mary's spiritual martyrdom in virtue of her perfect union with the Passion of Christ. This was her role in salvation history, and what merited her place as the spiritual Mother of all Christians. This is symbolized by a single sword, or seven swords, piercing Mary's suffering heart, as foretold in Simeon's prophecy. Traditionally the Church meditates on the "Seven Sorrows" of our Blessed Mother: the prophecy of Simeon; the Holy Family's flight into Egypt; the loss of the Child Jesus for three days; the meeting of Mary and Jesus as he carried his cross; Jesus' crucifixion and death; Jesus' sacred body taken down from the cross; and Jesus' burial. The feast of Our Lady of Sorrows (Mater Dolorosa) is September 15th.
Find a Devotional or Sacramental
Daily Prayers
Prayer for the Dead
In your hands, O Lord, we humbly entrust our brothers and sisters.
In this life you embraced them with your tender love;
deliver them now from every evil and bid them eternal rest.
The old order has passed away: welcome them into paradise,
where there will be no sorrow, no weeping or pain,
but fullness of peace and joy with your Son and the Holy
Spirit forever and ever. Amen.
Prayer of Spiritual Communion
My Jesus, I believe that You are present in the most Blessed Sacrament. I love You above all things and I desire to receive You into my soul. Since I cannot now receive You sacramentally, come at least spiritually into my heart. I embrace You as if You were already there, and unite myself wholly to You. Never permit me to be separated from You. Amen.
Prayer for the Holy Father
Almighty and everlasting God, have mercy upon Thy servant, Pope Francis, our Supreme Pontiff, and direct him, according to Thy loving kindness, in the way of eternal salvation; that, of Thy gift, he may ever desire that which is pleasing unto Thee and may accomplish it with all his might. Through Christ Our Lord. Amen. Our Father. Hail Mary.