"Three things are necessary to everyone: truth of faith which brings understanding, love of Christ which brings compassion, and endurance of hope which brings perseverance." St. Bonaventure
Today's

Meditation

"My Heart overflows with great mercy for souls, and especially for poor sinners. If only they could understand that I am the best of Fathers to them and that it is for them that the Blood and Water flowed from My Heart as from a fount overflowing with mercy. For them I dwell in the tabernacle as King of Mercy. I desire to bestow My graces upon souls, but they do not want to accept them. You, at least, come to Me as often as possible and take these graces they do not want to accept. In this way you will console My Heart. Oh, how indifferent are souls to so much goodness, to so many proofs of love! My Heart drinks only of the ingratitude and forgetfulness of souls living in the world. They have time for everything, but they have no time to come to Me for graces."
—Jesus to St. Maria Faustina Kowalska, p. 367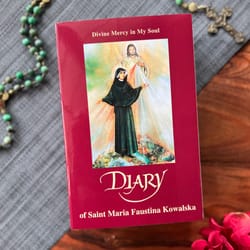 Daily

Verse
"But even if you should suffer because of righteousness, blessed are you. Do not be afraid or terrified with fear of them, but sanctify Christ as Lord in your hearts. Always be ready to give an explanation to anyone who asks you for a reason for your hope, but do it with gentleness and reverence, keeping your conscience clear, so that, when you are maligned, those who defame your good conduct in Christ may themselves be put to shame." 1 Peter 3:14-16
St. Regina
Saint of the Day
Saint Regina (d. 286 A.D.) was born to pagan parents in France. Her mother died in childbirth, and her father gave her to the care of a Christian nurse who secretly baptized her and raised her in the Christian faith. As Regina grew older her embrace of Christianity became evident, and her father disowned her as a result. Regina then went to live with her Christian nurse. They lived in poverty, and Regina tended sheep to help support the household. This solitude allowed her time to pray and meditate on the lives of the saints. When she was fifteen years of age, a Roman proconsul by the name of Olybrius was determined to marry her. He became greatly disturbed when he discovered that she was a Christian. He asked her to renounce her faith in order to save her life and secure a prosperous marriage with him. Regina staunchly refused to deny her faith, having already taken a vow of virginity to Christ. For her defiance she was cast into prison. Hoping that her resolve would gradually weaken, Olybrius visited her in prison and asked her once more to renounce her faith. Regina's determination only increased with time, and she again refused. Olybrius, angered, had her severely tortured with her body being scourged, burned, and raked. Finally, she was beheaded. Her resolve under torture and the appearance of a dove above her head caused witnesses to convert to Christianity. After her death many miracles were attributed to her relics. St. Regina is the patron of poor people, shepherdesses, and torture victims. Her feast day is September 7th.
Find a Devotional for this Saint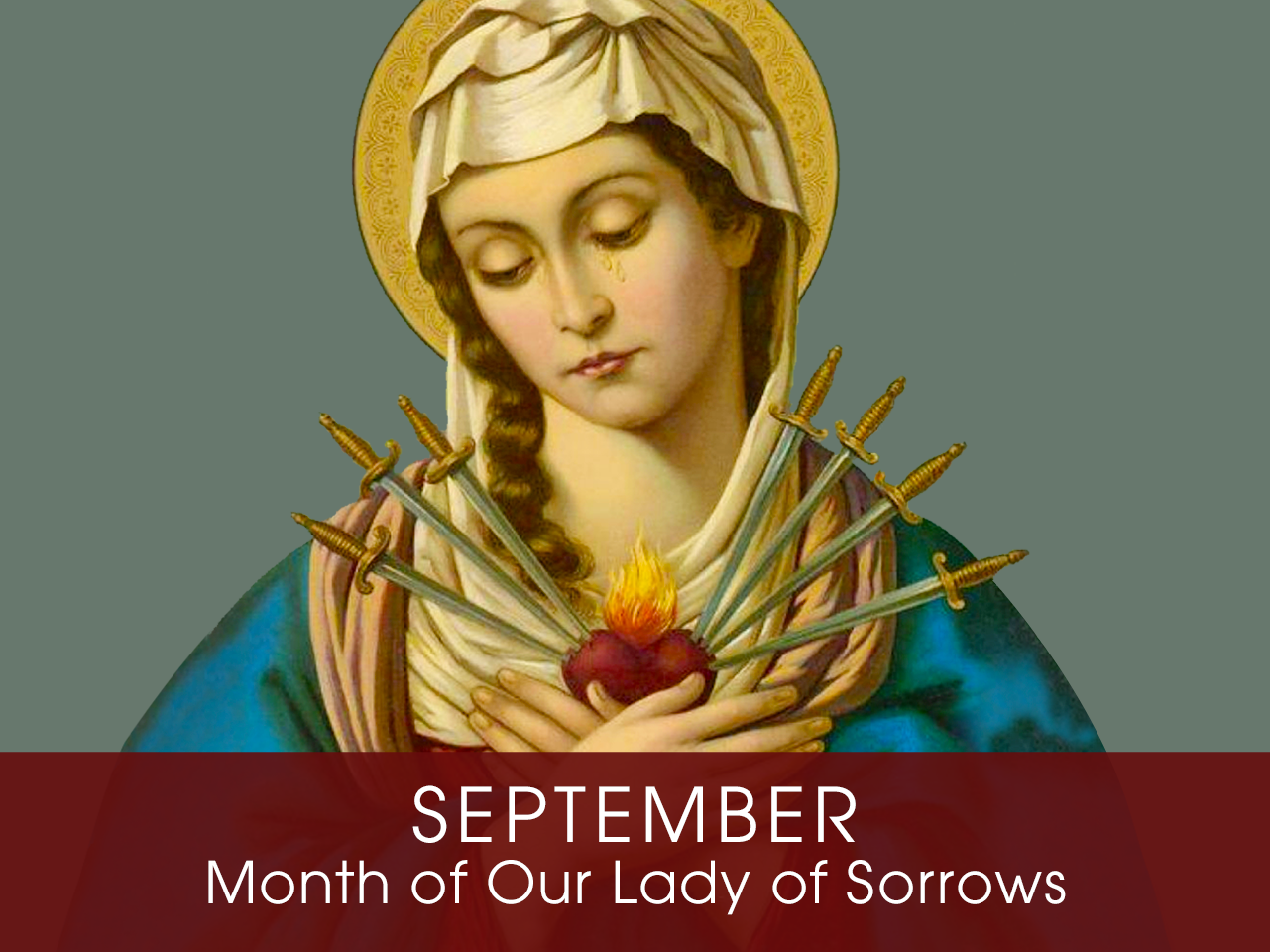 Month of the

Our Lady of Sorrows (Mater Dolorosa)
Devotion of the Month
The Church dedicates the month of September to Our Lady of Sorrows, also known as Mater Dolorosa (Mother of Sorrows). This devotion recalls the Blessed Virgin Mary's spiritual martyrdom in virtue of her perfect union with the Passion of Christ. This was her role in salvation history, and what merited her place as the spiritual Mother of all Christians. This is symbolized by a single sword, or seven swords, piercing Mary's suffering heart, as foretold in Simeon's prophecy. Traditionally the Church meditates on the "Seven Sorrows" of our Blessed Mother: the prophecy of Simeon; the Holy Family's flight into Egypt; the loss of the Child Jesus for three days; the meeting of Mary and Jesus as he carried his cross; Jesus' crucifixion and death; Jesus' sacred body taken down from the cross; and Jesus' burial. The feast of Our Lady of Sorrows (Mater Dolorosa) is September 15th.
Find a Devotional or Sacramental
Daily Prayers
Prayer for the Dead
In your hands, O Lord, we humbly entrust our brothers and sisters.
In this life you embraced them with your tender love;
deliver them now from every evil and bid them eternal rest.
The old order has passed away: welcome them into paradise,
where there will be no sorrow, no weeping or pain,
but fullness of peace and joy with your Son and the Holy
Spirit forever and ever. Amen.
Prayer of Spiritual Communion
My Jesus, I believe that You are present in the most Blessed Sacrament. I love You above all things and I desire to receive You into my soul. Since I cannot now receive You sacramentally, come at least spiritually into my heart. I embrace You as if You were already there, and unite myself wholly to You. Never permit me to be separated from You. Amen.
Prayer for the Holy Father
Almighty and everlasting God, have mercy upon Thy servant, Pope Francis, our Supreme Pontiff, and direct him, according to Thy loving kindness, in the way of eternal salvation; that, of Thy gift, he may ever desire that which is pleasing unto Thee and may accomplish it with all his might. Through Christ Our Lord. Amen. Our Father. Hail Mary.