"You are asking for something that would be harmful to your salvation if you had it—so by not getting what you've asked, you really are getting what you want." St. Catherine of Siena
Today's

Meditation

"What really hurts is not so much suffering as the fear of suffering. If welcomed trustingly and peacefully, suffering makes us grow. It matures and trains us, purifies us, teaches us to love unselfishly, makes us poor in heart, humble, gentle, and compassionate toward our neighbor. Fear of suffering, on the other hand, hardens us in self-protective, defensive attitudes, and often leads us to make irrational choices with disastrous consequences."
—Fr. Jacques Philippe, p. 47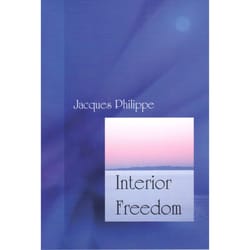 Daily

Verse
"For God did not give us a spirit of cowardice but rather of power and love and self-control. So do not be ashamed of your testimony to our Lord, nor of me, a prisoner for his sake; but bear your share of hardship for the gospel with the strength that comes from God." 2 Timothy 1:7-8
St. Adrian of Nicomedia
Saint of the Day
St. Adrian of Nicomedia (d. 306 A.D.) lived under the Christian persecutions of the Roman Emperor Galerius Maximian. Thirty-three Christians were seized in Nicomedia, brought before a judge, and ordered to be savagely beaten. With each new torture the men received, they bravely proclaimed their faith in Christ. They argued with the judge that by his tortures he was only increasing their heavenly glory, while guaranteeing his own damnation to hell. Adrian, a man of 28 years, was head of the praetorium and witnessed the steadfast faith of these men. He was moved to the point of conversion, and exclaimed that he, too, would reject paganism to suffer and die for the name of Christ along with the other Christians. One of Adrian's servants ran to tell his wife, Natalie, what her husband had done. Natalie, who was secretly a Christian, ran to the prison in joy at the news of her husband's newfound faith, and encouraged him to stay strong and steadfast in it. After Adrian refused to recant his profession of faith in Christ, he was thrown into prison with the other men and cruelly tortured. His arms and legs were severed on an anvil before finally dying as a martyr. Saint Adrian is the patron saint of soldiers, arms dealers, and butchers. His feast day is September 8th.
Find a Devotional for this Saint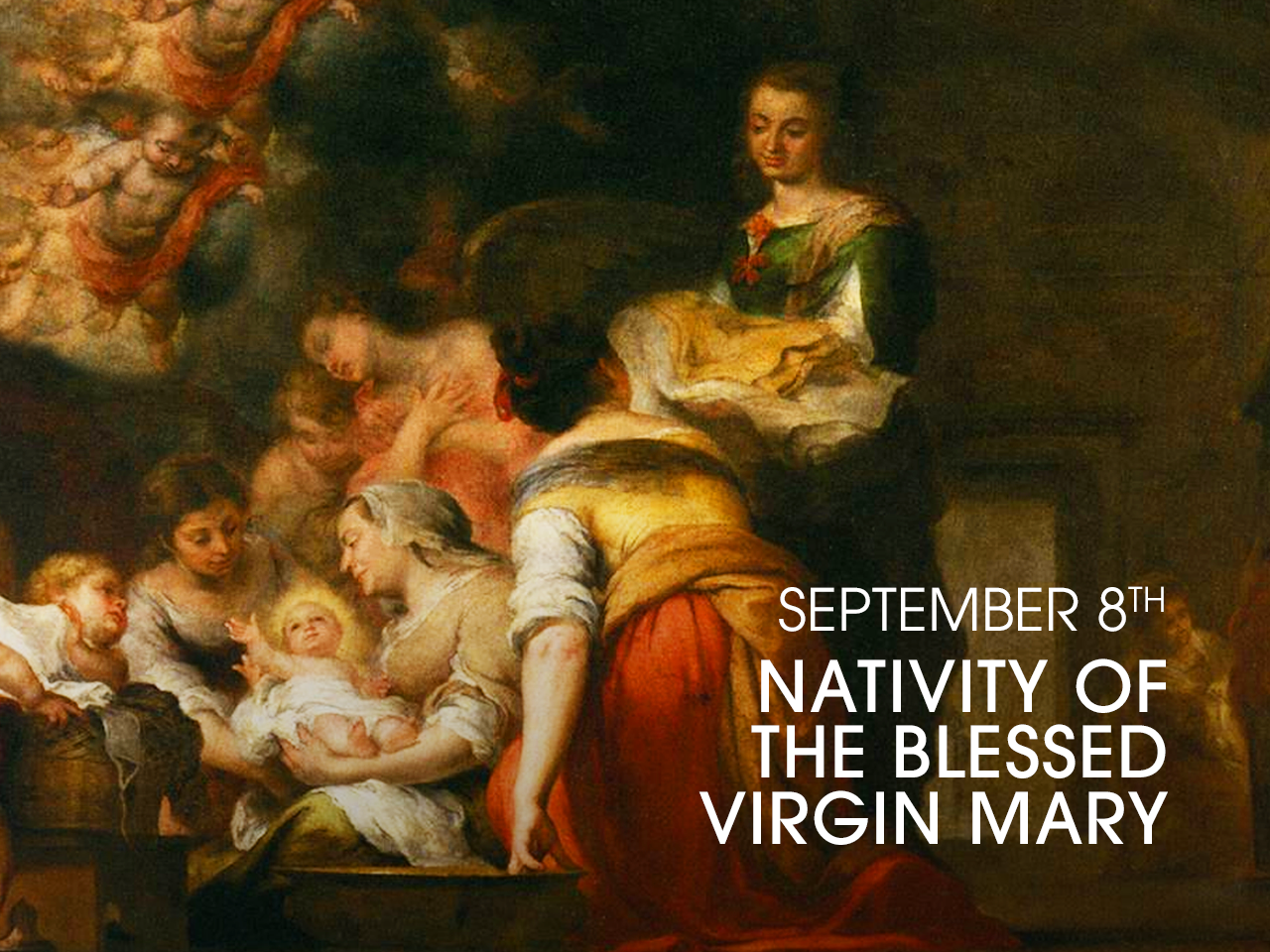 Nativity of the Virgin Mary
Feast Day
The Feast of the Nativity of the Blessed Virgin Mary is celebrated on September 8th, nine months after the Feast of the Immaculate Conception. The Blessed Virgin's parents, St. Ann and Joachim, were an aging couple praying for a child. Mary's birth was miraculous, as she was conceived without sin (Immaculate Conception), an exclusive grace God bestowed upon her because she was predestined to be the mother of the Incarnate Son of God. The birth of the Virgin Mary ushers in the dawn of the redemption of the human race through Jesus Christ.
See More About Today's Feast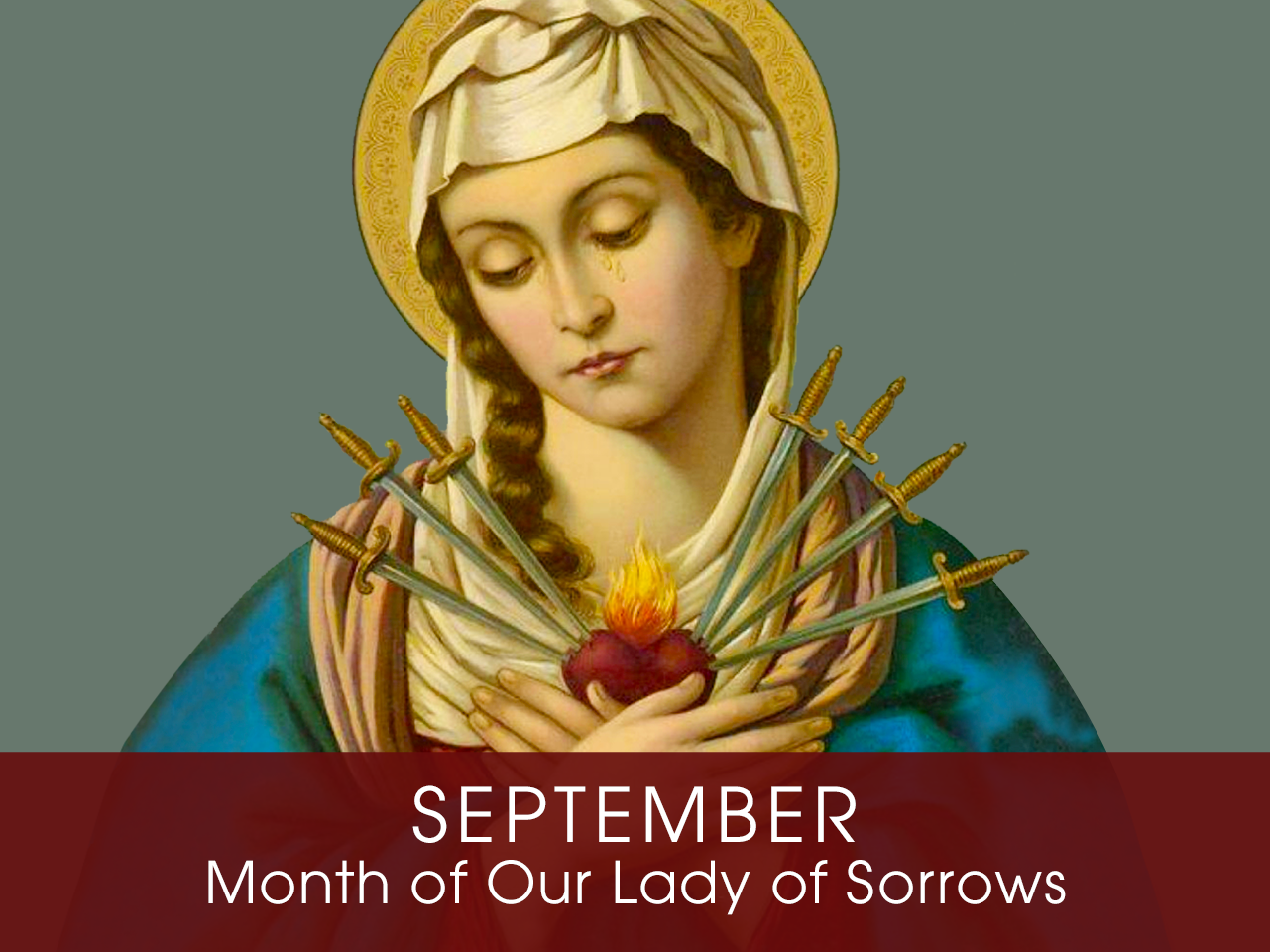 Month of the

Our Lady of Sorrows (Mater Dolorosa)
Devotion of the Month
The Church dedicates the month of September to Our Lady of Sorrows, also known as Mater Dolorosa (Mother of Sorrows). This devotion recalls the Blessed Virgin Mary's spiritual martyrdom in virtue of her perfect union with the Passion of Christ. This was her role in salvation history, and what merited her place as the spiritual Mother of all Christians. This is symbolized by a single sword, or seven swords, piercing Mary's suffering heart, as foretold in Simeon's prophecy. Traditionally the Church meditates on the "Seven Sorrows" of our Blessed Mother: the prophecy of Simeon; the Holy Family's flight into Egypt; the loss of the Child Jesus for three days; the meeting of Mary and Jesus as he carried his cross; Jesus' crucifixion and death; Jesus' sacred body taken down from the cross; and Jesus' burial. The feast of Our Lady of Sorrows (Mater Dolorosa) is September 15th.
Find a Devotional or Sacramental
Daily Prayers
Prayer for the Dead
In your hands, O Lord, we humbly entrust our brothers and sisters.
In this life you embraced them with your tender love;
deliver them now from every evil and bid them eternal rest.
The old order has passed away: welcome them into paradise,
where there will be no sorrow, no weeping or pain,
but fullness of peace and joy with your Son and the Holy
Spirit forever and ever. Amen.
Prayer of Spiritual Communion
My Jesus, I believe that You are present in the most Blessed Sacrament. I love You above all things and I desire to receive You into my soul. Since I cannot now receive You sacramentally, come at least spiritually into my heart. I embrace You as if You were already there, and unite myself wholly to You. Never permit me to be separated from You. Amen.
Prayer for the Holy Father
Almighty and everlasting God, have mercy upon Thy servant, Pope Francis, our Supreme Pontiff, and direct him, according to Thy loving kindness, in the way of eternal salvation; that, of Thy gift, he may ever desire that which is pleasing unto Thee and may accomplish it with all his might. Through Christ Our Lord. Amen. Our Father. Hail Mary.