"Be sure that you first preach by the way you live. If you do not, people will notice that you say one thing, but live otherwise, and your words will bring only cynical laughter and a derisive shake of the head." St. Charles Borromeo
Today's

Meditation

"What is this brightness—with which God fills the soul of the just—but that clear knowledge of all that is necessary for salvation? He shows them the beauty of virtue and the deformity of vice. He reveals to them the vanity of the world, the treasures of grace, the greatness of eternal glory, and the sweetness of the consolations of the Holy Spirit. He teaches them to apprehend the goodness of God, the malice of the evil one, the shortness of life, and the fatal error of those whose hopes are centered in this world alone. Hence the equanimity of the just. They are neither puffed up by prosperity nor cast down by adversity.'A holy man', says Solomon, 'continueth in wisdom as the sun, but a fool is changed as the moon.' (Ecclus. 27:12). Unmoved by the winds of false doctrine, the just man continues steadfast in Christ, immoveable in charity, unswerving in faith."
—Venerable Louis Of Grenada, p. 135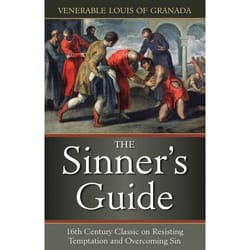 Daily

Verse
"So we are always courageous, although we know that while we are at home in the body we are away from the Lord, for we walk by faith, not by sight." 2 Corinthians 5:6-7
St. Kieran the Younger
Saint of the Day
St. Kieran the Younger (512-546 A.D.), also known as St. Ciaran, was born in Connacht, Ireland, the son of a carpenter. He demonstrated a great aptitude in his studies, being educated by a holy deacon who had him baptized. Kieran tended cattle in the fields before continuing his education at Saint Finnian's monastery school at Clonard, where he became a monk. He soon earned the reputation for being the most learned monk at Clonard, and was held in high esteem by his instructors and peers. Kieran's years of residence there were marked by many miracles. He also mentored, befriended, and tutored many of the founders of the Catholic Church in Ireland. Saint Kieran eventually left Clonard and went on to found the famous Clonmacnoise Abbey in West Meath Ireland, which attracted thousands of students from all over Europe. St. Kieran was one of the Twelve Apostles of Ireland – the first twelve bishops in Ireland consecrated by St. Patrick. He is also honored as the first Irish-born saint. St. Kieran's feast day is September 9th.
Find a Devotional for this Saint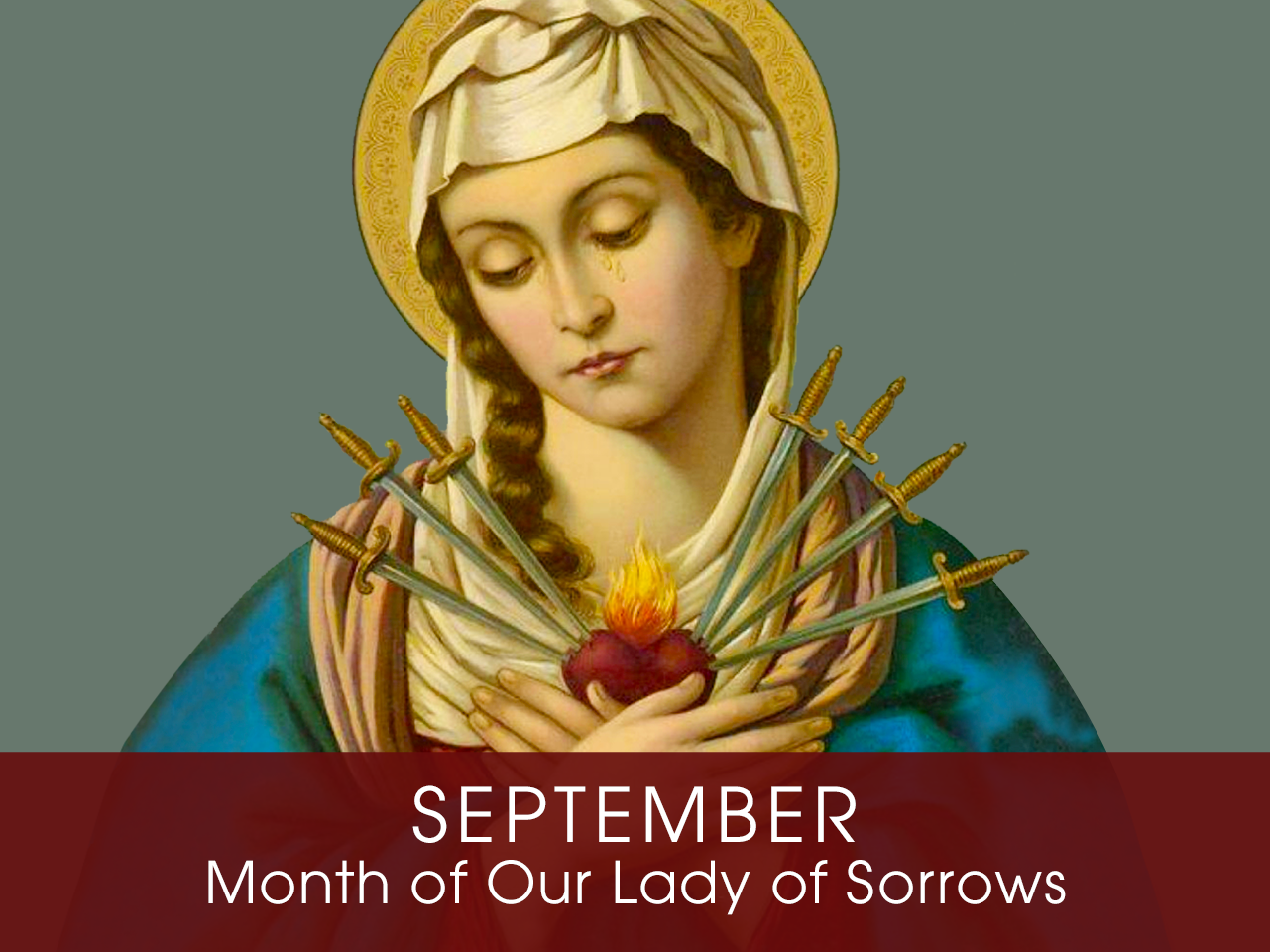 Month of the

Our Lady of Sorrows (Mater Dolorosa)
Devotion of the Month
The Church dedicates the month of September to Our Lady of Sorrows, also known as Mater Dolorosa (Mother of Sorrows). This devotion recalls the Blessed Virgin Mary's spiritual martyrdom in virtue of her perfect union with the Passion of Christ. This was her role in salvation history, and what merited her place as the spiritual Mother of all Christians. This is symbolized by a single sword, or seven swords, piercing Mary's suffering heart, as foretold in Simeon's prophecy. Traditionally the Church meditates on the "Seven Sorrows" of our Blessed Mother: the prophecy of Simeon; the Holy Family's flight into Egypt; the loss of the Child Jesus for three days; the meeting of Mary and Jesus as he carried his cross; Jesus' crucifixion and death; Jesus' sacred body taken down from the cross; and Jesus' burial. The feast of Our Lady of Sorrows (Mater Dolorosa) is September 15th.
Find a Devotional or Sacramental
Daily Prayers
Prayer for the Dead
In your hands, O Lord, we humbly entrust our brothers and sisters.
In this life you embraced them with your tender love;
deliver them now from every evil and bid them eternal rest.
The old order has passed away: welcome them into paradise,
where there will be no sorrow, no weeping or pain,
but fullness of peace and joy with your Son and the Holy
Spirit forever and ever. Amen.
Prayer of Spiritual Communion
My Jesus, I believe that You are present in the most Blessed Sacrament. I love You above all things and I desire to receive You into my soul. Since I cannot now receive You sacramentally, come at least spiritually into my heart. I embrace You as if You were already there, and unite myself wholly to You. Never permit me to be separated from You. Amen.
Prayer for the Holy Father
Almighty and everlasting God, have mercy upon Thy servant, Pope Francis, our Supreme Pontiff, and direct him, according to Thy loving kindness, in the way of eternal salvation; that, of Thy gift, he may ever desire that which is pleasing unto Thee and may accomplish it with all his might. Through Christ Our Lord. Amen. Our Father. Hail Mary.