"There is nothing the devil fears so much, or so much tries to hinder, as prayer." St. Philip Neri
Today's

Meditation

"There is not a moment in which God does not present Himself under the cover of some pain to be endured, of some consolation to be enjoyed, or of some duty to be performed. All that takes place within us, around us, or through us, contains and conceals His divine action. It is really and truly there present, but invisibly present, so that we are always surprised and do not recognise His operation until it has ceased. If we could lift the veil, and if we were attentive and watchful God would continually reveal Himself to us, and we should see His divine action in everything that happened to us, and rejoice in it. At each successive occurrence we should exclaim: 'It is the Lord', and we should accept every fresh circumstance as a gift of God. We should look upon creatures as feeble tools in the hands of an able workman, and should discover easily that nothing was wanting to us, and that the constant providence of God disposed Him to bestow upon us at every moment whatever we required."
—Fr. Jean-Pierre de Caussade, p. 49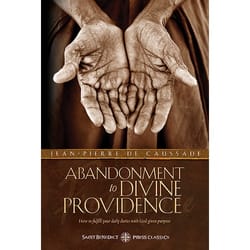 Daily

Verse
"Have no anxiety at all, but in everything, by prayer and petition, with thanksgiving, make your requests known to God. Then the peace of God that surpasses all understanding will guard your hearts and minds in Christ Jesus." Philippians 4:6-7
Saint Guy of Anderlecht
Saint of the Day
St. Guy (950–1012), also known as the "Poor Man of Anderlecht," was born to pious parents of humble means in the country village of Anderlecht near Brussels. Having no money for school, from his childhood he served the poor and fostered a great devotion to the Church while praying for the grace to love and accept his poverty. He was regarded as a young saint by those who knew him. One day a priest, who noticed his great reverence while praying in church, invited him to serve it for a small sum by sweeping the floors and keeping the altar and sacred vessels clean. During the day St. Guy would help the poor, and at night he would work and pray in the church; these were his two great loves. He served in this way joyfully and faithfully. One day a shipping merchant from Brussels, prompted by a devil who wanted to take St. Guy away from his holy work as a sacristan, presented him with a lucrative opportunity to invest his small savings into a business venture. Guy, not recognizing the temptation, accepted the job offer under the pretense of making more money to give to the poor, and he left his position as sacristan. When his first cargo ship sunk as it left the harbor, Guy realized his error and the deception he had succumbed to in giving up his happy and humble work serving Christ. He went back to the church and found that the sacristan position had been replaced. Left without a job and no money, Guy was so filled with remorse over his foolish decision that he went on a penitential pilgrimage. He visited Rome, the Holy Land, and other shrines over a period of seven years. He returned to Anderlecht in 1012 and died in the same year. Miracles were reported at his grave, after which a church was built in his honor. His feast day is September 12th.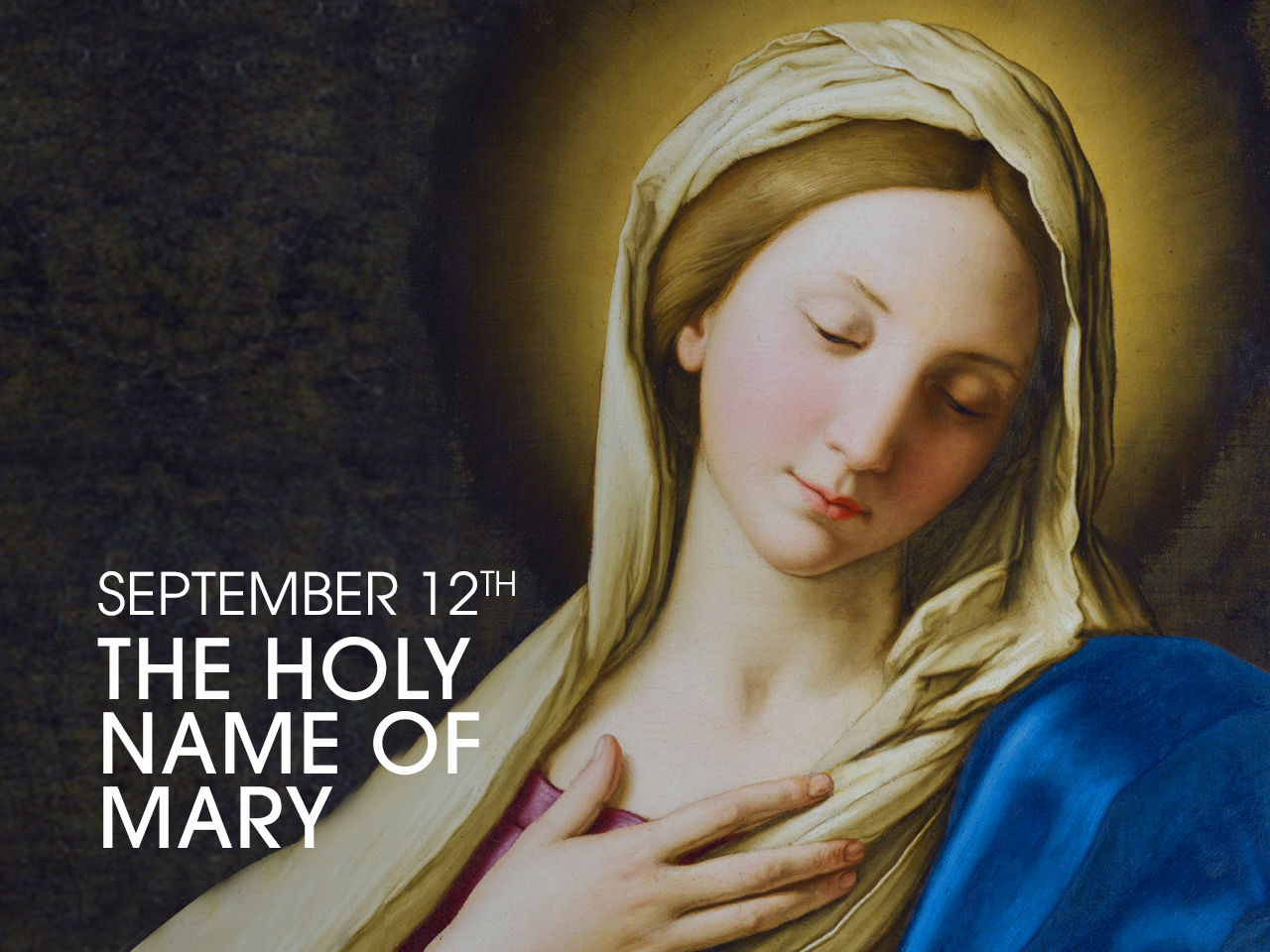 Holy Name of Mary
Feast Day
On September 12th the Church venerates the Holy Name of the Blessed Virgin Mary because of her unique privilege as the holiest of creatures, the Mother of God, and the Queen of Heaven and Earth. Her name is therefore a royal one of the highest order, and as such should be given the greatest honor after that of her Divine Son, Jesus Christ. Instituted in 1513, the feast commemorates all the privileges given to Mary by God, and all the graces we have received through her intercession and mediation.
See More About Today's Feast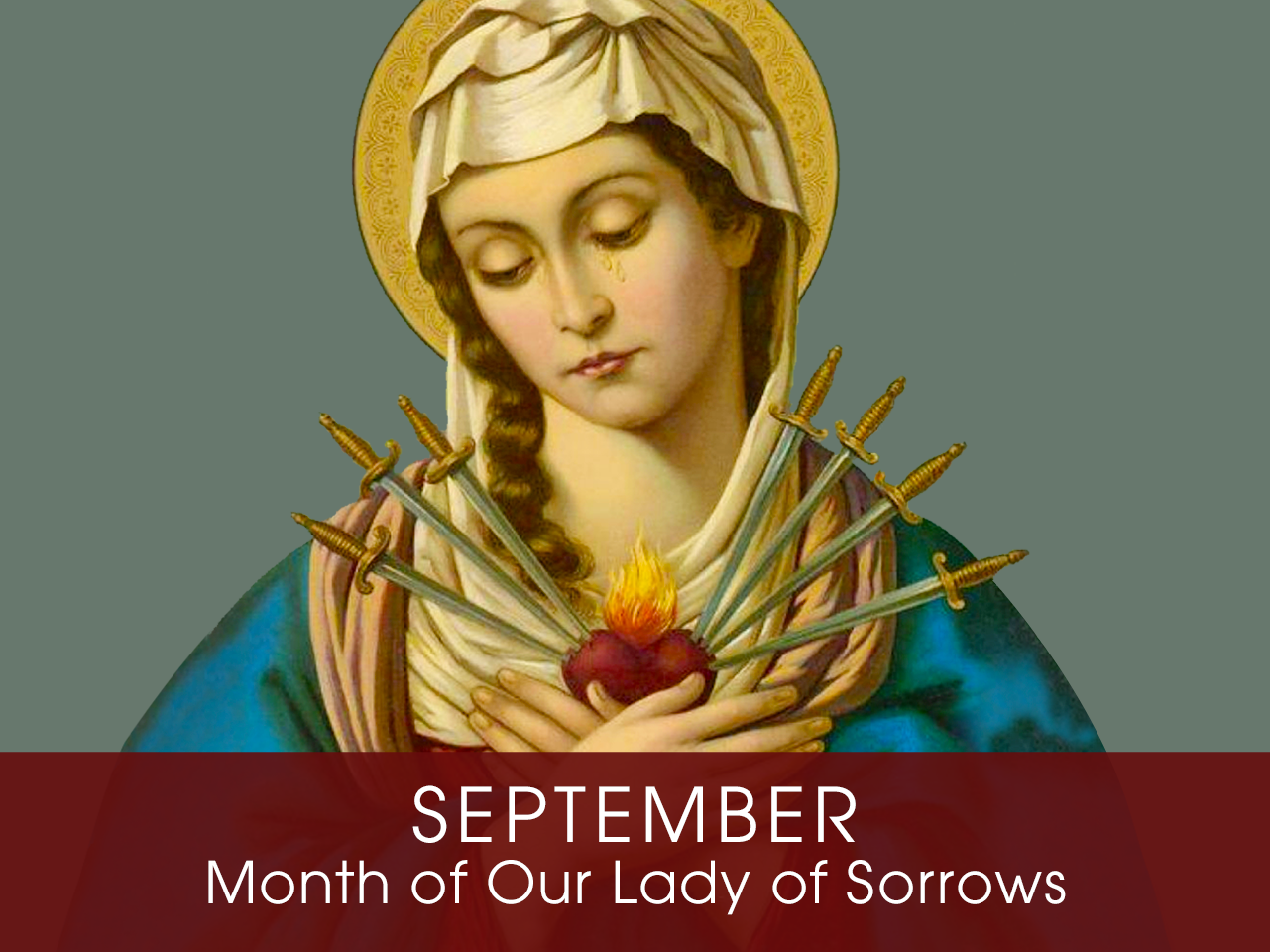 Month of the

Our Lady of Sorrows (Mater Dolorosa)
Devotion of the Month
The Church dedicates the month of September to Our Lady of Sorrows, also known as Mater Dolorosa (Mother of Sorrows). This devotion recalls the Blessed Virgin Mary's spiritual martyrdom in virtue of her perfect union with the Passion of Christ. This was her role in salvation history, and what merited her place as the spiritual Mother of all Christians. This is symbolized by a single sword, or seven swords, piercing Mary's suffering heart, as foretold in Simeon's prophecy. Traditionally the Church meditates on the "Seven Sorrows" of our Blessed Mother: the prophecy of Simeon; the Holy Family's flight into Egypt; the loss of the Child Jesus for three days; the meeting of Mary and Jesus as he carried his cross; Jesus' crucifixion and death; Jesus' sacred body taken down from the cross; and Jesus' burial. The feast of Our Lady of Sorrows (Mater Dolorosa) is September 15th.
Find a Devotional or Sacramental
Daily Prayers
Prayer for the Dead
In your hands, O Lord, we humbly entrust our brothers and sisters.
In this life you embraced them with your tender love;
deliver them now from every evil and bid them eternal rest.
The old order has passed away: welcome them into paradise,
where there will be no sorrow, no weeping or pain,
but fullness of peace and joy with your Son and the Holy
Spirit forever and ever. Amen.
Prayer of Spiritual Communion
My Jesus, I believe that You are present in the most Blessed Sacrament. I love You above all things and I desire to receive You into my soul. Since I cannot now receive You sacramentally, come at least spiritually into my heart. I embrace You as if You were already there, and unite myself wholly to You. Never permit me to be separated from You. Amen.
Prayer for the Holy Father
Almighty and everlasting God, have mercy upon Thy servant, Pope Francis, our Supreme Pontiff, and direct him, according to Thy loving kindness, in the way of eternal salvation; that, of Thy gift, he may ever desire that which is pleasing unto Thee and may accomplish it with all his might. Through Christ Our Lord. Amen. Our Father. Hail Mary.