"I see clearly with the interior eye, that the sweet God loves with a pure love the creature that He has created, and has a hatred for nothing but sin, which is more opposed to Him than can be thought or imagined." St. Catherine of Genoa
Today's

Meditation

"If we have any distinct concept of blessedness connected with mourning, it could likely have been that it is a blessed thing to be rid of it. Are not mourners by widely accepted definition the unhappy ones? Obviously, if a mourner is blessed, then it has to mean that he is blessed to have gotten out of this painful predicament, to have escaped from this sorrowful situation, to have fended off suffering. And so we might well have written the third Beatitude like this: Blessed are they who enjoy the comfort of not having anything to mourn about. But then we run up against the hard fact that this is just not what Christ said…We shall have to deal with the words that our blessed Savior uttered and not with the words that we think He ought to have uttered."
—Mother Francis, PCC, p.36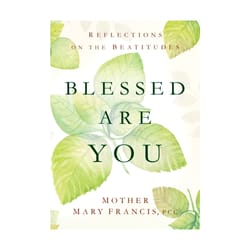 Daily

Verse
"Make me understand the way of thy precepts, and I will meditate on thy wondrous works. My soul melts away for sorrow; strengthen me according to thy word! Put false ways far from me; and graciously teach me thy law! I have chosen the way of faithfulness, I set thy ordinances before me. I cleave to thy testimonies, O Lord; let me not be put to shame! I will run in the way of thy commandments when thou enlargest my understanding!" Psalm 119:27-32
St. Catherine of Genoa
Saint of the Day
St. Catherine (1447–1510) was born into an aristocratic family in Genoa, Italy. She was a quiet, obedient, physically beautiful, and holy child who devoted herself to prayer and penance. At the age of 13 she made an attempt to enter a convent, but was rejected. At the age of 16 she consented to a marriage arranged by her family for political and financial gain. Her husband was faithless and violent, and their marriage was miserable. Catherine did not bear any children, and for the first five years lived as a hermit in her fine home. After this time, upon her family's rebuke of her solitude, she began to engage in the kind of social activity expected for her state in life. This only increased her weariness and depression, and led to the loss of her religious fervor. Catherine prayed earnestly for assistance in her trouble. Taking the advice of her sister, who was a nun, Catherine went to confession, and through the sacrament had a profound mystical experience in which she clearly saw the depth of her sinfulness contrasted with the depth of God's love. From that point on she renewed her commitment to rigorous prayer, penance, and works of mercy, and God continued to favor her with mystical visions. Catherine later won the conversion of her husband, and they were received into the Third Order of St. Francis. Together they cared for the poor and sick in the Genoa hospital, over which Catherine became administrator. St. Catherine's mystical visions were recorded by her confessor toward the end of her life, the most famous being her Treatise of Purgatory. Her feast day is celebrated on September 15th.
Find a Devotional for this Saint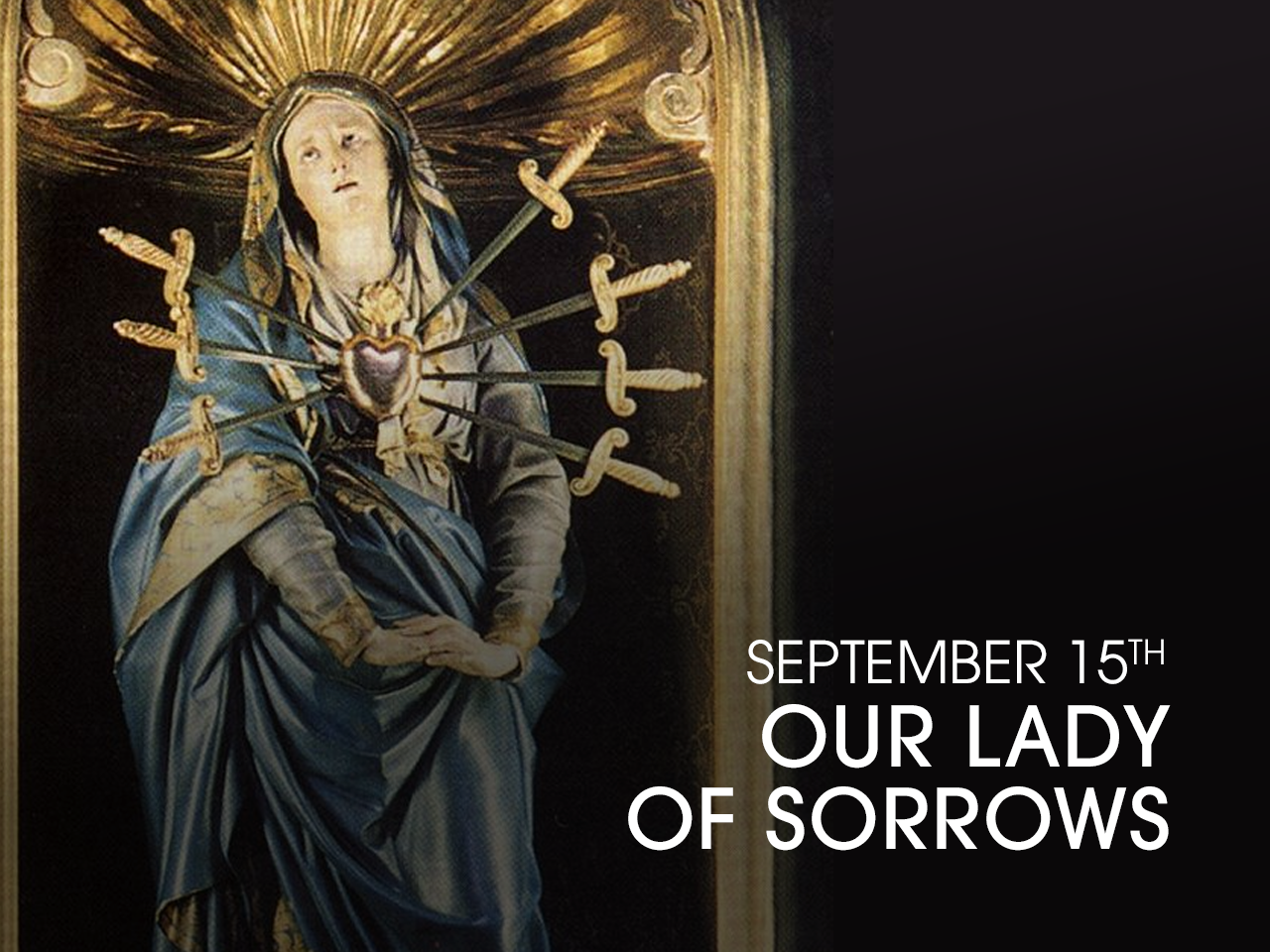 Our Lady of Sorrows (Mater Dolorosa)
Feast Day
Devotion to Our Lady of Sorrows (Mater Dolorosa – Mother of Sorrows) became widespread in the Church around the 14th century. It was revealed to St. Bridget of Sweden (1303-1373) that devotion to Our Lady's Seven Sorrows would bring great graces. Mary, in a unique way, willingly suffered alongside her Divine Son as he gave his life to save the world, and she felt the bitterness of his passion as only a mother can. This devotion is especially remembered during September, the Month of Our Lady of Sorrows, and during the season of Lent. The Seven Sorrows of Mary are the Prophecy of Simeon, the Flight into Egypt, the Loss of Jesus for Three Days, the Carrying of the Cross, the Crucifixion of Jesus, Jesus Being Taken Down from the Cross, and Jesus Laid in the Tomb. The feast of Our Lady of Sorrows (Mater Dolorosa) is September 15th.
See More About Today's Feast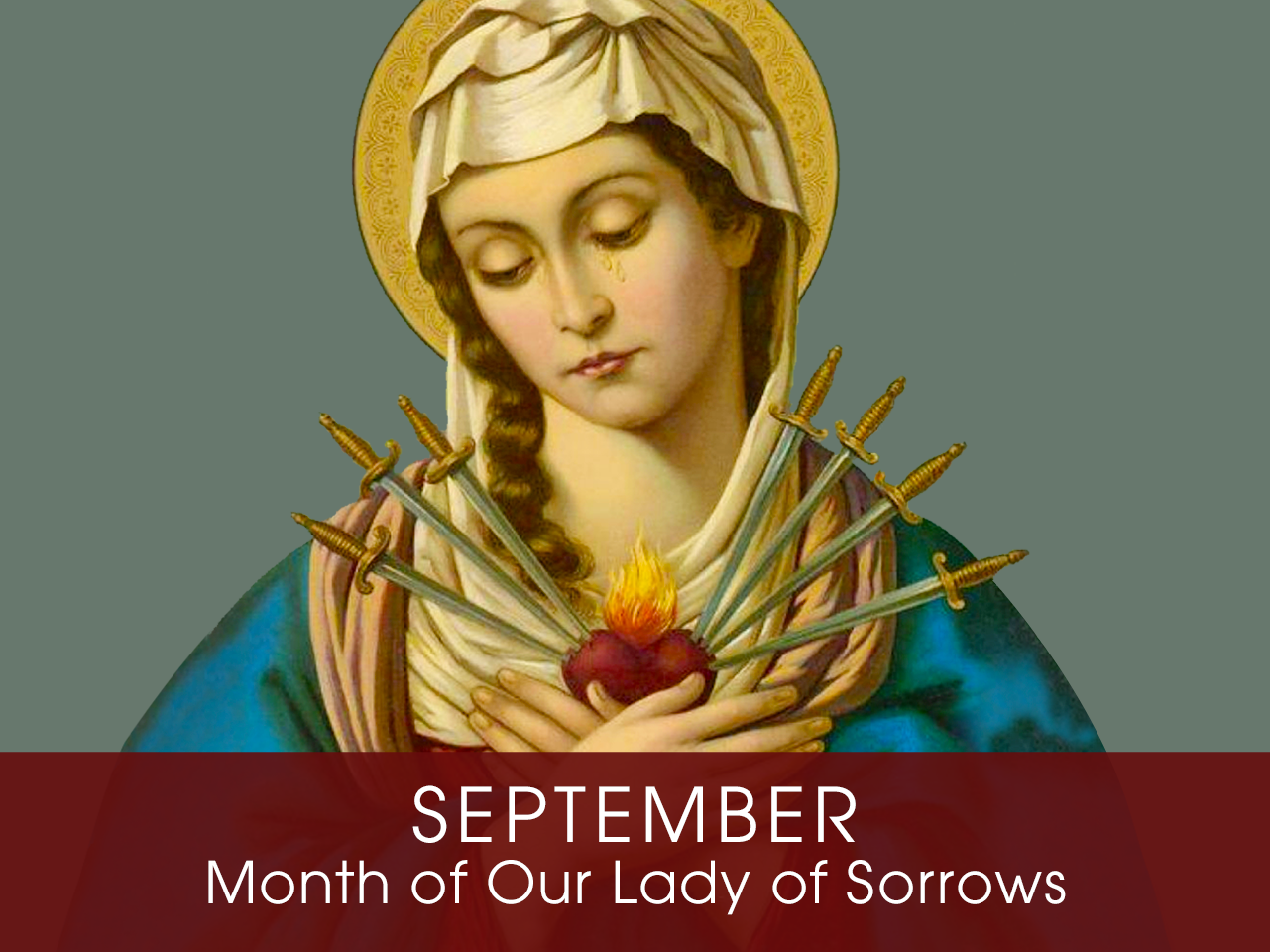 Month of

Our Lady of Sorrows (Mater Dolorosa)
Devotion of the Month
The Church dedicates the month of September to Our Lady of Sorrows, also known as Mater Dolorosa (Mother of Sorrows). This devotion recalls the Blessed Virgin Mary's spiritual martyrdom in virtue of her perfect union with the Passion of Christ. This was her role in salvation history, and what merited her place as the spiritual Mother of all Christians. This is symbolized by a single sword, or seven swords, piercing Mary's suffering heart, as foretold in Simeon's prophecy. Traditionally the Church meditates on the "Seven Sorrows" of our Blessed Mother: the prophecy of Simeon; the Holy Family's flight into Egypt; the loss of the Child Jesus for three days; the meeting of Mary and Jesus as he carried his cross; Jesus' crucifixion and death; Jesus' sacred body taken down from the cross; and Jesus' burial. The feast of Our Lady of Sorrows (Mater Dolorosa) is September 15th.
Find a Devotional or Sacramental
Daily Prayers
Prayer for the Dead
In your hands, O Lord, we humbly entrust our brothers and sisters.
In this life you embraced them with your tender love;
deliver them now from every evil and bid them eternal rest.
The old order has passed away: welcome them into paradise,
where there will be no sorrow, no weeping or pain,
but fullness of peace and joy with your Son and the Holy
Spirit forever and ever. Amen.
Prayer of Spiritual Communion
My Jesus, I believe that You are present in the most Blessed Sacrament. I love You above all things and I desire to receive You into my soul. Since I cannot now receive You sacramentally, come at least spiritually into my heart. I embrace You as if You were already there, and unite myself wholly to You. Never permit me to be separated from You. Amen.
Prayer for the Holy Father
Almighty and everlasting God, have mercy upon Thy servant, Pope Francis, our Supreme Pontiff, and direct him, according to Thy loving kindness, in the way of eternal salvation; that, of Thy gift, he may ever desire that which is pleasing unto Thee and may accomplish it with all his might. Through Christ Our Lord. Amen. Our Father. Hail Mary.