"Truth sees God, and wisdom contemplates God, and from these two comes a third, a holy and wonderful delight in God, who is love." St. Juliana of Norwich
Today's

Meditation

"In the case of biblical parables we must always expect that the addressees will be brought into a situation in which they believe they are going to enjoy a thrilling story—and then all at once everything changes: they are confronted with the will of God or the evil situation in which they are living in God's eyes."
—Gerhard Lohfink, p.17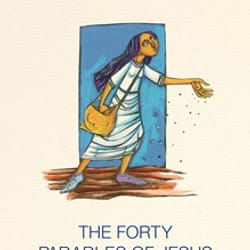 "The fruit of the Spirit is love, joy, peace, patience, kindness, generosity, faithfulness, gentleness, and self-control (Galatians 5:22-23). Even though the Disciples suffered persecution, they were filled with joy. One would have expected them to be depressed or angry or resentful. The very fact that they responded to persecution with joy is a sign that the Spirit was guiding their actions. We can use that same test with our own words and actions."
—Rev. Jude Winkler, O.F.M., p. 11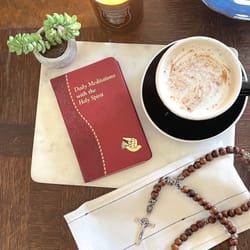 Daily

Verse
"If you love me, you will keep my commandments. And I will ask the Father, and he will give you another Advocate to be with you always, the Spirit of truth, which the world cannot accept, because it neither sees nor knows it. But you know it, because it remains with you, and will be in you." John 14:15-17
Pope St. Cornelius
Saint of the Day
Pope St. Cornelius (d. 253 A.D.) was a Roman citizen and a holy priest who became the twenty-first successor to the chair of St. Peter, following a fourteen-month vacancy when Pope St. Fabian was martyred by Roman Emperor Decius. When the Emperor temporarily left Rome, the persecution against the Christians subsided long enough for the Church to elect St. Cornelius as the new Roman Pontiff. During Pope St. Cornelius' two year reign a great controversy arose as to what to do with Catholics who apostatized from the Christian faith under threat of death during the persecution. Many were being received back to the sacraments without any penance. In response to the scandal, some maintained that apostates could not be forgiven and could only be admitted back to the sacraments if they were re-baptized. Chief among them was a priest named Novatian, who, as a result of the scandal, caused a schism when he had himself consecrated as an anti-pope. In response, Pope St. Cornelius convened a synod of bishops to confirm his rightful authority as Pope. Novatian was excommunicated and his doctrine was condemned as heresy. Pope St. Cornelius proclaimed that the Church had the power and authority to forgive repentant apostasy, and that converted apostates could be readmitted to the sacraments after true contrition with adequate penance. Soon a new wave of persecution against the Christians broke out, and Pope St. Cornelius was driven into exile and martyred. His feast day is celebrated on September 16th.
Find a Devotional for this Saint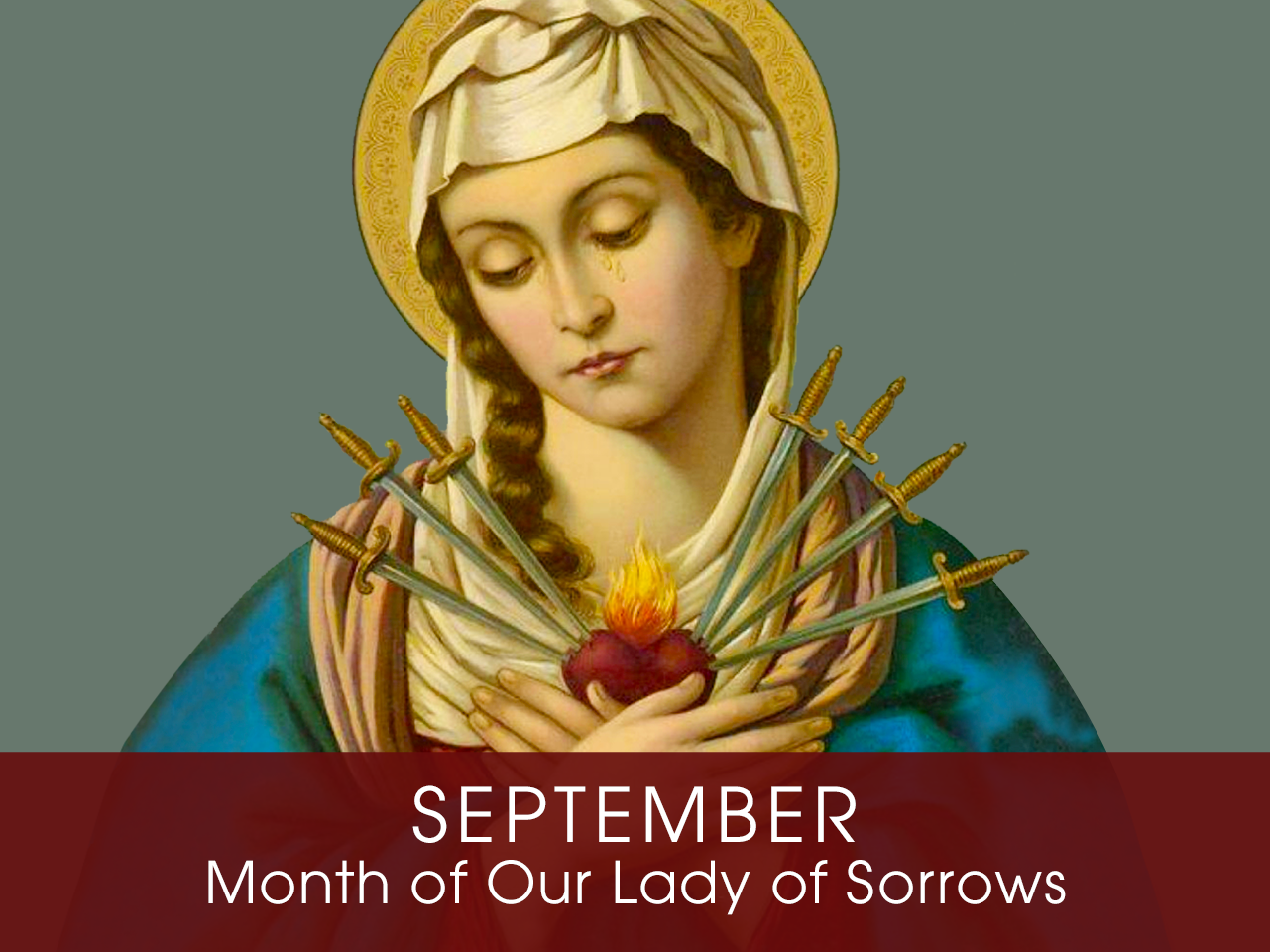 Month of the

Our Lady of Sorrows (Mater Dolorosa)
Devotion of the Month
The Church dedicates the month of September to Our Lady of Sorrows, also known as Mater Dolorosa (Mother of Sorrows). This devotion recalls the Blessed Virgin Mary's spiritual martyrdom in virtue of her perfect union with the Passion of Christ. This was her role in salvation history, and what merited her place as the spiritual Mother of all Christians. This is symbolized by a single sword, or seven swords, piercing Mary's suffering heart, as foretold in Simeon's prophecy. Traditionally the Church meditates on the "Seven Sorrows" of our Blessed Mother: the prophecy of Simeon; the Holy Family's flight into Egypt; the loss of the Child Jesus for three days; the meeting of Mary and Jesus as he carried his cross; Jesus' crucifixion and death; Jesus' sacred body taken down from the cross; and Jesus' burial. The feast of Our Lady of Sorrows (Mater Dolorosa) is September 15th.
Find a Devotional or Sacramental
Daily Prayers
Prayer for the Dead
In your hands, O Lord, we humbly entrust our brothers and sisters.
In this life you embraced them with your tender love;
deliver them now from every evil and bid them eternal rest.
The old order has passed away: welcome them into paradise,
where there will be no sorrow, no weeping or pain,
but fullness of peace and joy with your Son and the Holy
Spirit forever and ever. Amen.
Prayer of Spiritual Communion
My Jesus, I believe that You are present in the most Blessed Sacrament. I love You above all things and I desire to receive You into my soul. Since I cannot now receive You sacramentally, come at least spiritually into my heart. I embrace You as if You were already there, and unite myself wholly to You. Never permit me to be separated from You. Amen.
Prayer for the Holy Father
Almighty and everlasting God, have mercy upon Thy servant, Pope Francis, our Supreme Pontiff, and direct him, according to Thy loving kindness, in the way of eternal salvation; that, of Thy gift, he may ever desire that which is pleasing unto Thee and may accomplish it with all his might. Through Christ Our Lord. Amen. Our Father. Hail Mary.