"The fruit of silence is prayer, the fruit of prayer is faith, the fruit of faith is love, the fruit of love is service, the fruit of service is peace." St. Mother Teresa of Calcutta
Today's

Meditation

"You have never begrudged the martyrs their triumph but rather trained them for it. And so I am asking you to be consistent with the lessons you teach them. Just beg for me the courage and endurance not only to speak but also to will what is right, so that I may not only be called a Christian, but prove to be one. For if I prove myself to be a Christian by martyrdom, then people will call me one, and my loyalty to Christ will be apparent when the world sees me no more. Nothing you can see is truly good. For our Lord Jesus Christ, now that he has returned to his Father, has revealed himself more clearly. Our task is not one of producing persuasive propaganda; Christianity shows its greatness when it is hated by the world."
—St. Ignatius of Antioch, p. 194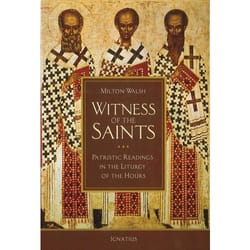 Daily

Verse
"The Lord bless you and keep you; the Lord make his face to shine upon you, and be gracious to you; the Lord lift up his countenance upon you, and give you peace." Numbers 6:24-26
St. Hildegard von Bingen
Saint of the Day
St. Hildegard von Bingen (1098–1179) was born to a large and noble German family. She began to have mystical visions at the age of three which continued throughout her life. Her parents, promising her to the service of God, sent her to be educated at the Benedictine Abbey by an anchoress when she was about eight years of age. At the age of fourteen she became a consecrated nun attached to the Abbey, where she lived a quiet life of prayer for many years. At the age of 38, after the anchoress' death, she was chosen as the new leader of a growing group of nuns. Hildegard led a remarkable and unusual life for a woman of her day. She was an avid composer of sacred music and liturgy, in addition to poems and plays. She also wrote heavily on theology, natural medicine, and natural science. At the age of 42, at the command of God, Hildegard began writing down what she saw in her visions. Her works were widely read, even by the Pope, and leaders around the world sought her council. Her fame as a mystic and prophetess grew, earning her the name "Sibyl of the Rhine." More nuns flocked to join her, causing Hildegard to establish a new monastery at Rupertsberg. She wrote proficiently on the harmony of created nature and man's need to live in balance with it, especially in virtue, morality, and the love of God, which led Pope Benedict XVI to declare her the fourth female Doctor of the Church in 2012 alongside Teresa of Avila, Catherine of Siena, and Thérèse of Lisieux. Because her works were far ahead of her time she is regarded as a historical phenomenon. Hildegard of Bingen is considered the founder of scientific natural history in Germany. Her feast day is September 17th.
Find a Devotional for this Saint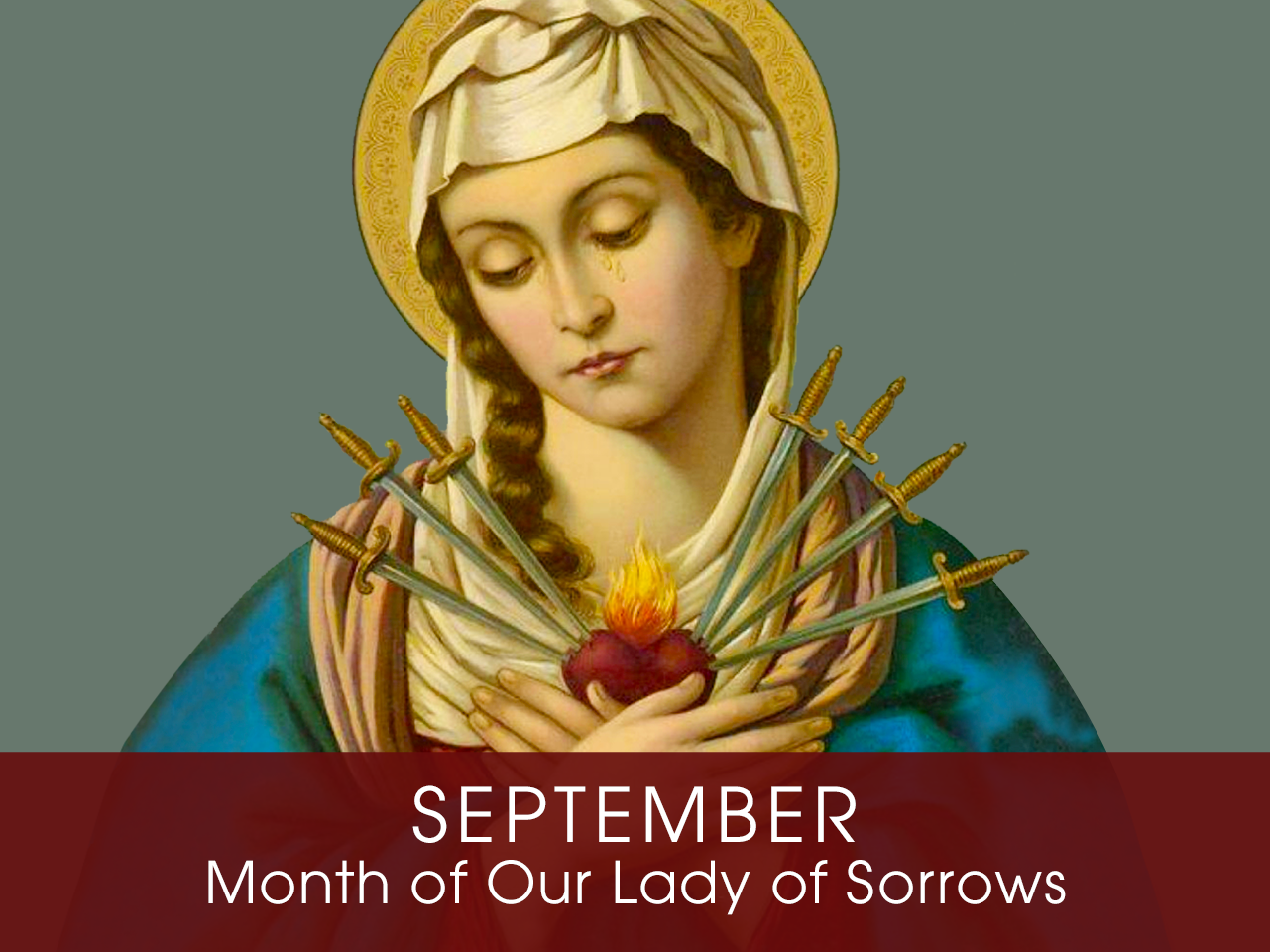 Month of the

Our Lady of Sorrows (Mater Dolorosa)
Devotion of the Month
The Church dedicates the month of September to Our Lady of Sorrows, also known as Mater Dolorosa (Mother of Sorrows). This devotion recalls the Blessed Virgin Mary's spiritual martyrdom in virtue of her perfect union with the Passion of Christ. This was her role in salvation history, and what merited her place as the spiritual Mother of all Christians. This is symbolized by a single sword, or seven swords, piercing Mary's suffering heart, as foretold in Simeon's prophecy. Traditionally the Church meditates on the "Seven Sorrows" of our Blessed Mother: the prophecy of Simeon; the Holy Family's flight into Egypt; the loss of the Child Jesus for three days; the meeting of Mary and Jesus as he carried his cross; Jesus' crucifixion and death; Jesus' sacred body taken down from the cross; and Jesus' burial. The feast of Our Lady of Sorrows (Mater Dolorosa) is September 15th.
Find a Devotional or Sacramental
Daily Prayers
Prayer for the Dead
In your hands, O Lord, we humbly entrust our brothers and sisters.
In this life you embraced them with your tender love;
deliver them now from every evil and bid them eternal rest.
The old order has passed away: welcome them into paradise,
where there will be no sorrow, no weeping or pain,
but fullness of peace and joy with your Son and the Holy
Spirit forever and ever. Amen.
Prayer of Spiritual Communion
My Jesus, I believe that You are present in the most Blessed Sacrament. I love You above all things and I desire to receive You into my soul. Since I cannot now receive You sacramentally, come at least spiritually into my heart. I embrace You as if You were already there, and unite myself wholly to You. Never permit me to be separated from You. Amen.
Prayer for the Holy Father
Almighty and everlasting God, have mercy upon Thy servant, Pope Francis, our Supreme Pontiff, and direct him, according to Thy loving kindness, in the way of eternal salvation; that, of Thy gift, he may ever desire that which is pleasing unto Thee and may accomplish it with all his might. Through Christ Our Lord. Amen. Our Father. Hail Mary.