"In the first place it should be known that if a person is seeking God, his beloved is seeking him much more." St. John of the Cross
Today's

Meditation

"Marriage releases the flesh from its individual selfishness for the service of the family; the vow of chastity releases the flesh not only from the narrow and circumscribed family, where there can still be selfishness, but also for the service of that family that embraces all humanity. That is why the Church asks those who consecrate themselves to the redemption of the world to take a vow and to surrender all selfishness, that they may belong to no one family and yet belong to all. That is why in that larger family of the kingdom of God, the priest is called "Father" —because he has begotten children not in the flesh, but in the spirit."
—Venerable Fulton Sheen, p. 117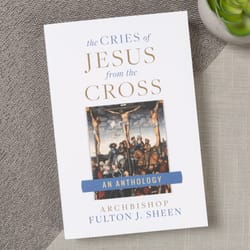 Daily

Verse
"Hark, your watchmen lift up their voice, together they sing for joy; for eye to eye they see the return of the Lord to Zion. Break forth together into singing, you waste places of Jerusalem; for the Lord has comforted his people, he has redeemed Jerusalem. The Lord has bared his holy arm before the eyes of all the nations; and all the ends of the earth shall see the salvation of our God." Isaiah 52:8-10
St. Joseph of Cupertino
Saint of the Day
St. Joseph of Cupertino (1603-1663) was the son of a poor Italian carpenter. His father died before he was born, leaving his mother destitute. As a result Joseph was underfed and often sick. He was an intellectually dull child who constantly found himself the worse off in every situation. He was awkward, absent-minded, unintelligent, and difficult to be around. Many people thought he was good for nothing–including his own mother, who treated him harshly and considered him a burden. Added to the scorn he received from everyone, at the age of eight he began receiving ecstatic visions for which he was also ridiculed. At the age of seventeen Joseph found work with the Capuchin Franciscan friars, eventually joining their order once they recognized his holiness beneath his irritating demeanor. His ecstasies became more pronounced, and he would often levitate or float as they happened. These ecstasies could be triggered easily through the mention of anything heavenly, or by any mortification. These occurrences became a spectacle and disturbance to others and caused Joseph much suffering; they were a cross he would bear his whole life. For example, as a priest he could not celebrate Mass publicly due to his distracting ecstasies. He was even reported to the Inquisition for fear he was involved in witchcraft. Yet St. Joseph lived a life of deep prayer and severe penance through continual fasting, subjecting himself every year to seven Lents of forty days each. Sometimes called "The Flying Saint," St. Joseph of Cupertino is also the patron of air crews and aviators. His feast day is September 18th.
Find a Devotional for this Saint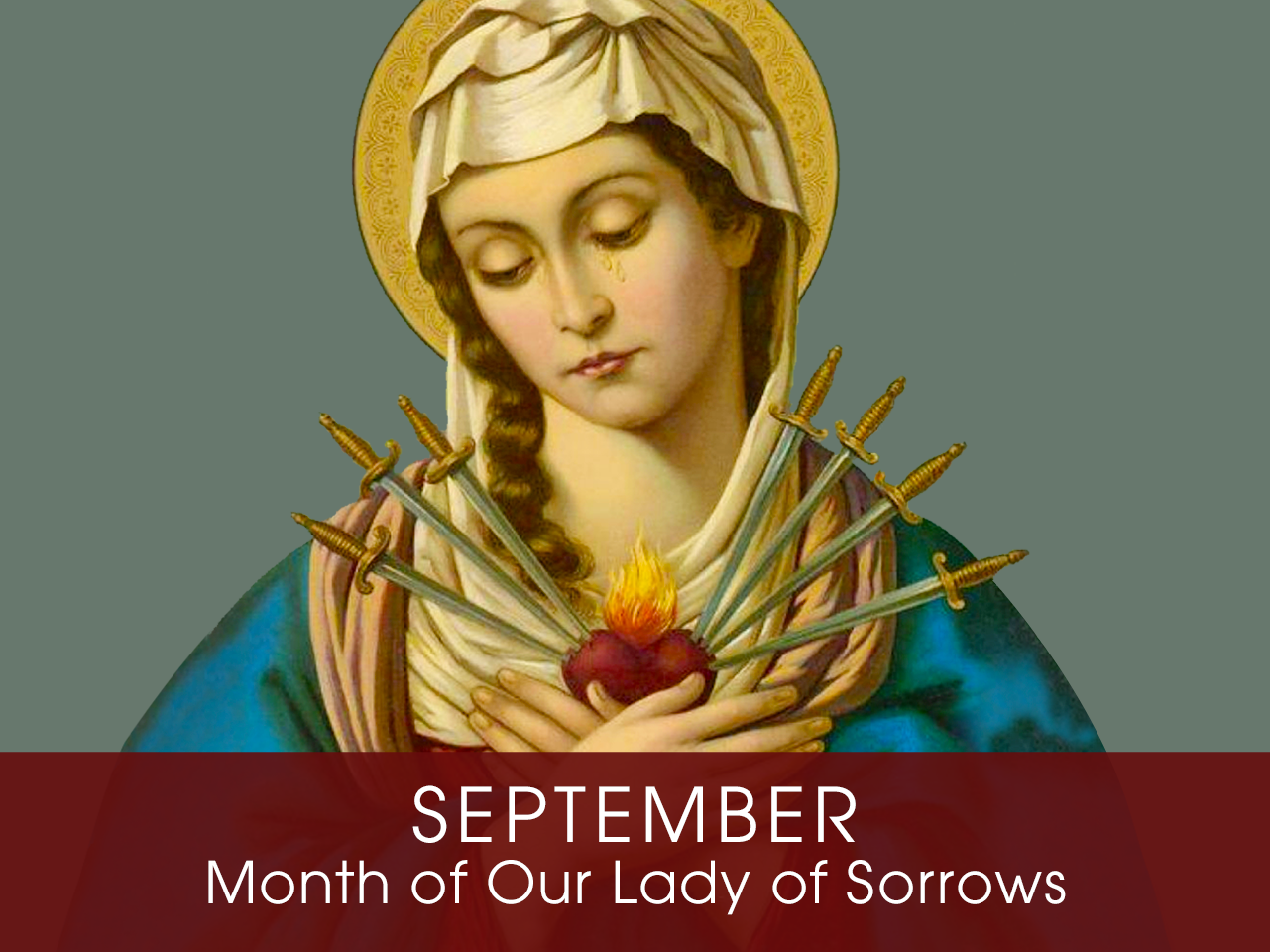 Month of

Our Lady of Sorrows (Mater Dolorosa)
Devotion of the Month
The Church dedicates the month of September to Our Lady of Sorrows, also known as Mater Dolorosa (Mother of Sorrows). This devotion recalls the Blessed Virgin Mary's spiritual martyrdom in virtue of her perfect union with the Passion of Christ. This was her role in salvation history, and what merited her place as the spiritual Mother of all Christians. This is symbolized by a single sword, or seven swords, piercing Mary's suffering heart, as foretold in Simeon's prophecy. Traditionally the Church meditates on the "Seven Sorrows" of our Blessed Mother: the prophecy of Simeon; the Holy Family's flight into Egypt; the loss of the Child Jesus for three days; the meeting of Mary and Jesus as he carried his cross; Jesus' crucifixion and death; Jesus' sacred body taken down from the cross; and Jesus' burial. The feast of Our Lady of Sorrows (Mater Dolorosa) is September 15th.
Find a Devotional or Sacramental
Daily Prayers
Prayer for the Dead
In your hands, O Lord, we humbly entrust our brothers and sisters.
In this life you embraced them with your tender love;
deliver them now from every evil and bid them eternal rest.
The old order has passed away: welcome them into paradise,
where there will be no sorrow, no weeping or pain,
but fullness of peace and joy with your Son and the Holy
Spirit forever and ever. Amen.
Prayer of Spiritual Communion
My Jesus, I believe that You are present in the most Blessed Sacrament. I love You above all things and I desire to receive You into my soul. Since I cannot now receive You sacramentally, come at least spiritually into my heart. I embrace You as if You were already there, and unite myself wholly to You. Never permit me to be separated from You. Amen.
Prayer for the Holy Father
Almighty and everlasting God, have mercy upon Thy servant, Pope Francis, our Supreme Pontiff, and direct him, according to Thy loving kindness, in the way of eternal salvation; that, of Thy gift, he may ever desire that which is pleasing unto Thee and may accomplish it with all his might. Through Christ Our Lord. Amen. Our Father. Hail Mary.