"The closer one approaches to God, the simpler one becomes." St. Teresa of Avila
Today's

Meditation

"Meekness is spiritual; meekness is joy. And we should all strive to have in our hearts that joy that is contagiously cheerful. We need not think that we must be continually joking; nor should we believe that even-temperedness must express its happiness in laughter. We may and undoubtedly will have bothersome worries, but we can and should be even-tempered, retain our peace of heart, be meek in spite of them. We can at least bear with life's small problems in such a way as not to allow them to rush upon others. Even temper is attractive, helps the community spirit, keeps down all that ends to anger for it seeks under varying circumstances to be pleasant, amiable, agreeable, mild, patient. It is, in fact, the practice of many virtues."
—Matt Fradd, p.79
Daily

Verse
"One thing have I asked of the Lord, that will I seek after; that I may dwell in the house of the Lord all the days of my life, to behold the beauty of the Lord, and to inquire in his temple." Psalm 27:4
St. Januarius
Saint of the Day
St. Januarius (d. 305 A.D.), also known as San Gennaro, was the Bishop of Benevento, Italy. Little is known of his early life. He was arrested and imprisoned for his faith while visiting other Christians in jail during the persecution of Roman Emperor Diocletian. Many attempts were made to kill him, but one after another they failed. He was thrown into a fiery furnace, but he came out unscathed. He was then thrown to wild beasts in the amphitheater, but they did not attack. He was finally beheaded, and his blood was collected by Christians and kept in a sealed glass vial for veneration. The vial of blood is still kept today in the Naples cathedral, and it has continually demonstrated miraculous properties for which no scientific explanation has been offered. St. Januarius' blood liquefies and becomes fresh on particular occasions throughout the year, especially his feast day, for which the saint has become famous. This phenomenon has been occurring with regularity for centuries, and is one of the "blood miracles" that is historically well-documented among the relics of certain saints. He is the patron saint of blood banks and the city of Naples, Italy. St. Januarius's feast day is September 19th.
Find a Devotional for this Saint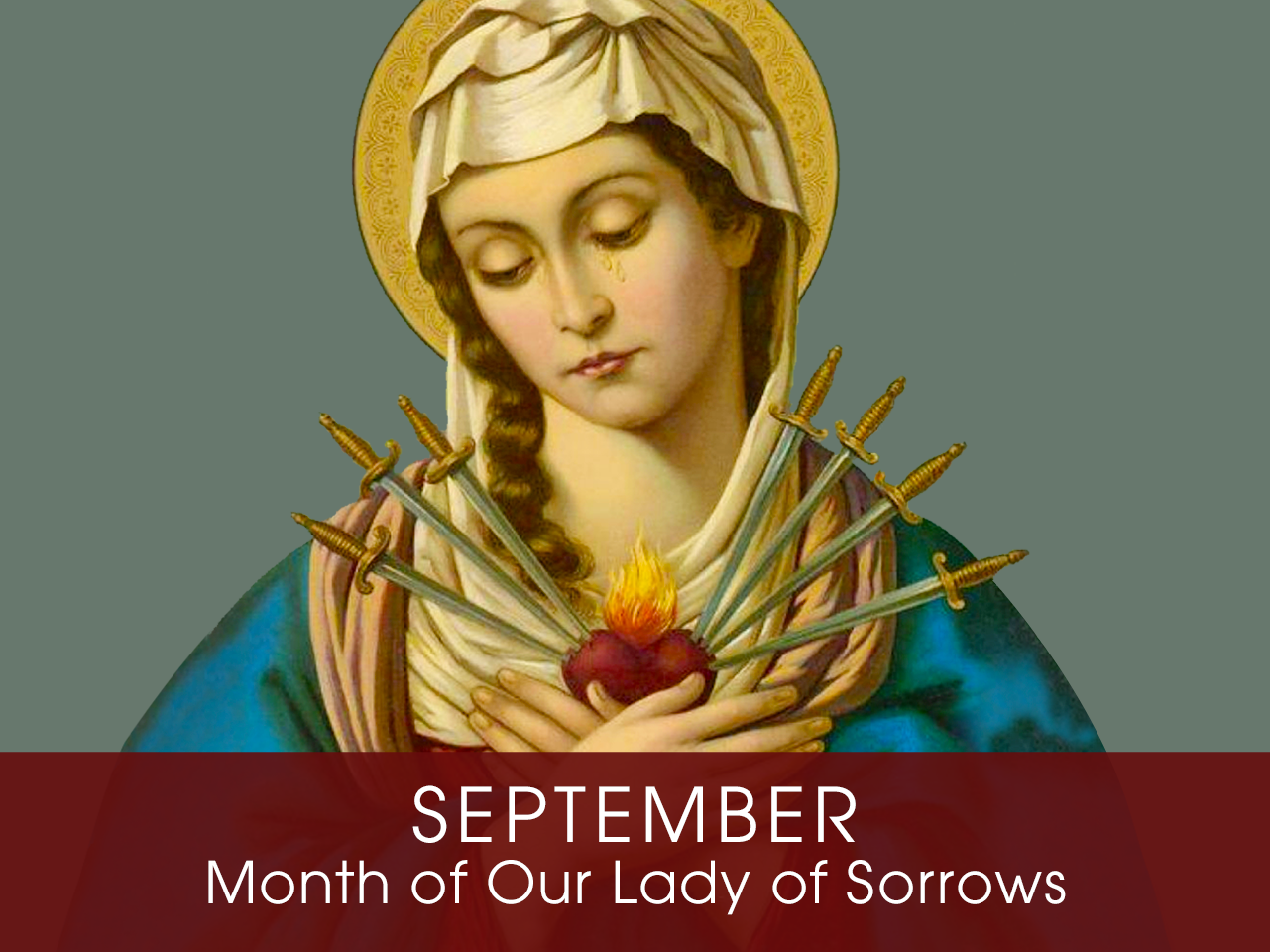 Month of the

Our Lady of Sorrows (Mater Dolorosa)
Devotion of the Month
The Church dedicates the month of September to Our Lady of Sorrows, also known as Mater Dolorosa (Mother of Sorrows). This devotion recalls the Blessed Virgin Mary's spiritual martyrdom in virtue of her perfect union with the Passion of Christ. This was her role in salvation history, and what merited her place as the spiritual Mother of all Christians. This is symbolized by a single sword, or seven swords, piercing Mary's suffering heart, as foretold in Simeon's prophecy. Traditionally the Church meditates on the "Seven Sorrows" of our Blessed Mother: the prophecy of Simeon; the Holy Family's flight into Egypt; the loss of the Child Jesus for three days; the meeting of Mary and Jesus as he carried his cross; Jesus' crucifixion and death; Jesus' sacred body taken down from the cross; and Jesus' burial. The feast of Our Lady of Sorrows (Mater Dolorosa) is September 15th.
Find a Devotional or Sacramental
Daily Prayers
Prayer for the Dead
In your hands, O Lord, we humbly entrust our brothers and sisters.
In this life you embraced them with your tender love;
deliver them now from every evil and bid them eternal rest.
The old order has passed away: welcome them into paradise,
where there will be no sorrow, no weeping or pain,
but fullness of peace and joy with your Son and the Holy
Spirit forever and ever. Amen.
Prayer of Spiritual Communion
My Jesus, I believe that You are present in the most Blessed Sacrament. I love You above all things and I desire to receive You into my soul. Since I cannot now receive You sacramentally, come at least spiritually into my heart. I embrace You as if You were already there, and unite myself wholly to You. Never permit me to be separated from You. Amen.
Prayer for the Holy Father
Almighty and everlasting God, have mercy upon Thy servant, Pope Francis, our Supreme Pontiff, and direct him, according to Thy loving kindness, in the way of eternal salvation; that, of Thy gift, he may ever desire that which is pleasing unto Thee and may accomplish it with all his might. Through Christ Our Lord. Amen. Our Father. Hail Mary.