"For me, prayer is a surge of the heart; it is a simple look turned toward heaven, it is a cry of recognition and of love, embracing both trial and joy." St. Therese of Lisieux
Today's

Meditation

"You must first have peace in your own soul before you can make peace between other people. Peaceable people accomplish more good than learned people do. Those who are passionate often can turn good into evil and readily believe the worst. But those who are honest and peaceful turn all things to good and are suspicious of no one. … It is no test of virtue to be on good terms with easy-going people, for they are always well liked. And, of course, all of us want to live in peace and prefer those who agree with us. But the real test of virtue and deserving of praise is to live at peace with the perverse, or the aggressive and those who contradict us, for this needs a great grace. … in this mortal life, our peace consists in the humble bearing of suffering and contradictions, not in being free of them, for we cannot live in this world without adversity. Those who can best suffer will enjoy the most peace, for such persons are masters of themselves, lords of the world, with Christ for their friend, and heaven as their reward."
— Thomas á Kempis, p.72-73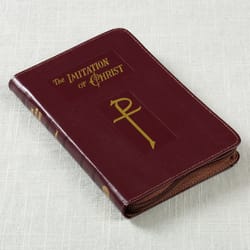 Daily

Verse
"Then the disciples came to Jesus privately and said, 'Why could we not cast it out?' He said to them, 'Because of your little faith. For truly I tell you, if you have faith the size of a mustard seed, you will say to this mountain, "Move from here to there", and it will move; and nothing will be impossible for you.'" Matthew 17:20
St. Matthew
Saint of the Day
St. Matthew the Apostle (1st c.) was a Jew who also went by the name of Levi. He was from Galilee and served in Capernaum as a tax collector for Herod Antipas before becoming a disciple of Jesus. It was in the home of St. Matthew that Jesus dined with the "sinners and tax collectors." Under Jesus' influence St. Matthew was led to repentance for the evil he had done as a tax-collector, a position despised by his fellow Jews. He repaid those he cheated four-fold, sold all his possessions, and followed Christ as one of the twelve Apostles. St. Matthew preached among the Jews for fifteen years following the Resurrection and Ascension of Jesus. He is the author of the Gospel that bears his name, which he wrote to convince the Jews that Jesus Christ was the Messiah promised to Israel. According to tradition, St. Matthew the Apostle brought the Gospel to Syria, Media, Persia, Parthia, and finished his preaching in Ethiopia with a martyr's death. He is the patron of guards, bankers, accountants, security forces, and stock brokers. His feast day is September 21st.
Find a Devotional for this Saint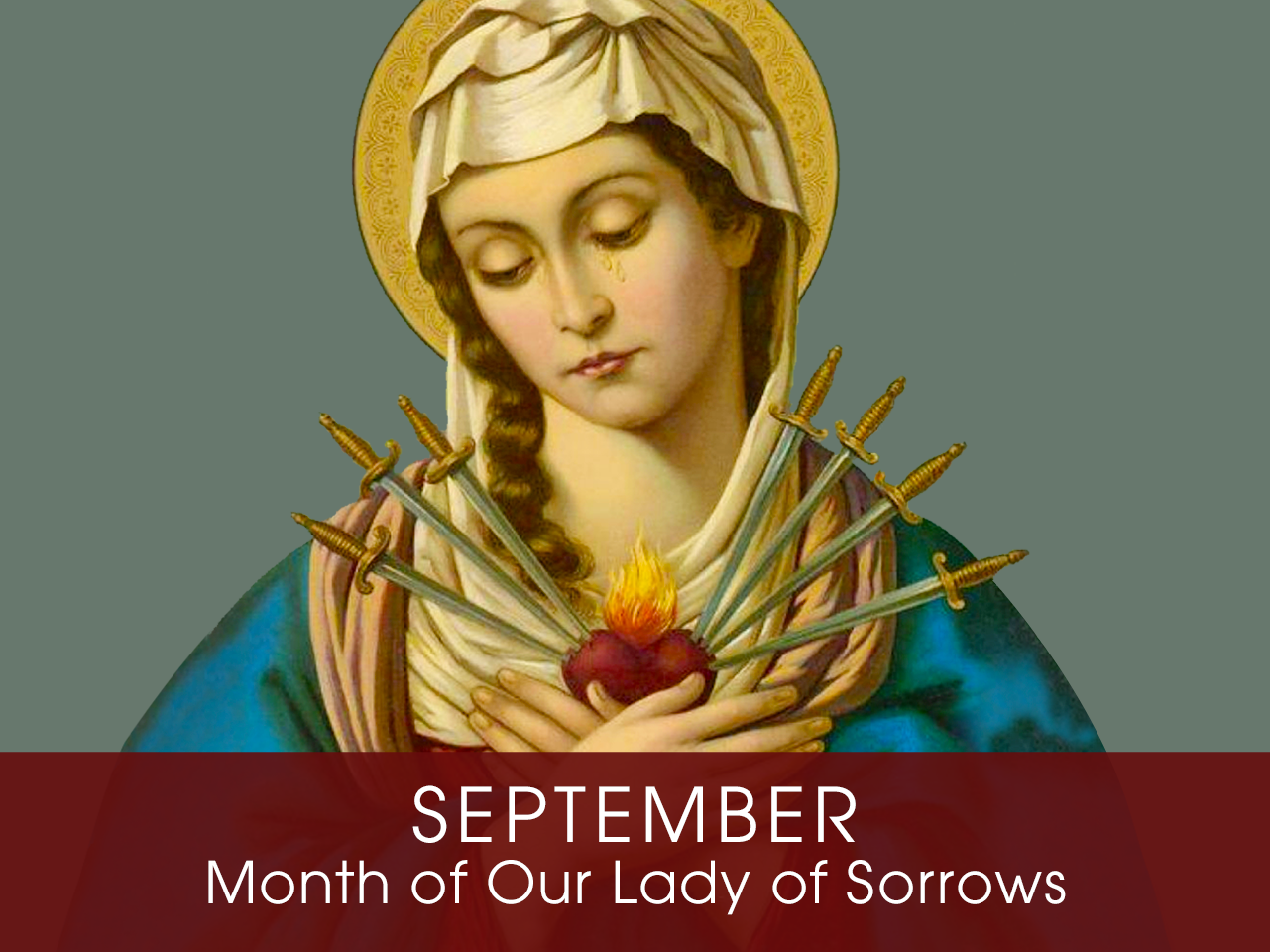 Month of the

Our Lady of Sorrows (Mater Dolorosa)
Devotion of the Month
The Church dedicates the month of September to Our Lady of Sorrows, also known as Mater Dolorosa (Mother of Sorrows). This devotion recalls the Blessed Virgin Mary's spiritual martyrdom in virtue of her perfect union with the Passion of Christ. This was her role in salvation history, and what merited her place as the spiritual Mother of all Christians. This is symbolized by a single sword, or seven swords, piercing Mary's suffering heart, as foretold in Simeon's prophecy. Traditionally the Church meditates on the "Seven Sorrows" of our Blessed Mother: the prophecy of Simeon; the Holy Family's flight into Egypt; the loss of the Child Jesus for three days; the meeting of Mary and Jesus as he carried his cross; Jesus' crucifixion and death; Jesus' sacred body taken down from the cross; and Jesus' burial. The feast of Our Lady of Sorrows (Mater Dolorosa) is September 15th.
Find a Devotional or Sacramental
Daily Prayers
Prayer for the Dead
In your hands, O Lord, we humbly entrust our brothers and sisters.
In this life you embraced them with your tender love;
deliver them now from every evil and bid them eternal rest.
The old order has passed away: welcome them into paradise,
where there will be no sorrow, no weeping or pain,
but fullness of peace and joy with your Son and the Holy
Spirit forever and ever. Amen.
Prayer of Spiritual Communion
My Jesus, I believe that You are present in the most Blessed Sacrament. I love You above all things and I desire to receive You into my soul. Since I cannot now receive You sacramentally, come at least spiritually into my heart. I embrace You as if You were already there, and unite myself wholly to You. Never permit me to be separated from You. Amen.
Prayer for the Holy Father
Almighty and everlasting God, have mercy upon Thy servant, Pope Francis, our Supreme Pontiff, and direct him, according to Thy loving kindness, in the way of eternal salvation; that, of Thy gift, he may ever desire that which is pleasing unto Thee and may accomplish it with all his might. Through Christ Our Lord. Amen. Our Father. Hail Mary.