"Grant me, O Lord my God, a mind to know you, a heart to seek you, wisdom to find you, conduct pleasing to you, faithful perseverance in waiting for you, and a hope of finally embracing you." St. Thomas Aquinas
Today's

Meditation

"All our perfection consists in being conformed, united and consecrated to Jesus Christ; and therefore the most perfect of all devotions is, without any doubt, that which the most perfectly conforms, unites and consecrates us to Jesus Christ. Now, Mary being the most conformed of all creatures to Jesus Christ, it follows that, of all devotions, that which most consecrates and conforms the soul to Our Lord is devotion to His holy Mother, and that the more a soul is consecrated to Mary, the more it is consecrated to Jesus."
—St. Louis De Montfort, p. 65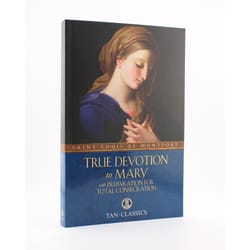 Daily

Verse
"One of the scribes, when he came forward and heard them disputing and saw how well he had answered them, asked him, "Which is the first of all the commandments?" Jesus replied, "The first is this: 'Hear, O Israel! The Lord our God is Lord alone! You shall love the Lord your God with all your heart, with all your soul, with all your mind, and with all your strength.' The second is this: 'You shall love your neighbor as yourself.' There is no other commandment greater than these." Mark 12:28-31
Saint Ignatius of Santhia
Saint of the Day
St. Ignatius of Santhia (1686-1770) was born in Italy to an upper-class family. He received his early education from a devout priest, a relative of his mother, who inspired him to join the priesthood. He studied philosophy and theology, and after his ordination served as a diocesan priest for six years. St. Ignatius earned a reputation as an excellent preacher of retreats and missions, and he had a promising future within the diocese. His family and parishioners were surprised and disappointed when he decided to join the Capuchin Franciscans in Turin as a poor, humble friar. However, St. Ignatius flourished in the poverty and simplicity of the Franciscan way of life. He became well-known for his wisdom and sanctity, and many people from all walks of life came to him for confession and spiritual direction. He had a great devotion to the Blessed Virgin Mary and prayed the rosary faithfully. He served God with humble obedience and inspired this virtue in the Franciscan novices over whom he had charge. He spent his last years on a sickbed where he continued to hear confessions and give direction to his visitors. St. Ignatius of Santhia's feast day is September 22nd.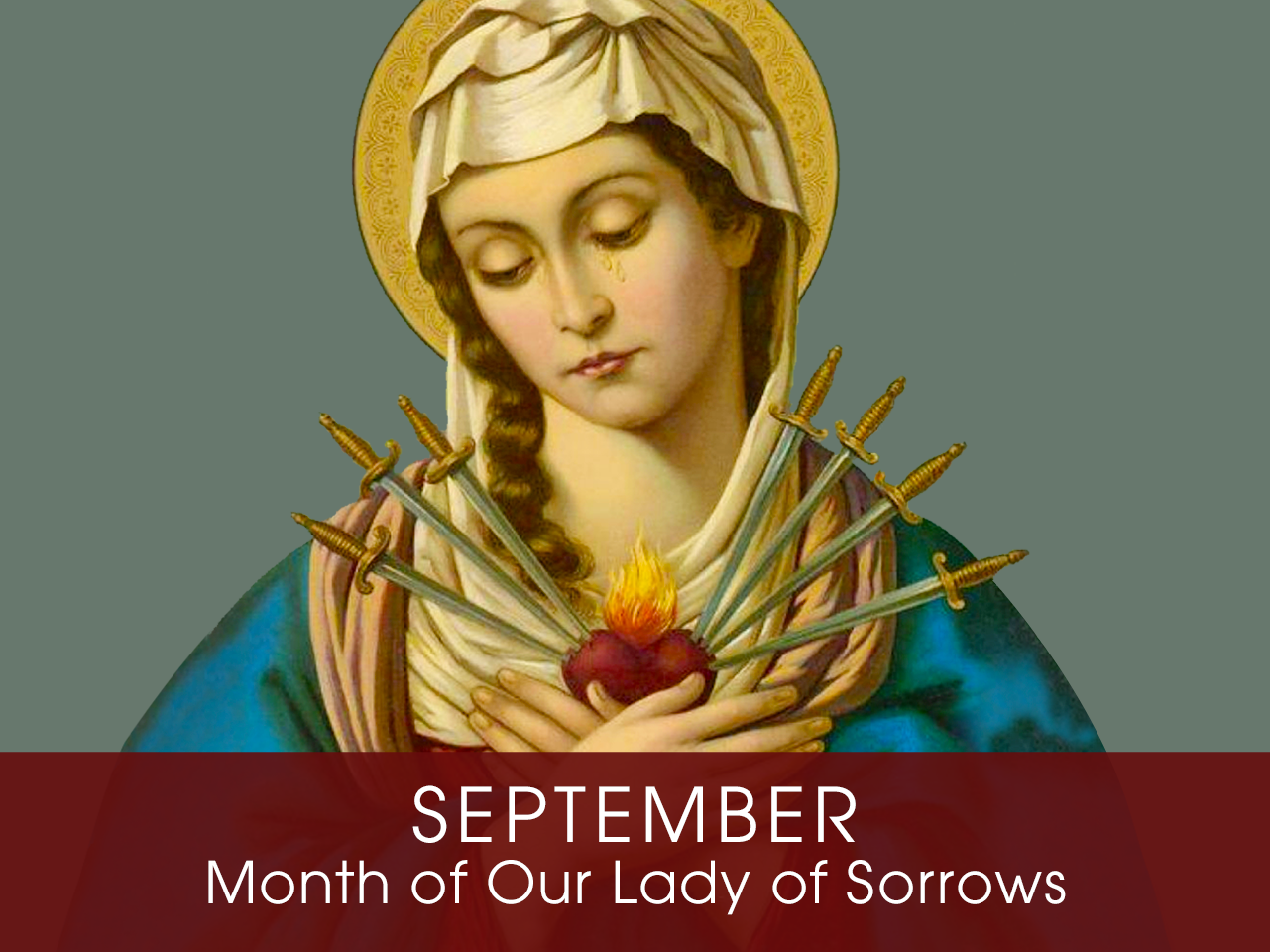 Month of the

Our Lady of Sorrows (Mater Dolorosa)
Devotion of the Month
The Church dedicates the month of September to Our Lady of Sorrows, also known as Mater Dolorosa (Mother of Sorrows). This devotion recalls the Blessed Virgin Mary's spiritual martyrdom in virtue of her perfect union with the Passion of Christ. This was her role in salvation history, and what merited her place as the spiritual Mother of all Christians. This is symbolized by a single sword, or seven swords, piercing Mary's suffering heart, as foretold in Simeon's prophecy. Traditionally the Church meditates on the "Seven Sorrows" of our Blessed Mother: the prophecy of Simeon; the Holy Family's flight into Egypt; the loss of the Child Jesus for three days; the meeting of Mary and Jesus as he carried his cross; Jesus' crucifixion and death; Jesus' sacred body taken down from the cross; and Jesus' burial. The feast of Our Lady of Sorrows (Mater Dolorosa) is September 15th.
Find a Devotional or Sacramental
Daily Prayers
Prayer for the Dead
In your hands, O Lord, we humbly entrust our brothers and sisters.
In this life you embraced them with your tender love;
deliver them now from every evil and bid them eternal rest.
The old order has passed away: welcome them into paradise,
where there will be no sorrow, no weeping or pain,
but fullness of peace and joy with your Son and the Holy
Spirit forever and ever. Amen.
Prayer of Spiritual Communion
My Jesus, I believe that You are present in the most Blessed Sacrament. I love You above all things and I desire to receive You into my soul. Since I cannot now receive You sacramentally, come at least spiritually into my heart. I embrace You as if You were already there, and unite myself wholly to You. Never permit me to be separated from You. Amen.
Prayer for the Holy Father
Almighty and everlasting God, have mercy upon Thy servant, Pope Francis, our Supreme Pontiff, and direct him, according to Thy loving kindness, in the way of eternal salvation; that, of Thy gift, he may ever desire that which is pleasing unto Thee and may accomplish it with all his might. Through Christ Our Lord. Amen. Our Father. Hail Mary.