"We should take as a maxim never to be surprised at current difficulties, no more than at a passing breeze, because with a little patience we shall see them disappear. Time changes everything." St. Vincent de Paul
Today's

Meditation

"I never found anyone so religious and devout as not to have sometimes a subtraction of grace, or feel a diminution of fervor. No saint was ever so highly rapt and illuminated as not to be tempted sooner or later. For he is not worthy of the high contemplation of God who has not, for God's sake, been exercised with some tribulation. For temptation going before is usually a sign of ensuing consolation. For heavenly comfort is promised to such as have been proved by temptation. To him that overcometh, saith our Lord, I will give to eat of the tree of life."
—Thomas à Kempis, p. 65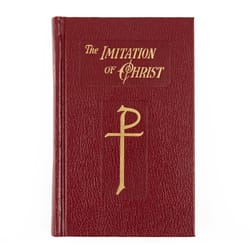 Daily

Verse
"But you, be self-possessed in all circumstances; put up with hardship; perform the work of an evangelist; fulfill your ministry. For I am already being poured out like a libation, and the time of my departure is at hand. I have competed well; I have finished the race; I have kept the faith. From now on the crown of righteousness awaits me, which the Lord, the just judge, will award to me on that day, and not only to me, but to all who have longed for his appearance." 2 Timothy 4:5-8
St. Gerard Sagredo
Saint of the Day
St. Gerard Sagredo (980–1046 A.D.) was born in Venice, Italy. From an early age he desired to dedicate his life to God, and as a young man became a Benedictine monk. He first served as abbot at a monastery in Venice, but left to make a pilgrimage to the Holy Land. While passing through Hungary he met the Hungarian king, St. Stephen, who asked him to stay in his country to evangelize and minister to his people. St. Gerard agreed, and was named Bishop of Csanád and the royal tutor of the Hungarian prince. He ministered tirelessly among the Hungarian people and helped to convert the whole country to Christianity, for which he is called the "Apostle of Hungary." After the death of King St. Stephen there was a pagan uprising against the Christians, and St. Gerard was martyred for the faith along with two others. His death took place on a hill in Budapest which is now named after him; according to one tradition he was placed in a barrel lined with spikes, and rolled down the hill. He was declared a saint in 1083 by Pope St. Gregory VII. St. Gerard Sagredo is the patron saint of Hungary, and his feast day is September 24th.
Find a Devotional for this Saint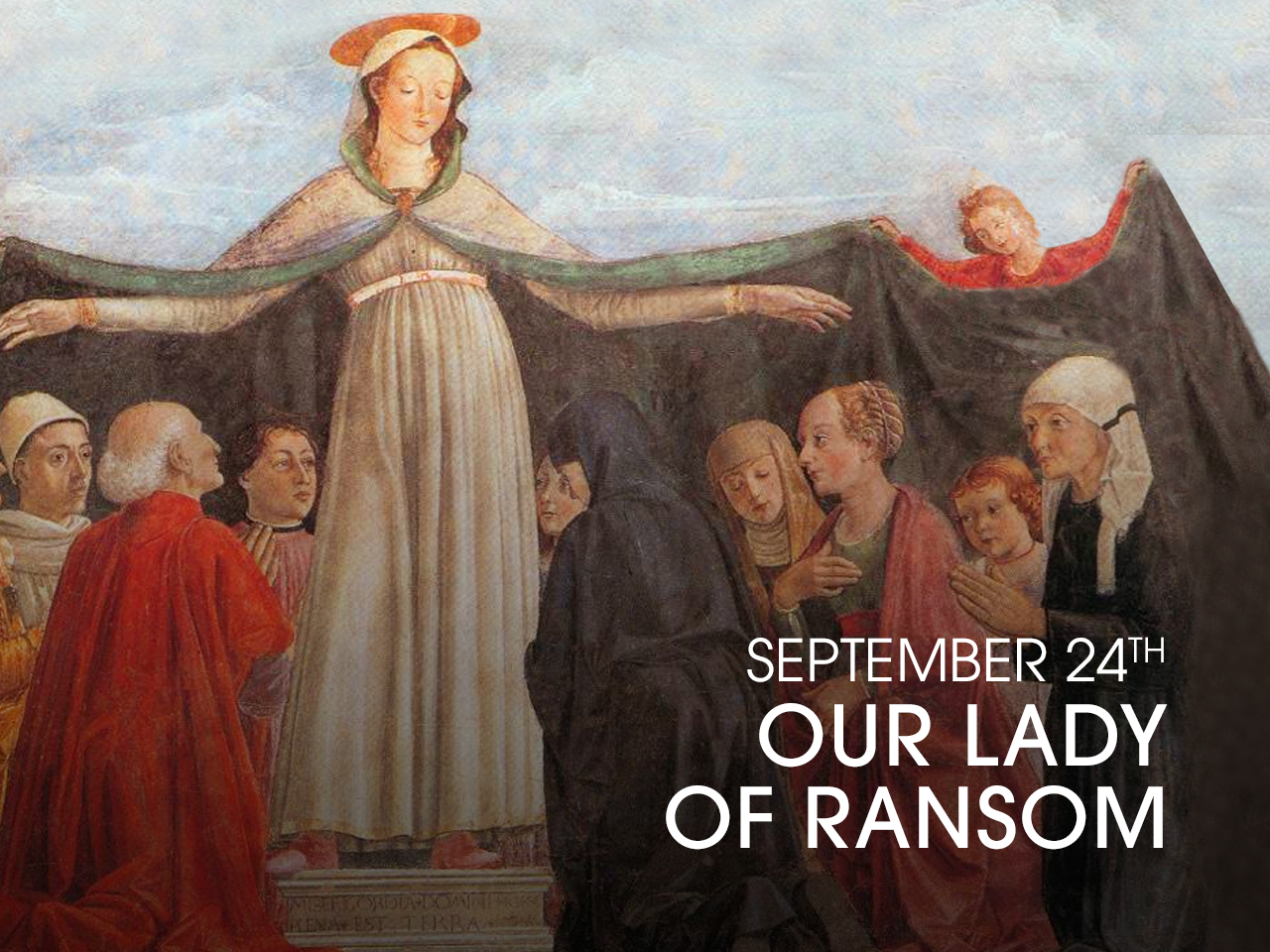 Our Lady of Ransom (Our Lady of Mercy)
Feast Day
St. Peter Nolasco (12th c.) was inspired to establish a religious order for the ransom of Christians from Muslim captivity. On August 1, 1218 the Blessed Virgin appeared to St. Peter Nolasco along with his confessor, St. Raymond of Peñafort, and to King James I of the Kingdom of Aragon to verify the Divine inspiration of this mission. Word of the Marian apparition soon spread to the entire kingdom. The new religious foundation, called the Order of the Blessed Virgin Mary of Mercy (the Mercedarians), was established and approved by Pope Gregory IX. The order worked to raise money to ransom Christians who had been captured and enslaved by Muslims, and to offer themselves, if necessary, as payment for their release. A feast was instituted under the title of Our Lady of Ransom and observed on September 24, later extended to the entire Church.
See More About Today's Feast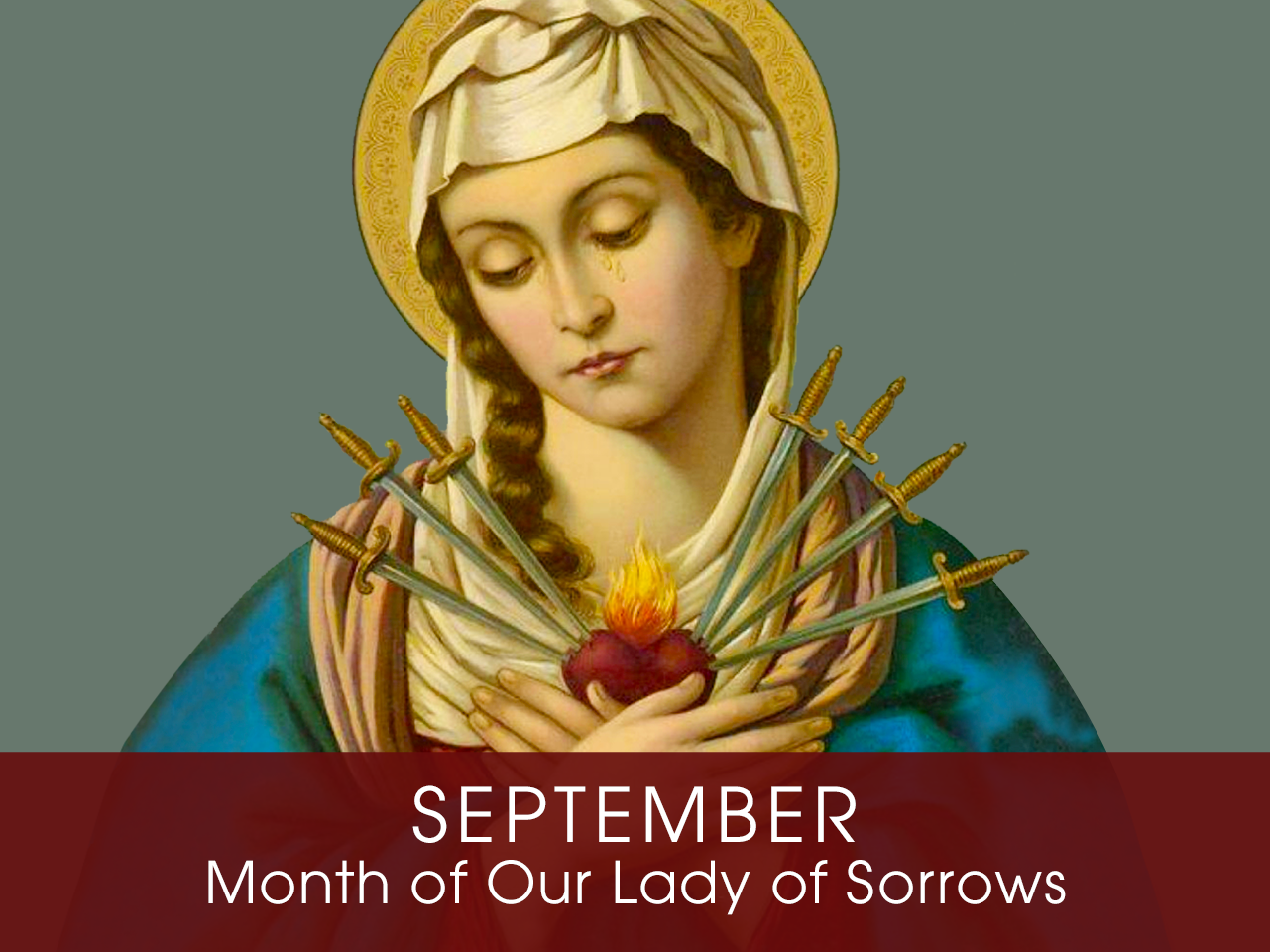 Month of the

Our Lady of Sorrows (Mater Dolorosa)
Devotion of the Month
The Church dedicates the month of September to Our Lady of Sorrows, also known as Mater Dolorosa (Mother of Sorrows). This devotion recalls the Blessed Virgin Mary's spiritual martyrdom in virtue of her perfect union with the Passion of Christ. This was her role in salvation history, and what merited her place as the spiritual Mother of all Christians. This is symbolized by a single sword, or seven swords, piercing Mary's suffering heart, as foretold in Simeon's prophecy. Traditionally the Church meditates on the "Seven Sorrows" of our Blessed Mother: the prophecy of Simeon; the Holy Family's flight into Egypt; the loss of the Child Jesus for three days; the meeting of Mary and Jesus as he carried his cross; Jesus' crucifixion and death; Jesus' sacred body taken down from the cross; and Jesus' burial. The feast of Our Lady of Sorrows (Mater Dolorosa) is September 15th.
Find a Devotional or Sacramental
Daily Prayers
Prayer for the Dead
In your hands, O Lord, we humbly entrust our brothers and sisters.
In this life you embraced them with your tender love;
deliver them now from every evil and bid them eternal rest.
The old order has passed away: welcome them into paradise,
where there will be no sorrow, no weeping or pain,
but fullness of peace and joy with your Son and the Holy
Spirit forever and ever. Amen.
Prayer of Spiritual Communion
My Jesus, I believe that You are present in the most Blessed Sacrament. I love You above all things and I desire to receive You into my soul. Since I cannot now receive You sacramentally, come at least spiritually into my heart. I embrace You as if You were already there, and unite myself wholly to You. Never permit me to be separated from You. Amen.
Prayer for the Holy Father
Almighty and everlasting God, have mercy upon Thy servant, Pope Francis, our Supreme Pontiff, and direct him, according to Thy loving kindness, in the way of eternal salvation; that, of Thy gift, he may ever desire that which is pleasing unto Thee and may accomplish it with all his might. Through Christ Our Lord. Amen. Our Father. Hail Mary.