"Consider God's charity. Where else have we ever seen someone who has been offended voluntarily paying out his life for those who have offended him?" St. Catherine of Siena
Today's

Meditation

"I remind you, My daughter, that as often as you hear the clock strike the third hour, immerse yourself completely in My mercy, adoring and glorifying it; invoke its omnipotence for the whole world, and particularly for poor sinners; for at that moment mercy was opened wide for every soul. In this hour you can obtain everything for yourself and for others for the asking; it was the hour of grace for the whole world—mercy triumphed over justice. My daughter, try your best to make the Stations of the Cross in this hour, provided that your duties permit it; and if you are not able to make the Stations of the Cross, then at least step into the chapel for a moment and adore, in the Blessed Sacrament, My Heart, which is full of mercy; and should you be unable to step into the chapel, immerse yourself in prayer there where you happen to be, if only for a very brief instant."
—Jesus to St. Faustina Kowalska, (1572)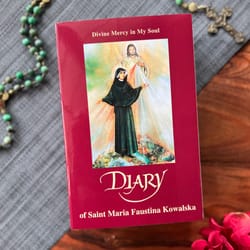 Daily

Verse
"So, as you received Christ Jesus the Lord, walk in him, rooted in him and built upon him and established in the faith as you were taught, abounding in thanksgiving." Colossians 2:6-7
St. Cleophas
Saint of the Day
St. Cleophas (1st c.) was one of Jesus' seventy disciples, and one of the two disciples who were traveling along the road to Emmaus after the crucifixion and resurrection of Jesus in Jerusalem, as recounted in Luke's Gospel. The resurrected Jesus appeared and walked along the road with St. Cleophas and his companion, explaining the events of his Passion and how they fulfilled the Holy Scriptures. According to one tradition, Cleophas (also known as Alphaeus), was a relative of Jesus; he was the brother of St. Joseph, and therefore was Jesus' uncle. Cleophas was the husband of St. Mary of Cleophas, and they had three sons we know by name: St. Simon, St. James the Less, and St. Jude. St. Cleophas, through his daughter Mary Salome, was also grandfather to St. James the Greater and St. John. Therefore three of his sons and two of his grandsons were among the Twelve Apostles. According to tradition, St. Cleophas was martyred by the Jewish authorities in the same home in which he received Jesus as a guest. His feast day is September 25th.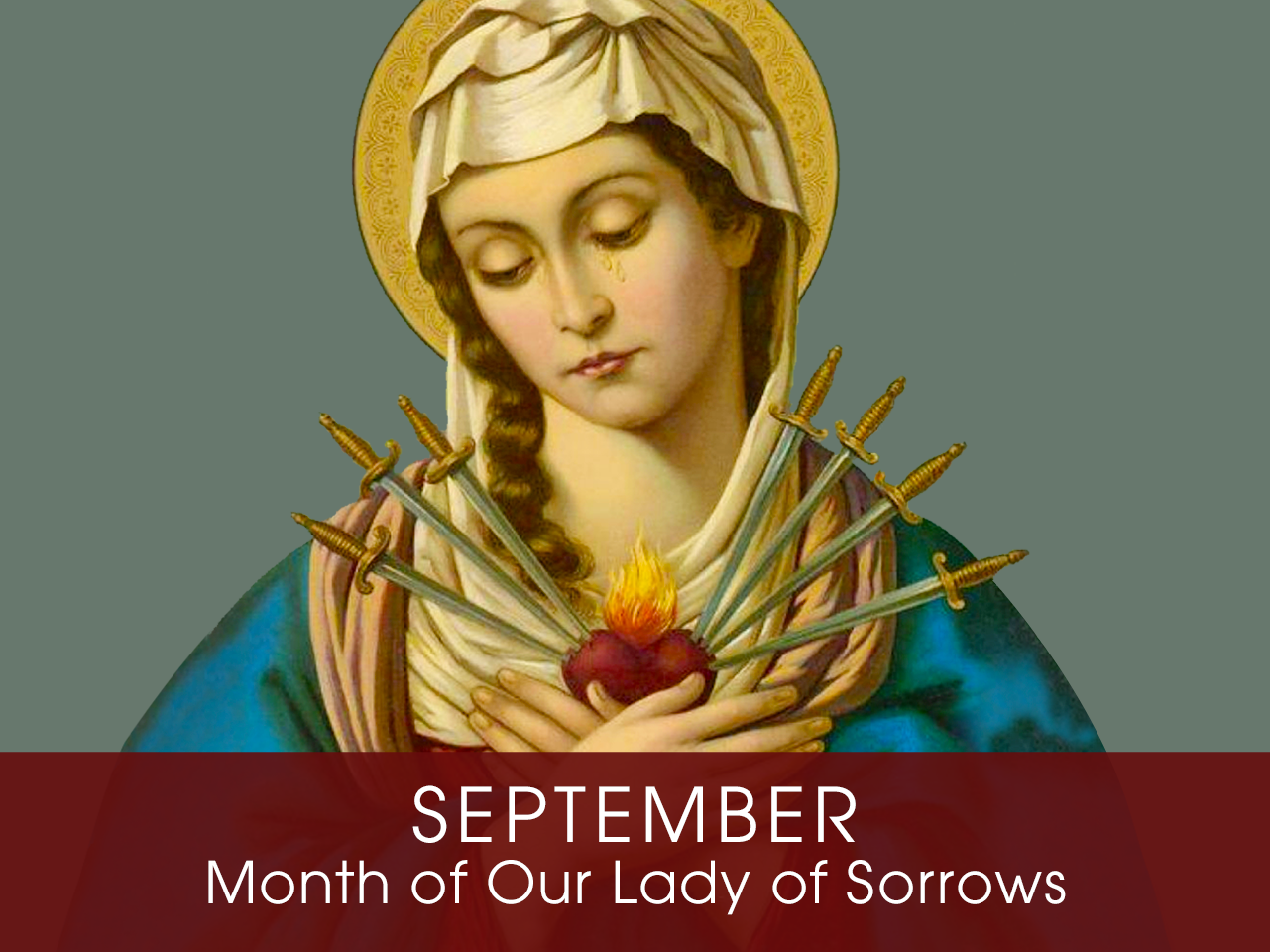 Month of the

Our Lady of Sorrows (Mater Dolorosa)
Devotion of the Month
The Church dedicates the month of September to Our Lady of Sorrows, also known as Mater Dolorosa (Mother of Sorrows). This devotion recalls the Blessed Virgin Mary's spiritual martyrdom in virtue of her perfect union with the Passion of Christ. This was her role in salvation history, and what merited her place as the spiritual Mother of all Christians. This is symbolized by a single sword, or seven swords, piercing Mary's suffering heart, as foretold in Simeon's prophecy. Traditionally the Church meditates on the "Seven Sorrows" of our Blessed Mother: the prophecy of Simeon; the Holy Family's flight into Egypt; the loss of the Child Jesus for three days; the meeting of Mary and Jesus as he carried his cross; Jesus' crucifixion and death; Jesus' sacred body taken down from the cross; and Jesus' burial. The feast of Our Lady of Sorrows (Mater Dolorosa) is September 15th.
Find a Devotional or Sacramental
Daily Prayers
Prayer for the Dead
In your hands, O Lord, we humbly entrust our brothers and sisters.
In this life you embraced them with your tender love;
deliver them now from every evil and bid them eternal rest.
The old order has passed away: welcome them into paradise,
where there will be no sorrow, no weeping or pain,
but fullness of peace and joy with your Son and the Holy
Spirit forever and ever. Amen.
Prayer of Spiritual Communion
My Jesus, I believe that You are present in the most Blessed Sacrament. I love You above all things and I desire to receive You into my soul. Since I cannot now receive You sacramentally, come at least spiritually into my heart. I embrace You as if You were already there, and unite myself wholly to You. Never permit me to be separated from You. Amen.
Prayer for the Holy Father
Almighty and everlasting God, have mercy upon Thy servant, Pope Francis, our Supreme Pontiff, and direct him, according to Thy loving kindness, in the way of eternal salvation; that, of Thy gift, he may ever desire that which is pleasing unto Thee and may accomplish it with all his might. Through Christ Our Lord. Amen. Our Father. Hail Mary.