"We should strive to keep our hearts open to the sufferings and wretchedness of other people, and pray continually that God may grant us that spirit of compassion which is truly the spirit of God." St. Vincent de Paul
Today's

Meditation

"By accepting the sufferings 'offered' by life and allowed by God for our progress and purification, we spare ourselves much harder ones. We need to develop this kind of realism and, once and for all, stop dreaming of a life without suffering or conflict. That is the life of heaven, not earth. We must take up our cross and follow Christ courageously every day; the bitterness of that cross will sooner or later be transformed into sweetness."
—Fr. Jacques Philippe, p. 49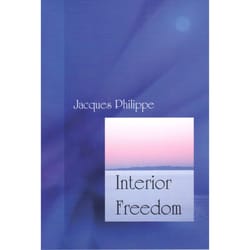 Daily

Verse
"Whoever loves me will keep my word, and my Father will love him, and we will come to him and make our dwelling with him. Whoever does not love me does not keep my words; yet the word you hear is not mine but that of the Father who sent me." John 14:23-24
St. Vincent de Paul
Saint of the Day
St. Vincent de Paul (1581–1660) was born in France to a peasant farming family. As a child he grew up herding sheep, and showed such an aptitude for his studies that his father sold the family oxen to fund his seminary education. After his ordination in 1600, St. Vincent worked in Toulouse as a tutor to pay for his doctorate. In 1605, while traveling by sea, he was captured by Turkish pirates. He was taken to Tunis in Africa and sold into slavery four times before escaping in 1607 along with his master, whom he had coverted to the faith. St. Vincent then continued his studies in Rome, and afterwards returned to France. He served as a parish priest and ministered to the nobility; however, two life-changing encounters with destitute people inspired him to begin work among the poor and marginalized. He gathered the wealthy women of his parish to collect funds for missionary projects. From this group came the Daughters of Charity of St. Vincent de Paul. He also founded an Order of priests, the Vincentians, who, during a time of general laxity and ignorance among the clergy, devoted themselves to the Evangelical Councils while serving in small towns and villages. He committed himself to the education of priests and conducted many retreats for their spiritual formation. He also ministered to convicts suffering deplorable conditions in prison, and won many to the faith in addition to building them a hospital. St. Vincent renewed the faith of France during a time of spiritual crisis. For this he was named the patron of charitable works. He is also the patron of the St. Vincent de Paul Society, an organization dedicated to the service of the poor, now working in 132 countries. His feast day is September 27th.
Find a Devotional for this Saint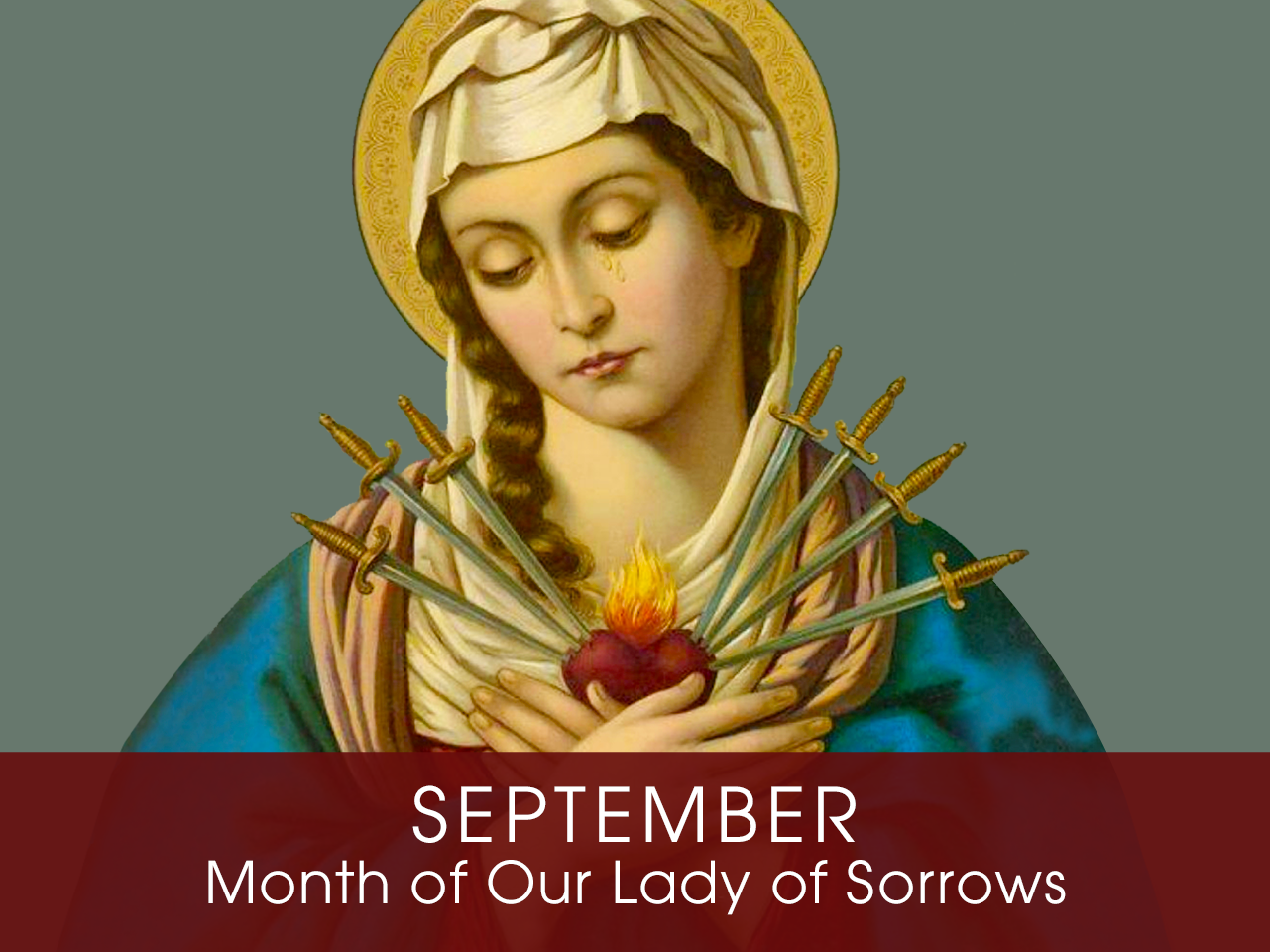 Month of the

Our Lady of Sorrows (Mater Dolorosa)
Devotion of the Month
The Church dedicates the month of September to Our Lady of Sorrows, also known as Mater Dolorosa (Mother of Sorrows). This devotion recalls the Blessed Virgin Mary's spiritual martyrdom in virtue of her perfect union with the Passion of Christ. This was her role in salvation history, and what merited her place as the spiritual Mother of all Christians. This is symbolized by a single sword, or seven swords, piercing Mary's suffering heart, as foretold in Simeon's prophecy. Traditionally the Church meditates on the "Seven Sorrows" of our Blessed Mother: the prophecy of Simeon; the Holy Family's flight into Egypt; the loss of the Child Jesus for three days; the meeting of Mary and Jesus as he carried his cross; Jesus' crucifixion and death; Jesus' sacred body taken down from the cross; and Jesus' burial. The feast of Our Lady of Sorrows (Mater Dolorosa) is September 15th.
Find a Devotional or Sacramental
Daily Prayers
Prayer for the Dead
In your hands, O Lord, we humbly entrust our brothers and sisters.
In this life you embraced them with your tender love;
deliver them now from every evil and bid them eternal rest.
The old order has passed away: welcome them into paradise,
where there will be no sorrow, no weeping or pain,
but fullness of peace and joy with your Son and the Holy
Spirit forever and ever. Amen.
Prayer of Spiritual Communion
My Jesus, I believe that You are present in the most Blessed Sacrament. I love You above all things and I desire to receive You into my soul. Since I cannot now receive You sacramentally, come at least spiritually into my heart. I embrace You as if You were already there, and unite myself wholly to You. Never permit me to be separated from You. Amen.
Prayer for the Holy Father
Almighty and everlasting God, have mercy upon Thy servant, Pope Francis, our Supreme Pontiff, and direct him, according to Thy loving kindness, in the way of eternal salvation; that, of Thy gift, he may ever desire that which is pleasing unto Thee and may accomplish it with all his might. Through Christ Our Lord. Amen. Our Father. Hail Mary.