"Let us make up for lost time. Let us give to God the time that remains to us." St. Alphonsus Liguori
Today's

Meditation

"Suppress Interior Noise – God created your soul silent and keeps it inviolate at baptism. He filled it with Himself, nothing other than Himself. It is later, little by little that the world bursts in. Noise invades, covering the soft voice of God. Since then, the racket amplifies itself. Return to your baptismal silence, my brother! Noise has three generators: memories, curiosity, and worries. Paralyze their action."
— An Anonymous Carthusian Monk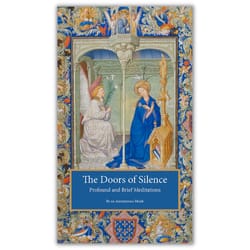 Daily

Verse
"I, then, a prisoner for the Lord, urge you to live in a manner worthy of the call you have received, with all humility and gentleness, with patience, bearing with one another through love, striving to preserve the unity of the spirit through the bond of peace." Ephesians 4:1-3
St. Wenceslaus
Saint of the Day
St. Wenceslaus (907–935 A.D.) was the son of the Duke of Bohemia. His grandfather was converted to Christianity by the missionaries Sts. Cyril and Methodius. His mother, Dragomir, was the daughter of a pagan tribal chief who was baptized at her marriage. After the death of his father, Wenceslaus received a Christian upbringing from his grandmother, St. Ludmila, while his mother reverted to her pagan ways. Dragomir reigned as regent, had St. Ludmila killed, and worked to oppose the spread of Christianity in Bohemia. When St. Wenceslaus was 18 he took control of the government and exiled his mother. St. Wenceslaus was described as a pious, humble, and intelligent ruler who worked to established Christianity in the land that would become part of the Holy Roman Empire. He was known for his vow of virginity, his many virtues, and his life of prayer and good works. After a political dispute arose, his mother and his younger brother, called Boleslaus the Cruel, plotted his murder along with a group of disaffected nobles. Boleslaus invited his brother to celebrate the feast of Sts. Cosmas and Damian, and arranged to have him assassinated on his way to Mass. St. Wenceslaus muttered words of forgiveness as he died, and his body was buried at the murder site. His brother succeeded him as Duke of Bohemia. Three years later Boleslaus repented of his crime, and had his brother's remains transferred to the Church of St. Vitus in Prague. Wenceslaus was considered a saint by the people at the time of his death. His feast day is September 28th.
Find a Devotional for this Saint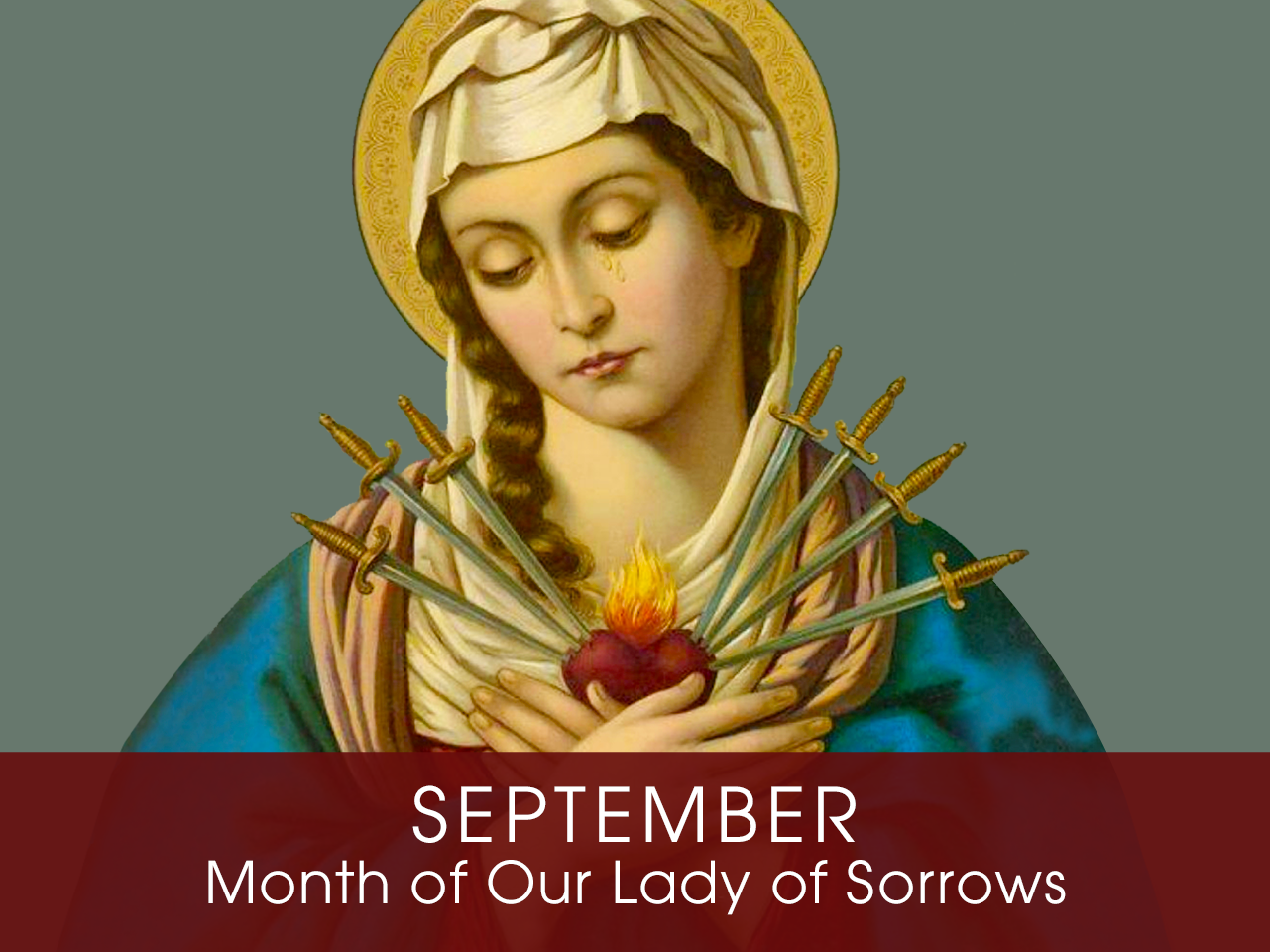 Month of

Our Lady of Sorrows (Mater Dolorosa)
Devotion of the Month
The Church dedicates the month of September to Our Lady of Sorrows, also known as Mater Dolorosa (Mother of Sorrows). This devotion recalls the Blessed Virgin Mary's spiritual martyrdom in virtue of her perfect union with the Passion of Christ. This was her role in salvation history, and what merited her place as the spiritual Mother of all Christians. This is symbolized by a single sword, or seven swords, piercing Mary's suffering heart, as foretold in Simeon's prophecy. Traditionally the Church meditates on the "Seven Sorrows" of our Blessed Mother: the prophecy of Simeon; the Holy Family's flight into Egypt; the loss of the Child Jesus for three days; the meeting of Mary and Jesus as he carried his cross; Jesus' crucifixion and death; Jesus' sacred body taken down from the cross; and Jesus' burial. The feast of Our Lady of Sorrows (Mater Dolorosa) is September 15th.
Find a Devotional or Sacramental
Daily Prayers
Prayer for the Dead
In your hands, O Lord, we humbly entrust our brothers and sisters.
In this life you embraced them with your tender love;
deliver them now from every evil and bid them eternal rest.
The old order has passed away: welcome them into paradise,
where there will be no sorrow, no weeping or pain,
but fullness of peace and joy with your Son and the Holy
Spirit forever and ever. Amen.
Prayer of Spiritual Communion
My Jesus, I believe that You are present in the most Blessed Sacrament. I love You above all things and I desire to receive You into my soul. Since I cannot now receive You sacramentally, come at least spiritually into my heart. I embrace You as if You were already there, and unite myself wholly to You. Never permit me to be separated from You. Amen.
Prayer for the Holy Father
Almighty and everlasting God, have mercy upon Thy servant, Pope Francis, our Supreme Pontiff, and direct him, according to Thy loving kindness, in the way of eternal salvation; that, of Thy gift, he may ever desire that which is pleasing unto Thee and may accomplish it with all his might. Through Christ Our Lord. Amen. Our Father. Hail Mary.