"God loves those who thank Him even in suffering." St. Arnold Janssen
Today's

Meditation

"If you are thinking of becoming a Christian, I warn you, you are embarking on something which is going to take the whole of you, brains and all. But, fortunately, it works the other way around. Anyone who is honestly trying to be a Christian will soon find his intelligence being sharpened: one of the reasons why it needs no special education to be a Christian is that Christianity is an education itself."
—C. S. Lewis, p. 78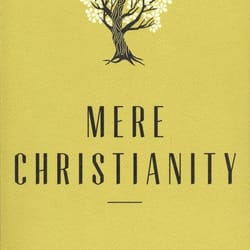 Daily

Verse
"It is he who made the earth by his power, who established the world by his wisdom, and by his understanding stretched out the heavens." Jeremiah 10:12
St. Jerome
Saint of the Day
St. Jerome (347 – 420) was born to a wealthy pagan family in Dalmatia. He was sent to Rome for his schooling and there converted to Christianity, being baptized by Pope Liberius. He studied theology and traveled widely to the important intellectual and theological centers across the newly-established Christian Empire. He was ordained a priest at Antioch and lived many years as a hermit in a nearby desert. He became an extraordinary scholar, considered to be the most learned of the Latin Church Fathers. Because of his many significant theological works, most notably the thirty years he spent writing the Latin translation of the Bible (the Latin Vulgate), he is one of the most influential and orthodox theologians in the life of the early Church. In his final years Saint Jerome lived in a monastery that he founded in the Holy Land near Bethlehem, where he worked on writing histories and biographies in addition to drawing deeper into a life of prayer and asceticism. For his important scholarly contributions St. Jerome was named a Doctor of the Church. He is the patron of libraries, archaeologists, students, and translators. St. Jerome's feast day is September 30th.
Find a Devotional for this Saint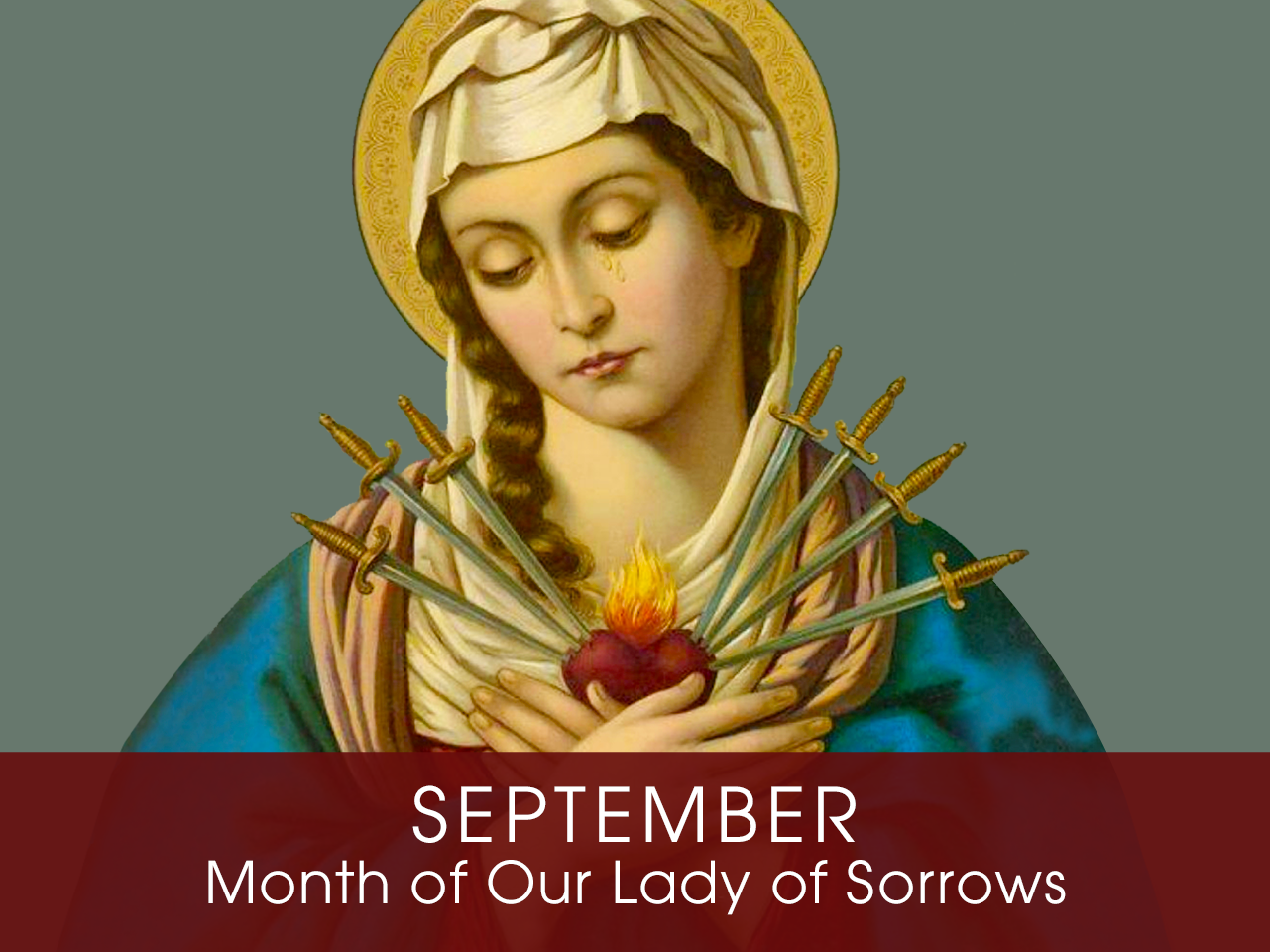 Month of the

Our Lady of Sorrows (Mater Dolorosa)
Devotion of the Month
The Church dedicates the month of September to Our Lady of Sorrows, also known as Mater Dolorosa (Mother of Sorrows). This devotion recalls the Blessed Virgin Mary's spiritual martyrdom in virtue of her perfect union with the Passion of Christ. This was her role in salvation history, and what merited her place as the spiritual Mother of all Christians. This is symbolized by a single sword, or seven swords, piercing Mary's suffering heart, as foretold in Simeon's prophecy. Traditionally the Church meditates on the "Seven Sorrows" of our Blessed Mother: the prophecy of Simeon; the Holy Family's flight into Egypt; the loss of the Child Jesus for three days; the meeting of Mary and Jesus as he carried his cross; Jesus' crucifixion and death; Jesus' sacred body taken down from the cross; and Jesus' burial. The feast of Our Lady of Sorrows (Mater Dolorosa) is September 15th.
Find a Devotional or Sacramental
Daily Prayers
Prayer for the Dead
In your hands, O Lord, we humbly entrust our brothers and sisters.
In this life you embraced them with your tender love;
deliver them now from every evil and bid them eternal rest.
The old order has passed away: welcome them into paradise,
where there will be no sorrow, no weeping or pain,
but fullness of peace and joy with your Son and the Holy
Spirit forever and ever. Amen.
Prayer of Spiritual Communion
My Jesus, I believe that You are present in the most Blessed Sacrament. I love You above all things and I desire to receive You into my soul. Since I cannot now receive You sacramentally, come at least spiritually into my heart. I embrace You as if You were already there, and unite myself wholly to You. Never permit me to be separated from You. Amen.
Prayer for the Holy Father
Almighty and everlasting God, have mercy upon Thy servant, Pope Francis, our Supreme Pontiff, and direct him, according to Thy loving kindness, in the way of eternal salvation; that, of Thy gift, he may ever desire that which is pleasing unto Thee and may accomplish it with all his might. Through Christ Our Lord. Amen. Our Father. Hail Mary.