"In everything, whether it is a thing sensed or a thing known, God Himself is hidden within." St. Bonaventure
Daily

Verse
"[There is] one body and one Spirit, as you were also called to the one hope of your call; one Lord, one faith, one baptism; one God and Father of all, who is over all and through all and in all. But grace was given to each of us according to the measure of Christ's gift." Ephesians 4:4-7
St. Bruno
Saint of the Day
St. Bruno (1030-1101) was born to a noble and prominent family in Cologne, Germany. He was well educated and excelled in his studies, and became a priest around the year 1055. He went on to direct and teach at the episcopal school at Reims for many years, earning a reputation as a learned scholar. After also serving as the chancellor of his archdiocese, he and a few companions left their positions in the diocese in order to follow a path of greater religious observance. In 1084 Bruno settled in the Chartreuse Mountains in France with a small group of scholars who, like himself, desired to become contemplative monks. This was the beginning of the Carthusian order founded by St. Bruno, combining the solitary life of hermits with the conventual life of religious observance. These alpine monks embraced a strictly disciplined life of poverty, labor, prayer, and fasting. After living six years of strict asceticism, St. Bruno was called to Rome by the Pope, who was his former student, to assist with the troubles and controversies rocking the Church. Bruno became a close advisor to the Pope and was allowed to return to monastic life only if he remained nearby within Italy, leading Bruno to establish a second Carthusian monastery there in 1095. St. Bruno wrote many manuscripts and commentaries during his life. His feast day is celebrated on October 6th.
Find a Devotional for this Saint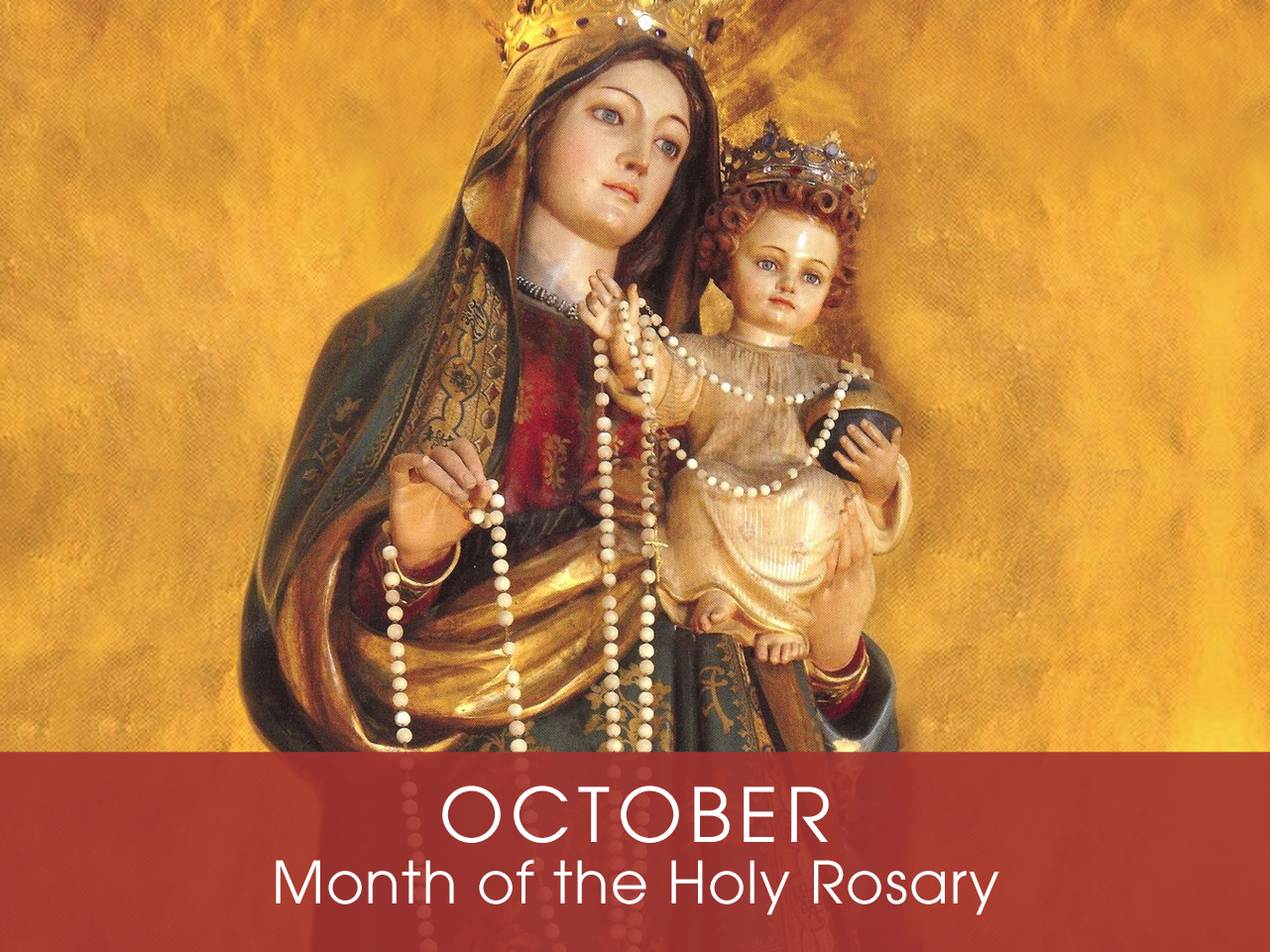 Month of the

Holy Rosary
Devotion of the Month
The Catholic Church designates October as the Month of the Holy Rosary. During this month the faithful venerate the Blessed Virgin Mary especially under her title of Our Lady of the Rosary, and make special effort to honor the Holy Rosary with group recitations and rosary processions. St. Dominic de Guzman, the founder of the Order of Preachers, is the saint to whom Our Lady famously appeared and gave the prayers of the Holy Rosary to assist him as a spiritual weapon in combating heresy and leading souls back to the one, true Catholic faith.
Find a Devotional or Sacramental
Daily Prayers
Prayer for the Dead
In your hands, O Lord, we humbly entrust our brothers and sisters.
In this life you embraced them with your tender love;
deliver them now from every evil and bid them eternal rest.
The old order has passed away: welcome them into paradise,
where there will be no sorrow, no weeping or pain,
but fullness of peace and joy with your Son and the Holy
Spirit forever and ever. Amen.
Prayer of Spiritual Communion
My Jesus, I believe that You are present in the most Blessed Sacrament. I love You above all things and I desire to receive You into my soul. Since I cannot now receive You sacramentally, come at least spiritually into my heart. I embrace You as if You were already there, and unite myself wholly to You. Never permit me to be separated from You. Amen.
Prayer for the Holy Father
Almighty and everlasting God, have mercy upon Thy servant, Pope Francis, our Supreme Pontiff, and direct him, according to Thy loving kindness, in the way of eternal salvation; that, of Thy gift, he may ever desire that which is pleasing unto Thee and may accomplish it with all his might. Through Christ Our Lord. Amen. Our Father. Hail Mary.