"God writes his name on the soul of every man." Archbishop Fulton Sheen
Today's

Meditation

"Now, may our God be our hope. He Who made all things is better than all things. He Who made all beautiful things is more beautiful than all of them. He Who made all mighty things is more mighty than all of them. He Who made all great things is greater than all of them. Learn to love the Creator in His creature, and the maker in what He has made."
—Saint Augustine, p. 136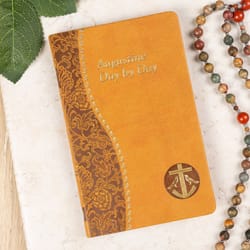 Daily

Verse
"Beloved, let us love one another, because love is of God; everyone who loves is begotten by God and knows God. Whoever is without love does not know God, for God is love." 1 John 4:7-8
Blessed Ambrose of Siena
Saint of the Day
Blessed Ambrose (1220-1286) was born in Siena, Italy, the son of a book illuminator. He was born so severely deformed that his parents could not bear the sight of him. They put their son in the care of a nurse who took the child with her to daily Mass at the Dominican church. The child, often fussy, would become calm when he was placed near the altar of relics, and would cry when he was removed. While praying at the altar, the nurse would conceal the child's hideous face with a scarf. This practice continued for a year. One day a pilgrim told the nurse to remove the baby's scarf and prophesied that the child would one day become a great man. A few days later, before the same altar, the child Ambrose stretched out his deformed limbs and pronounced the name of Jesus; from that moment he was miraculously healed into a beautiful and perfectly formed child. Blessed Ambrose grew in piety and was determined to become a Dominican friar. His family and friends opposed his plan and attempted to dissuade such a handsome and talented youth from becoming a poor friar. Ambrose overcame these obstacles and joined the Dominicans at the age of 17. He studied under St. Albert the Great along with St. Thomas Aquinas, and went on to become a preacher, teacher, missionary, diplomat, and peace-broker. His skills with diplomacy earned him the respect of kings and popes alike. His feast day is October 8th.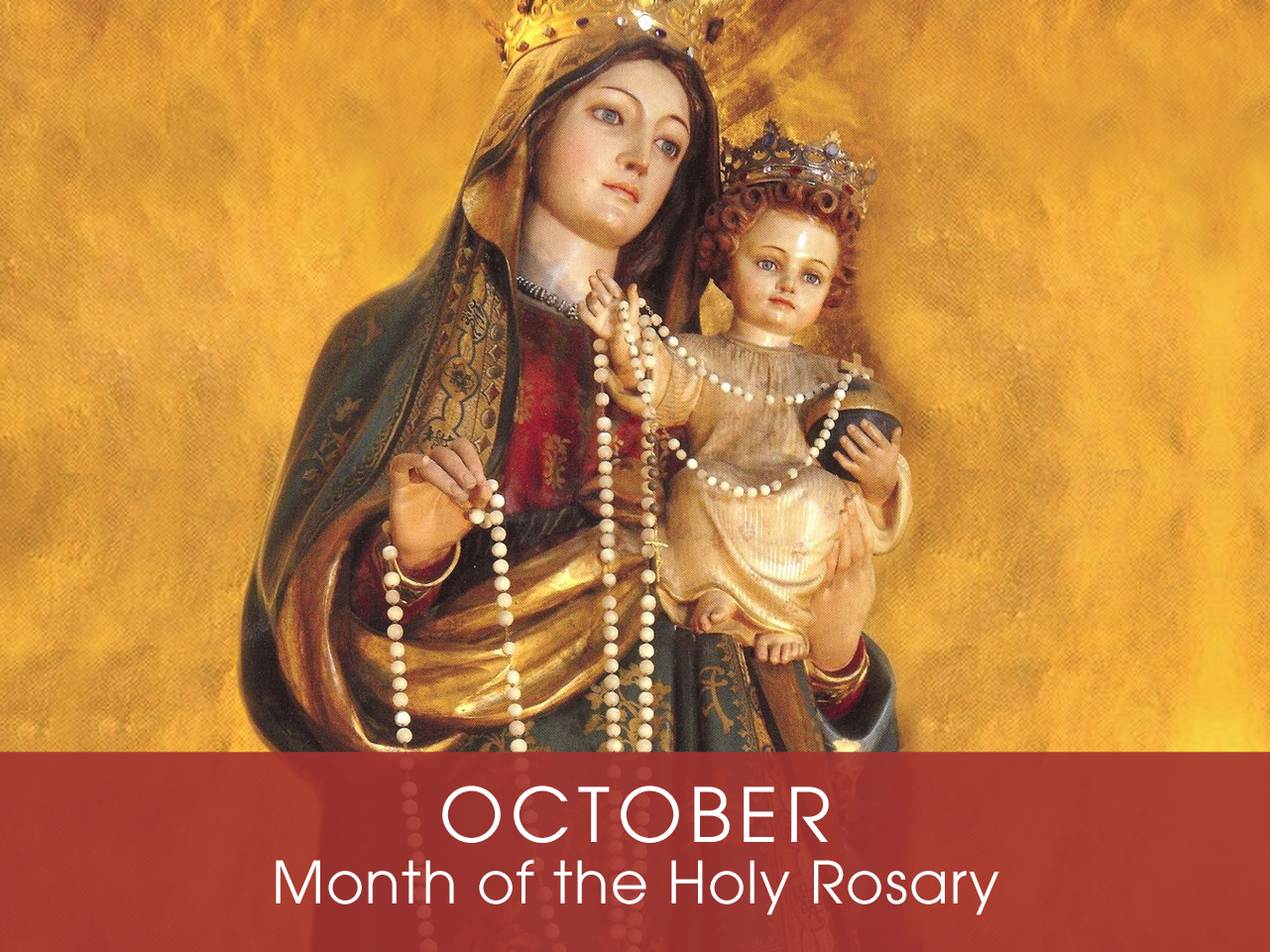 Month of the

Holy Rosary
Devotion of the Month
The Catholic Church designates October as the Month of the Holy Rosary. During this month the faithful venerate the Blessed Virgin Mary especially under her title of Our Lady of the Rosary, and make special effort to honor the Holy Rosary with group recitations and rosary processions. St. Dominic de Guzman, the founder of the Order of Preachers, is the saint to whom Our Lady famously appeared and gave the prayers of the Holy Rosary to assist him as a spiritual weapon in combating heresy and leading souls back to the one, true Catholic faith.
Find a Devotional or Sacramental
Daily Prayers
Prayer for the Dead
In your hands, O Lord, we humbly entrust our brothers and sisters.
In this life you embraced them with your tender love;
deliver them now from every evil and bid them eternal rest.
The old order has passed away: welcome them into paradise,
where there will be no sorrow, no weeping or pain,
but fullness of peace and joy with your Son and the Holy
Spirit forever and ever. Amen.
Prayer of Spiritual Communion
My Jesus, I believe that You are present in the most Blessed Sacrament. I love You above all things and I desire to receive You into my soul. Since I cannot now receive You sacramentally, come at least spiritually into my heart. I embrace You as if You were already there, and unite myself wholly to You. Never permit me to be separated from You. Amen.
Prayer for the Holy Father
Almighty and everlasting God, have mercy upon Thy servant, Pope Francis, our Supreme Pontiff, and direct him, according to Thy loving kindness, in the way of eternal salvation; that, of Thy gift, he may ever desire that which is pleasing unto Thee and may accomplish it with all his might. Through Christ Our Lord. Amen. Our Father. Hail Mary.