"We must faithfully keep what we have promised. If through human weakness we fail, we must always without delay arise again by means of holy penance, and give our attention to leading a good life and to dying a holy death. May the Father of all mercy, the Son by his holy passion, and the Holy Spirit, source of peace, sweetness and love, fill us with their consolation." St. Colette
Today's

Meditation

"Others, again, seeing their own imperfections, become angry with themselves with an impatience that is not humble. They are so impatient with their shortcomings as if they would be saints in one day. Many of these make many grand resolutions, but, being self-confident and not humble, the more they resolve, the more they fall, and the more angry they become; not having the patience to wait for God's time; this is also opposed to spiritual meekness. There is no perfect remedy for this but in the dark night. There are, however, some people who are so patient, and who advance so slowly in their spiritual progress, that God wishes they were not so patient." — St. John of the Cross, p. 24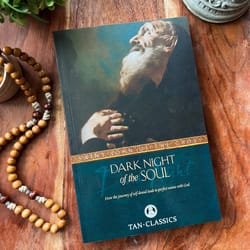 Daily

Verse
"Let love be sincere; hate what is evil, hold on to what is good love one another with mutual affection; anticipate one another in showing honor. Do not grow slack in zeal, be fervent in spirit, serve the Lord. Rejoice in hope, endure in affliction, persevere in prayer. Contribute to the needs of the holy ones, exercise hospitality." Romans 12:9-13
St. Edwin
Saint of the Day
St. Edwin (585-633 A.D.) was the son of the pagan King of Deira who reigned in present-day England. After his father was deposed from his throne, Edwin spent his childhood in exile to escape rival kings who considered his bloodline a threat to their rule. One day a stranger prophesied that Edwin would reclaim his father's throne if he promised to obey what would later be taught to him regarding his own eternal salvation. Eventually Edwin rose to power and regained the Kingdom of Deira which expanded to encompass all of Northumbria. After the death of his first wife, he married a Catholic princess. He permitted his wife to practice her faith freely and to have their children baptized. He also welcomed St. Paulinus, Archbishop of York, into his kingdom and accepted his religious instruction. Edwin became increasingly drawn to Christianity after a series of providential events, but he did not convert until St. Paulinus revealed to Edwin that he was the same stranger who, years before, prophesied about his future. Edwin then repented of his sins, accepted baptism, and became an exemplary Catholic king who contributed to the spread of Christianity across his kingdom. St. Edwin died in battle against a pagan army and is therefore considered to be a martyr for the Faith. His feast day is October 12.
Find a Devotional for this Saint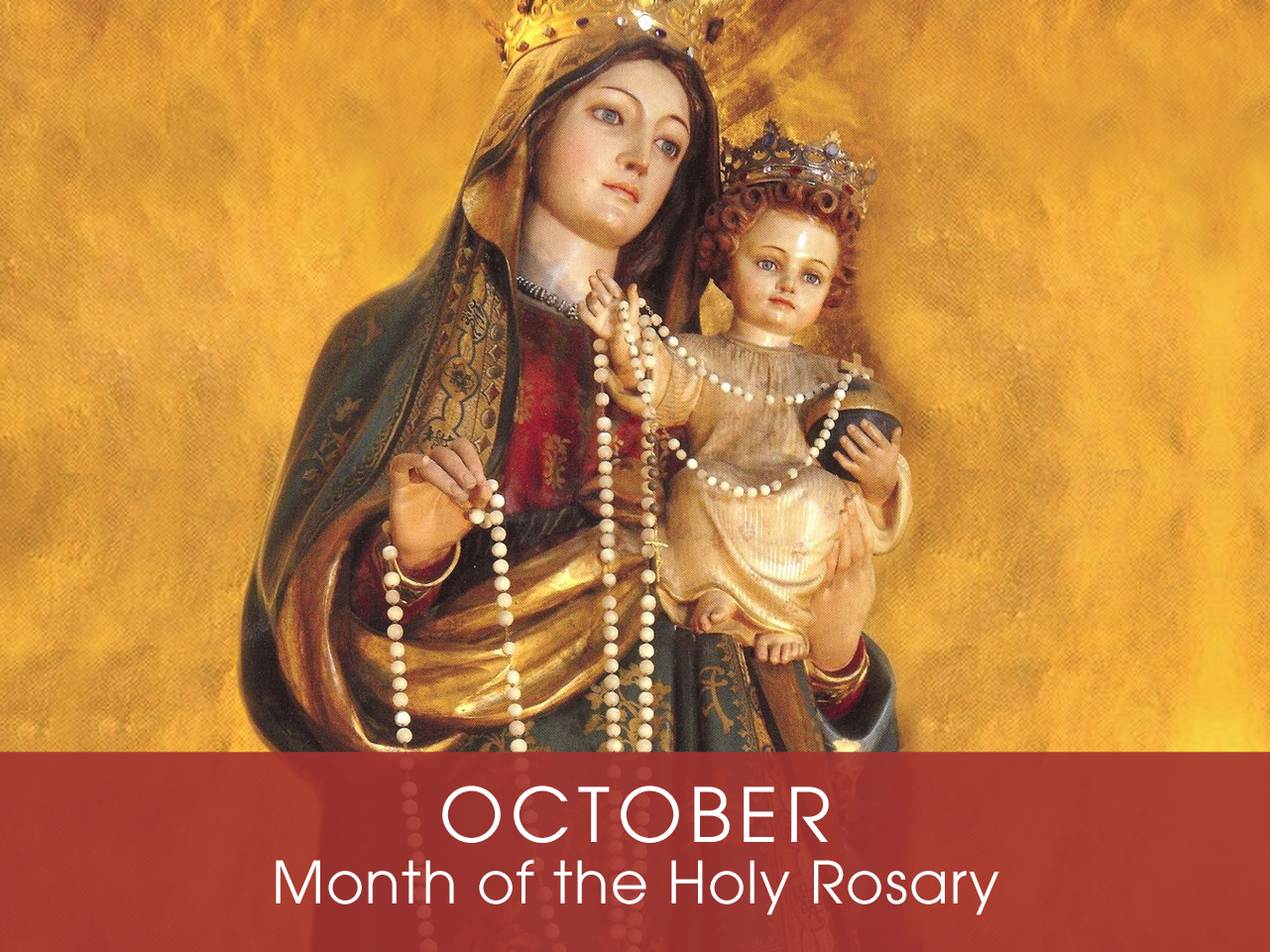 Month of the

Holy Rosary
Devotion of the Month
The Catholic Church designates October as the Month of the Holy Rosary. During this month the faithful venerate the Blessed Virgin Mary especially under her title of Our Lady of the Rosary, and make special effort to honor the Holy Rosary with group recitations and rosary processions. St. Dominic de Guzman, the founder of the Order of Preachers, is the saint to whom Our Lady famously appeared and gave the prayers of the Holy Rosary to assist him as a spiritual weapon in combating heresy and leading souls back to the one, true Catholic faith.
Find a Devotional or Sacramental
Daily Prayers
Prayer for the Dead
In your hands, O Lord, we humbly entrust our brothers and sisters.
In this life you embraced them with your tender love;
deliver them now from every evil and bid them eternal rest.
The old order has passed away: welcome them into paradise,
where there will be no sorrow, no weeping or pain,
but fullness of peace and joy with your Son and the Holy
Spirit forever and ever. Amen.
Prayer of Spiritual Communion
My Jesus, I believe that You are present in the most Blessed Sacrament. I love You above all things and I desire to receive You into my soul. Since I cannot now receive You sacramentally, come at least spiritually into my heart. I embrace You as if You were already there, and unite myself wholly to You. Never permit me to be separated from You. Amen.
Prayer for the Holy Father
Almighty and everlasting God, have mercy upon Thy servant, Pope Francis, our Supreme Pontiff, and direct him, according to Thy loving kindness, in the way of eternal salvation; that, of Thy gift, he may ever desire that which is pleasing unto Thee and may accomplish it with all his might. Through Christ Our Lord. Amen. Our Father. Hail Mary.