"It is not that I want merely to be called a Christian, but to actually be one. Yes, if I prove to be one, then I can have the name." St. Ignatius of Antioch
Today's

Meditation

"The Church, which has spread everywhere, even to the ends of the earth, received the faith from the apostles and their disciples … Having one soul and one heart, the Church holds this faith, preaches and teaches it consistently as though by a single voice. For though there are different languages, there is but one tradition. … Just as God's creature, the sun, is one and the same the world over, so also does the Church's preaching shine everywhere to enlighten all men who want to come to a knowledge of the truth. Now of those who speak with authority in the churches, no preacher however forceful will utter anything different—for no one is above the Master—nor will a less forceful preacher diminish what has been handed down. Since our faith is everywhere the same, no one who can say more augments it, nor can anyone who says less diminish it."
—St. Ignatius of Antioch, p. 194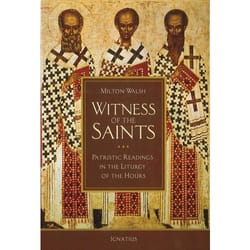 Daily

Verse
"Remain in me, as I remain in you. Just as a branch cannot bear fruit on its own unless it remains on the vine, so neither can you unless you remain in me. I am the vine, you are the branches. Whoever remains in me and I in him will bear much fruit, because without me you can do nothing." John 15:4-5
St. Ignatius of Antioch
Saint of the Day
St. Ignatius of Antioch (d. c. 98-117) was a Syrian who became a disciple of St. John the Apostle. Tradition holds that he was the infant whom Jesus took in his arms, saying, "Whoever welcomes one such child in my name welcomes me, and whoever welcomes me welcomes not me but the one who sent me" as recounted in Mark's Gospel. St. Ignatius was a pagan convert to Christianity and succeeded St. Peter the Apostle as the third bishop of Antioch, being ordained by St. Peter himself. He was an important Church Father of the Apostolic age, an ideal pastor, and a fearless soldier of Christ. He was tireless in supporting his flock against dangerous heresies and the terrors of the persecutions of the Roman Emperors. When Ignatius violated the imperial edict to worship false gods, he was arrested and led before Emperor Trajan. After boldly proclaiming the truth of Jesus Christ, he was condemned to be devoured by wild beasts for public sport in the Roman Colosseum. On his journey from Syria to Rome he wrote many letters to his fellow Christians, encouraging them with his apostolic zeal and exhorting them to obey their bishops. He also pleaded that none try to obtain his release, as he was eager to lay down his life for Jesus, saying, "The only thing I ask of you is to allow me to offer the libation of my blood to God. I am the wheat of the Lord; may I be ground by the teeth of the beasts to become the immaculate bread of Christ." He was devoured by lions in Rome in the early second century. St. Ignatius of Antioch is the first to have used the term "Catholic" Church, meaning "Universal." His feast day is October 17th.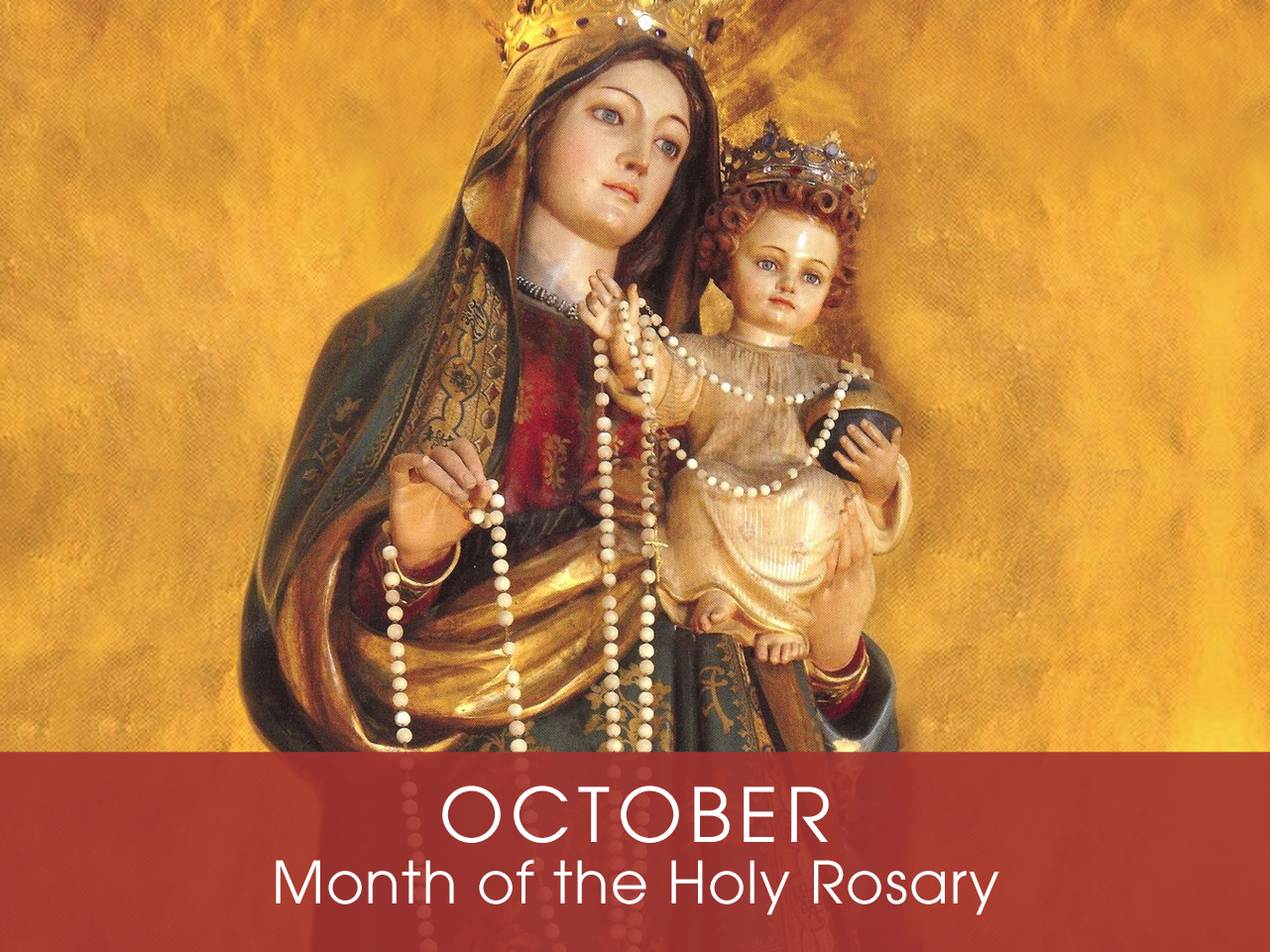 Month of

the Holy Rosary
Devotion of the Month
The Catholic Church designates October as the Month of the Holy Rosary. During this month the faithful venerate the Blessed Virgin Mary especially under her title of Our Lady of the Rosary, and make special effort to honor the Holy Rosary with group recitations and rosary processions. St. Dominic de Guzman, the founder of the Order of Preachers, is the saint to whom Our Lady famously appeared and gave the prayers of the Holy Rosary to assist him as a spiritual weapon in combating heresy and leading souls back to the one, true Catholic faith.
Find a Devotional or Sacramental
Daily Prayers
Prayer for the Dead
In your hands, O Lord, we humbly entrust our brothers and sisters.
In this life you embraced them with your tender love;
deliver them now from every evil and bid them eternal rest.
The old order has passed away: welcome them into paradise,
where there will be no sorrow, no weeping or pain,
but fullness of peace and joy with your Son and the Holy
Spirit forever and ever. Amen.
Prayer of Spiritual Communion
My Jesus, I believe that You are present in the most Blessed Sacrament. I love You above all things and I desire to receive You into my soul. Since I cannot now receive You sacramentally, come at least spiritually into my heart. I embrace You as if You were already there, and unite myself wholly to You. Never permit me to be separated from You. Amen.
Prayer for the Holy Father
Almighty and everlasting God, have mercy upon Thy servant, Pope Francis, our Supreme Pontiff, and direct him, according to Thy loving kindness, in the way of eternal salvation; that, of Thy gift, he may ever desire that which is pleasing unto Thee and may accomplish it with all his might. Through Christ Our Lord. Amen. Our Father. Hail Mary.