"When we contemplate the sufferings of Jesus He grants us, according to the measure of our faith, the grace to practice the virtues He revealed during those sacred hours." Bl Columba Marmion
Today's

Meditation

"Now, as he was riding one day over the plain of Assisi he met a leper, whose sudden appearance filled him with fear and horror; but forthwith calling to mind the resolution which he had made to follow after perfection, and remembering that if he would be a soldier of Christ he must first overcome himself, he dismounted from his horse and went to meet the leper, that he might embrace him: and when the poor man stretched out his hand to receive an alms, he kissed it and filled it with money. Having again mounted his horse, he looked around him over the wide and open plain, but nowhere could he see the leper; upon which, being filled with wonder and joy, he began devoutly to give thanks to God, purposing within himself to proceed to still greater things than this." — St. Bonaventure, p. 4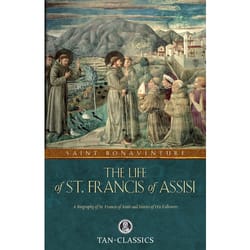 Daily

Verse
"And this is the testimony: God gave us eternal life, and this life is in his Son. Whoever possesses the Son has life; whoever does not possess the Son of God does not have life." 1 John 5:11-12
Four Crowned Martyrs
Saint of the Day
According to tradition the Four Crowned Martyrs (d. 305 A.D.) were renowned sculptors living in what is today Austria-Hungary. They were commissioned by Roman Emperor Diocletian to make several sculptures; however, when he requested a sculpture of the pagan god Aesculapius for a heathen temple, they refused to carve it. Their refusal exposed them as Christians during Diocletian's fierce persecution against Christianity. The men refused to sacrifice to the pagan gods to save their lives, and were condemned to death by being placed alive in lead caskets and cast into a river. The Four Crowned Martyrs are closely associated with an earlier group of four soldiers, also killed during the persecutions of Diocletian two years before, who died by being beaten to death with leaden clubs after refusing to sacrifice to the god Aesculapius. Because their names were originally unknown, they were called the Four Crowned Martyrs. Their relics were first venerated in the Roman catacombs before a basilica was erected in their honor on Caelian Hill. The two groups of martyrs, both called the Four Crowned Martyrs until their names were afterward discovered, are honored together on November 8th.
Total Consecration to Jesus Through Mary
Day 4
PART ONE: 12 Preliminary Days Theme: Emptying yourself of the spirit of the world Daily Prayers: Veni Creator, Ave Maris Stella, Magnificat Readings: Imitation of Christ
Readings and prayers for Day 4 of 33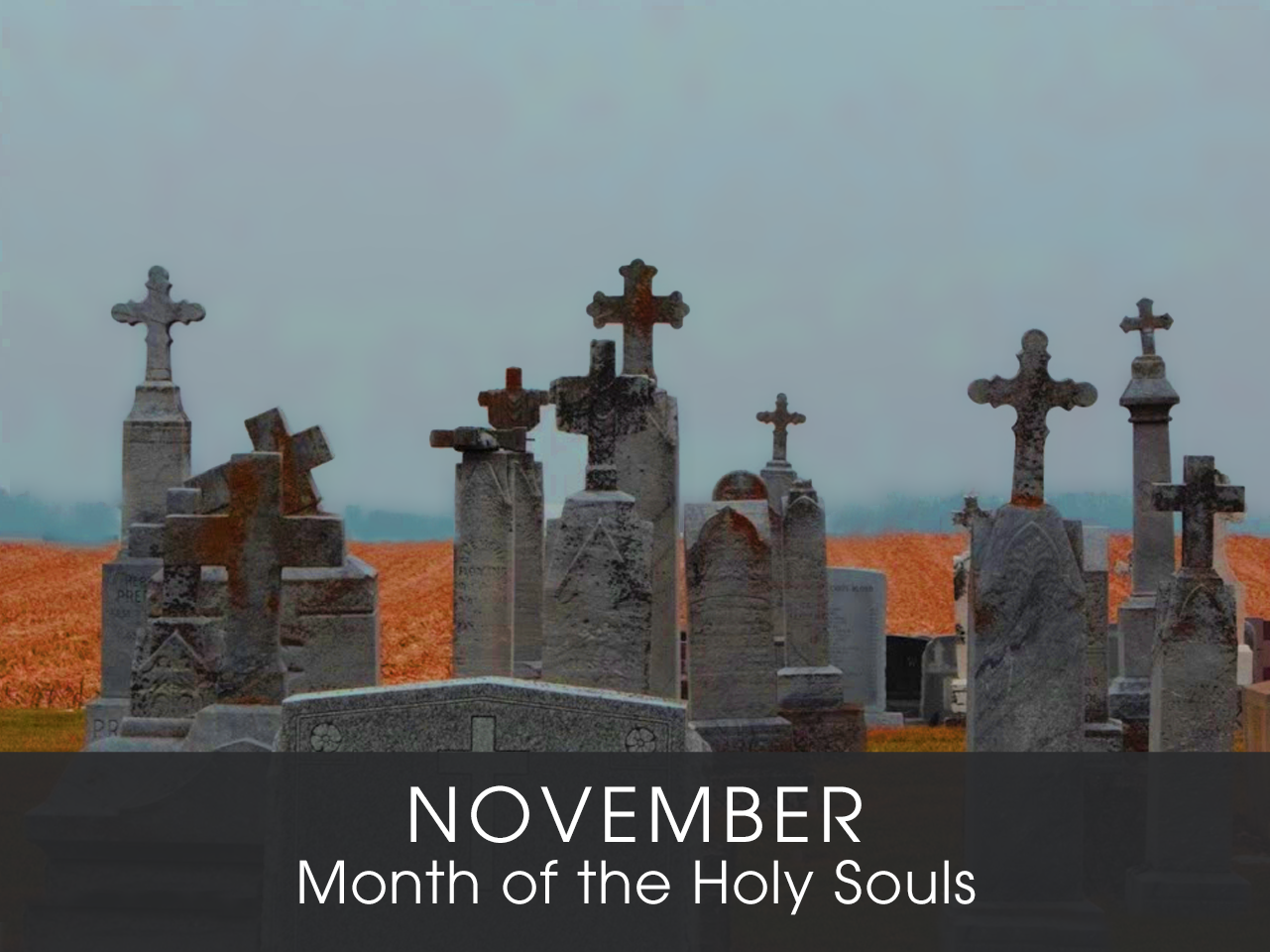 Month of the

Holy Souls
Devotion of the Month
The Catholic Church dedicates the entire month of November to praying in a special way for the Holy Souls in Purgatory. The Holy Souls (also called the Faithful Departed) are members of the Church who await the purification of their souls before joining the saints in heaven for all eternity. Specifically, they are referred to as the Church Suffering (the saints in heaven are the Church Triumphant, and the faithful on earth are the Church Militant).The poor souls in purgatory cannot pray for themselves or do anything to hasten their entrance into heaven, but we can and ought to pray for them as an act of charity. The feast of the Holy Souls is November 2nd.
Find a Devotional or Sacramental
Daily Prayers
Prayer for the Dead
In your hands, O Lord, we humbly entrust our brothers and sisters.
In this life you embraced them with your tender love;
deliver them now from every evil and bid them eternal rest.
The old order has passed away: welcome them into paradise,
where there will be no sorrow, no weeping or pain,
but fullness of peace and joy with your Son and the Holy
Spirit forever and ever. Amen.
Prayer of Spiritual Communion
My Jesus, I believe that You are present in the most Blessed Sacrament. I love You above all things and I desire to receive You into my soul. Since I cannot now receive You sacramentally, come at least spiritually into my heart. I embrace You as if You were already there, and unite myself wholly to You. Never permit me to be separated from You. Amen.
Prayer for the Holy Father
Almighty and everlasting God, have mercy upon Thy servant, Pope Francis, our Supreme Pontiff, and direct him, according to Thy loving kindness, in the way of eternal salvation; that, of Thy gift, he may ever desire that which is pleasing unto Thee and may accomplish it with all his might. Through Christ Our Lord. Amen. Our Father. Hail Mary.