"O Holy Family—the Family so closely united to the mystery which we contemplate on the day of the Lord's Birth—guide with your example the families of the whole earth!" Pope St. John Paul II
Today's

Meditation

"If you would suffer with patience the adversities and miseries of this life, be a man of prayer. If you would obtain courage and strength to conquer the temptations of the enemy, be a man of prayer. If you would mortify your own will with all its inclinations and appetites, be a man of prayer. If you would know the wiles of Satan and unmask his deceits, be a man of prayer. If you would live in joy and walk pleasantly in the ways of penance, be a man of prayer. If you would banish from you soul the troublesome flies of vain thoughts and cares, be a man of prayer. If you would nourish your soul with the very sap of devotion, and keep it always full of good thoughts and good desires, be a man of prayer. If you would strengthen and keep up your courage in the ways of God, be a man of prayer. In fine, if you would uproot all vices from your soul and plant all virtues in their place, be a man of prayer. It is in prayer that we receive the unction and grace of the Holy Ghost, who teaches all things."
—St. Bonaventure, p. 25-26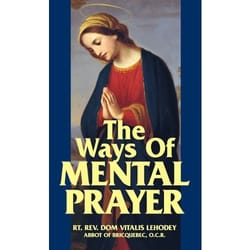 Daily

Verse
"No, you have approached Mount Zion and the city of the living God, the heavenly Jerusalem, and countless angels in festal gathering, and the assembly of the firstborn enrolled in heaven, and God the judge of all, and the spirits of the just made perfect, and Jesus, the mediator of a new covenant, and the sprinkled blood that speaks more eloquently than that of Abel." Hebrews 12:22-24
Saint Anysia of Salonika
Saint of the Day
St. Anysia of Salonika (d. c. 298 A.D.), also known as St. Anysia of Thessalonica, was born to wealthy and pious Christian parents near Thessalonica, Greece. After the death of her parents, while she was still a young lady, Anysia dedicated her life completely to Christ. She made private vows of chastity and poverty, spent her days in fasting and prayer, and gave her wealth to the poor. She lived under the persecutions of the Roman Emperor Maximian, who declared that anyone who met a Christian could kill them without trial. One Sunday while on her way to church, St. Anysia was harassed by a Roman soldier. In one account he attempted to force her to make sacrifice to the pagan sun god. Anysia refused, declared her commitment to Christ, and spat in the soldier's face. Enraged, the soldier ran her through with his sword, winning Anysia the crowns of virginity and martyrdom. Her feast day is December 30.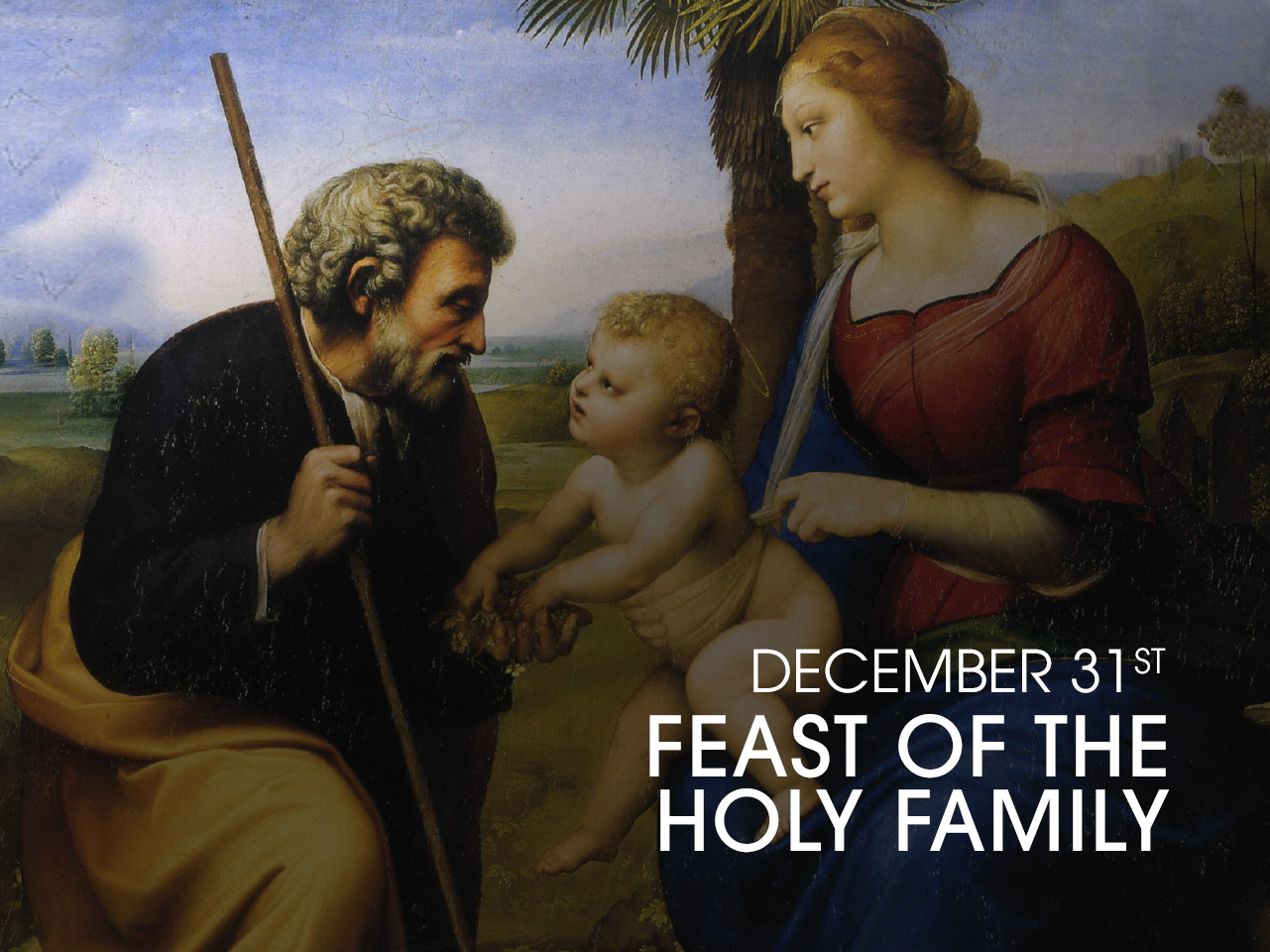 The Holy Family
Feast Day
Jesus and his mother, the Blessed Virgin Mary, and his earthly guardian, protector, and foster-father, St. Joseph, make up the Holy Family. God was made incarnate into the embrace of the human family, and the majority of Jesus' earthly life was spent in the quiet happiness of domestic life with his mother and father. This sacred time, known as the "hidden life" of Jesus, is one of which we know little from Sacred Scripture. The feast of the Holy Family is celebrated on the Sunday within the octave of Christmas. If Christmas falls on a Sunday, the feast of the Holy Family is celebrated on December 30th.
See More About Today's Feast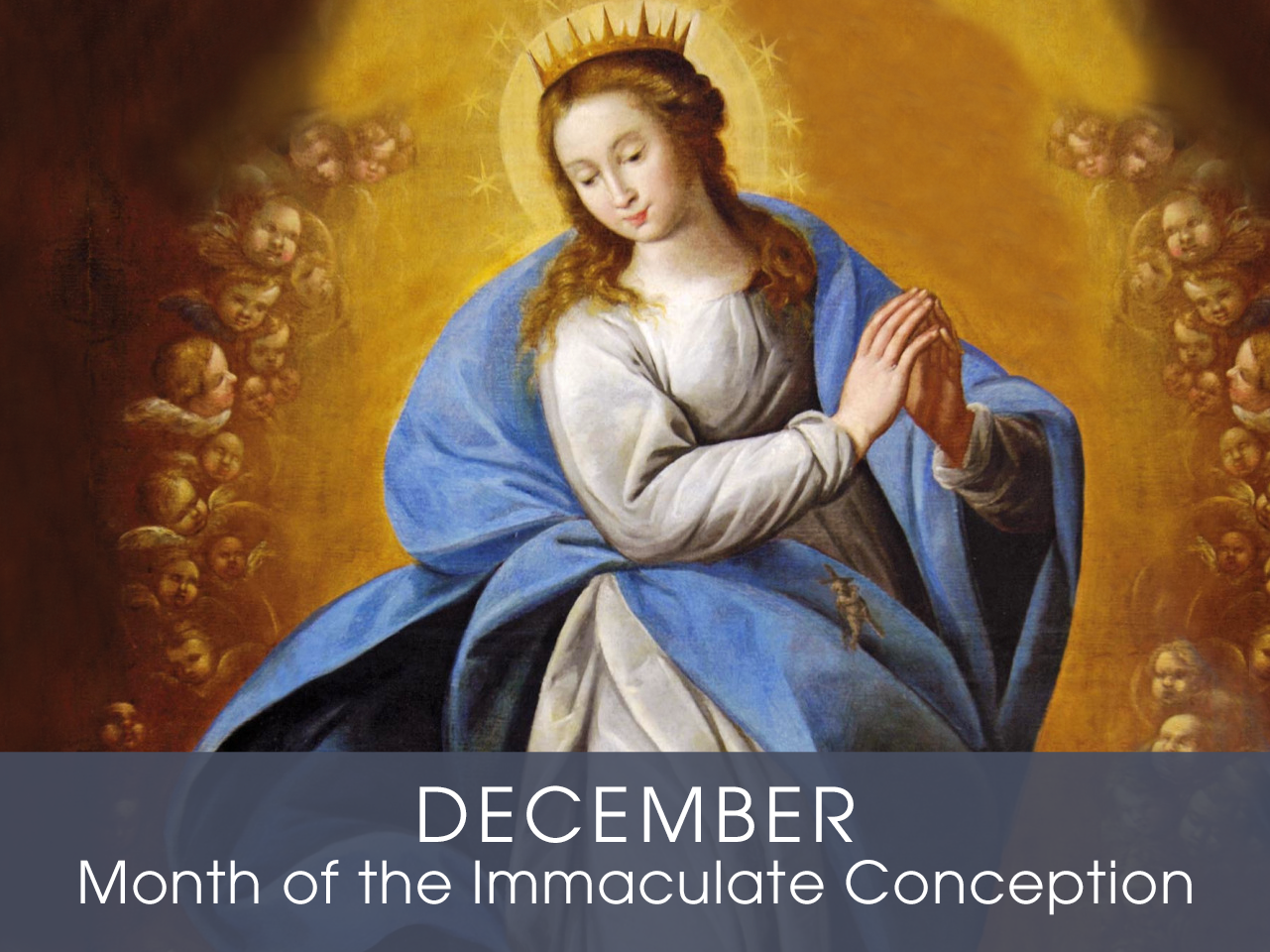 Month of the

Immaculate Conception
Devotion of the Month
The month of December is dedicated to the Immaculate Conception of the Blessed Virgin Mary. Chosen before time to be the Mother of God Incarnate, Jesus Christ, God created Mary perfect and full of grace, preserving her from the stain of Original Sin. Mary Immaculate is the most beautiful fruit of the work of redemption accomplished by her Son, thereby making her the perfect model of holiness for all Christians.
Find a Devotional or Sacramental
Daily Prayers
Prayer for the Dead
In your hands, O Lord, we humbly entrust our brothers and sisters.
In this life you embraced them with your tender love;
deliver them now from every evil and bid them eternal rest.
The old order has passed away: welcome them into paradise,
where there will be no sorrow, no weeping or pain,
but fullness of peace and joy with your Son and the Holy
Spirit forever and ever. Amen.
Prayer of Spiritual Communion
My Jesus, I believe that You are present in the most Blessed Sacrament. I love You above all things and I desire to receive You into my soul. Since I cannot now receive You sacramentally, come at least spiritually into my heart. I embrace You as if You were already there, and unite myself wholly to You. Never permit me to be separated from You. Amen.
Prayer for the Holy Father
Almighty and everlasting God, have mercy upon Thy servant, Pope Francis, our Supreme Pontiff, and direct him, according to Thy loving kindness, in the way of eternal salvation; that, of Thy gift, he may ever desire that which is pleasing unto Thee and may accomplish it with all his might. Through Christ Our Lord. Amen. Our Father. Hail Mary.