"Can there be a more fitting pursuit in youth or a more valuable possession in old age than a knowledge of Holy Scripture? In the midst of storms it will preserve you from the dangers of shipwreck and guide you to the shore of an enchanting paradise and the ever-lasting bliss of the angels." St. Boniface
Today's

Meditation

"Know that our faith is strengthened by the resurrection of Christ. The passion of Christ represents the misery of our present life, while the resurrection of Christ gives us a brilliant glimpse of the happiness of the future life. Let us apply ourselves energetically in the present life, and hope in the future. Now is the time for painful struggle; then will come the recompense. Those who are lazy about carrying out their work will be brazenly impudent if they expect the recompense."
—St. Augustine, p. 61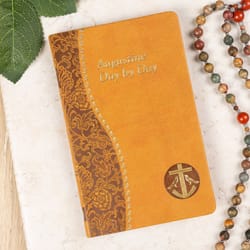 Daily

Verse
"Therefore, from the day we heard this, we do not cease praying for you and asking that you may be filled with the knowledge of his will through all spiritual wisdom and understanding to live in a manner worthy of the Lord, so as to be fully pleasing, in every good work bearing fruit and growing in the knowledge of God." Colossians 1:9-10
Bl. Maria Fortunata Viti
Saint of the Day
Blessed Maria Fortunata Viti (1827–1922) was born in Italy, the eldest daughter of nine children. Her father had a gambling and alcohol addiction, and her mother died when she was 14 years old. Maria then cared for her younger siblings and worked as a housekeeper to earn money for the family as her father sunk deeper into his addiction. Maria rejected an offer for marriage, deciding instead to become a Benedictine nun at the age of 24. Sr. Maria Fortunata, illiterate her entire life, spent more than seventy years in the monastery as a housekeeper attending to the washing, sewing, and other simple tasks, which was her path to holiness. She was admired for her great simplicity of heart, and her confessor testified that she was often accosted by the devil with threats, physical attacks, and vile insults in attempts to break her virtue. She had great devotion to the Blessed Sacrament and made frequent visits to the chapel tabernacle as she carried out her daily tasks. She died at the age of 95, and after her death miracles were reported at her grave. She is a patron saint against poverty, temptations, loss of parents, and mental illness. Her feast day is November 20th.
Total Consecration to Jesus Through Mary
Day 16
PART TWO: Week One
Theme: Knowledge of Self Daily
Prayers: Litany of the Holy Spirit, Litany of Loreto, Ave Maris Stella
Readings: Imitation of Christ, True Devotion to Mary
Readings and prayers for Day 16 of 33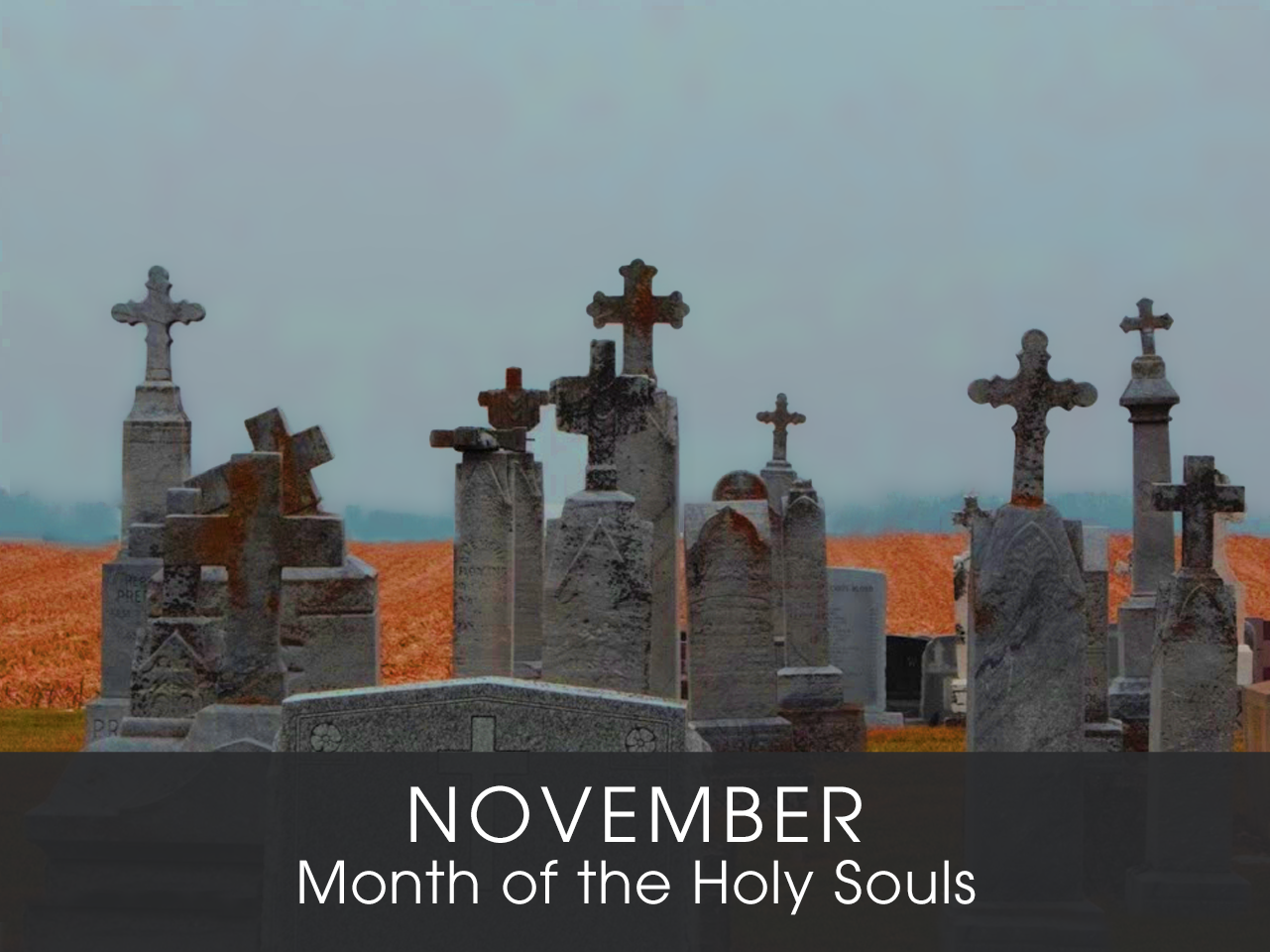 Month of

the Holy Souls
Devotion of the Month
The Catholic Church dedicates the entire month of November to praying in a special way for the Holy Souls in Purgatory. The Holy Souls (also called the Faithful Departed) are members of the Church who await the purification of their souls before joining the saints in heaven for all eternity. Specifically, they are referred to as the Church Suffering (the saints in heaven are the Church Triumphant, and the faithful on earth are the Church Militant).The poor souls in purgatory cannot pray for themselves or do anything to hasten their entrance into heaven, but we can and ought to pray for them as an act of charity. The feast of the Holy Souls is November 2nd.
Find a Devotional or Sacramental
Daily Prayers
Prayer for the Dead
In your hands, O Lord, we humbly entrust our brothers and sisters.
In this life you embraced them with your tender love;
deliver them now from every evil and bid them eternal rest.
The old order has passed away: welcome them into paradise,
where there will be no sorrow, no weeping or pain,
but fullness of peace and joy with your Son and the Holy
Spirit forever and ever. Amen.
Prayer of Spiritual Communion
My Jesus, I believe that You are present in the most Blessed Sacrament. I love You above all things and I desire to receive You into my soul. Since I cannot now receive You sacramentally, come at least spiritually into my heart. I embrace You as if You were already there, and unite myself wholly to You. Never permit me to be separated from You. Amen.
Prayer for the Holy Father
Almighty and everlasting God, have mercy upon Thy servant, Pope Francis, our Supreme Pontiff, and direct him, according to Thy loving kindness, in the way of eternal salvation; that, of Thy gift, he may ever desire that which is pleasing unto Thee and may accomplish it with all his might. Through Christ Our Lord. Amen. Our Father. Hail Mary.