"Men do not fear a powerful hostile army as the powers of hell fear the name and protection of Mary." St. Bonaventure
Today's

Meditation

"Essentially a soldier, the Christian is always on the lookout. He has sharper ears and hears an undertone that others miss; his eyes see things in a particularly candid light, and he senses something to which others are insensible, the streaming of a vital current through all things. He is never submerged in life, but keeps his head and shoulders clear of it and his eyes free to look upward. Consequently he has a deeper sense of responsibility than others. When this awareness and watchfulness disappear, Christian life loses its edge; it becomes dull and ponderous."
—Fr. Romano Guardini, p. 177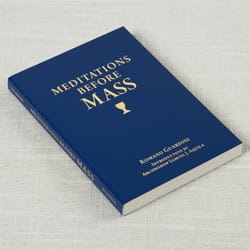 Daily

Verse
"See what love the Father has bestowed on us that we may be called the children of God. Yet so we are. The reason the world does not know us is that it did not know him." 1 John 3:1
St. Cecilia
Saint of the Day
St. Cecilia (3rd c.) is one of the most venerated of the virgin martyrs of Rome. Her name is in the Roman Canon of the Mass. According to tradition she made a private vow of chastity to Jesus, yet her parents promised her in marriage to a suitor. On her wedding night, St. Cecilia told her husband that she had not only made a vow to remain a virgin, but that an angel guarded her purity. Her husband agreed to honor her vow and follow Christ if he could also see her guardian angel. She instructed him to first be baptized, and afterwards he was able to see her angel. Cecilia's brother-in-law also converted, and both men were eventually martyred for their faith; but not without first converting their jailer. St. Cecilia was later arrested and also sentenced to death. An executioner struck three blows but was not successful in severing her head from her body; instead, she survived for three days preaching to those who visited her in prison until her last breath. They lovingly soaked up the blood from her wounds with clothes and sponges. Her relics, along with those of her husband, his brother, and the converted jailor, were placed in the church of St. Cecilia in Rome. Because she sang hymns to Jesus in her heart on her wedding day, St. Cecilia is the patron saint of musicians. Her feast day is celebrated on November 22nd.
Find a Devotional for this Saint
Total Consecration to Jesus Through Mary
Day 18
PART TWO: Week One
Theme: Knowledge of Self Daily
Prayers: Litany of the Holy Spirit, Litany of Loreto, Ave Maris Stella
Readings: Gospel of Luke, Imitation of Christ
Readings and prayers for Day 18 of 33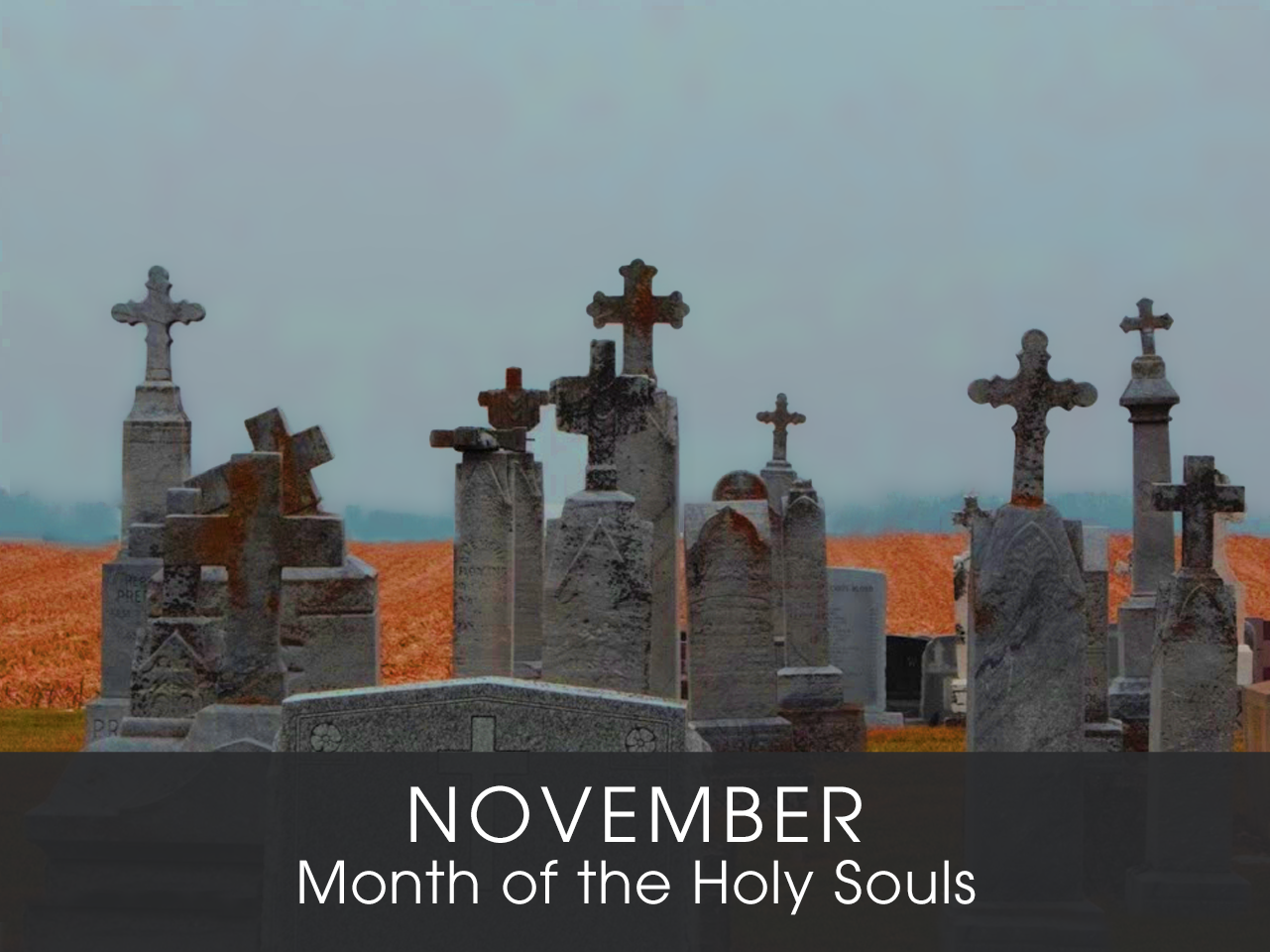 Month of

the Holy Souls
Devotion of the Month
The Catholic Church dedicates the entire month of November to praying in a special way for the Holy Souls in Purgatory. The Holy Souls (also called the Faithful Departed) are members of the Church who await the purification of their souls before joining the saints in heaven for all eternity. Specifically, they are referred to as the Church Suffering (the saints in heaven are the Church Triumphant, and the faithful on earth are the Church Militant).The poor souls in purgatory cannot pray for themselves or do anything to hasten their entrance into heaven, but we can and ought to pray for them as an act of charity. The feast of the Holy Souls is November 2nd.
Find a Devotional or Sacramental
Daily Prayers
Prayer for the Dead
In your hands, O Lord, we humbly entrust our brothers and sisters.
In this life you embraced them with your tender love;
deliver them now from every evil and bid them eternal rest.
The old order has passed away: welcome them into paradise,
where there will be no sorrow, no weeping or pain,
but fullness of peace and joy with your Son and the Holy
Spirit forever and ever. Amen.
Prayer of Spiritual Communion
My Jesus, I believe that You are present in the most Blessed Sacrament. I love You above all things and I desire to receive You into my soul. Since I cannot now receive You sacramentally, come at least spiritually into my heart. I embrace You as if You were already there, and unite myself wholly to You. Never permit me to be separated from You. Amen.
Prayer for the Holy Father
Almighty and everlasting God, have mercy upon Thy servant, Pope Francis, our Supreme Pontiff, and direct him, according to Thy loving kindness, in the way of eternal salvation; that, of Thy gift, he may ever desire that which is pleasing unto Thee and may accomplish it with all his might. Through Christ Our Lord. Amen. Our Father. Hail Mary.