"Advent's intention is to awaken the most profound and basic emotional memory within us, namely, the memory of the God who became a child. This is a healing memory; it brings hope." Pope Benedict XVI
Today's

Meditation

"When our Lord bade us "to pray always" He did not mean to ask us to be constantly in the act of prayer but only to live in the state of prayer. Let us note the difference: to be constantly in the act of prayer would be to fill our life's course with religious exercises alone!…Even in the most contemplative lives, this is never done. There is always a place for certain activities that are more or less secular: meals, recreations, sleep, and the like. Living in a state of prayer does not aim at an impossible existence. The part of our lives devoted to religious exercises will mean that in all things, although it might be a question of a secular action, we will have no other purpose than to give glory to God…always to have an intention directed as much as possible toward God."
—Raoul Lus, S.J., p. 32-33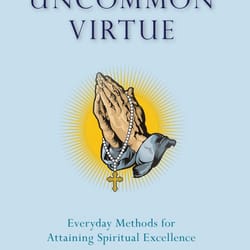 Daily

Verse
"Hear, O Lord, when I cry aloud, be gracious to me and answer me! Thou hast said, "Seek ye my face." My heart says to thee, "Thy face, Lord, do I seek." Hide not thy face from me. Turn not thy servant away in anger, thou who hast been my help. Cast me not off, forsake me not, O God of my salvation!" Psalm 27:7-9
St. Edmund Campion
Saint of the Day
St. Edmund Campion (1540–1581) was born in London, England, the son of a bookseller. He was a promising student and went on to become an esteemed and celebrated Oxford scholar, winning the high regard of Queen Elizabeth who admired his wit and pleasant disposition. Although raised Catholic, he was ordained an Anglican deacon. Unsettled by his move away from the Church, he repented and returned to the Catholic faith. While in disguise to protect his safety following his reversion, he witnessed the martyrdom of a fellow scholar and recognized his vocation. He went to Rome and became a Jesuit priest, and while assigned to minister in Moravia he received a vision of the Blessed Virgin Mary who foretold his martyrdom. He later returned to England as an undercover priest during the severe persecution of Catholics upon the Pope's excommunication of Queen Elizabeth. His mission was to strengthen Catholics wavering under government pressure and win converts among the Protestants. St. Edmund was eventually hunted down, imprisoned in the Tower of London, and tortured. After being found guilty of treason, he said, "In condemning us, you condemn all your own ancestors, all our ancient bishops and kings, all that was once the glory of England — the island of saints, and the most devoted child of the See of Peter." After spending his last days in prayer, he was dragged with two fellow priests to be hanged, drawn, and quartered on December 1st, 1581 at 41 years of age. His feast day is December 1st.
Find a Devotional for this Saint
Total Consecration to Jesus Through Mary
Day 27
PART TWO: Week Three
Theme: Knowledge of Jesus Christ
Daily Prayers: Litany of the Holy Spirit, Ave Maris Stella, Litany of the Holy Name of Jesus, St. Louis de Montfort's Prayer to Jesus, O Jesus Living in Mary
Readings: True Devotion to Mary
Readings and prayers for Day 27 of 33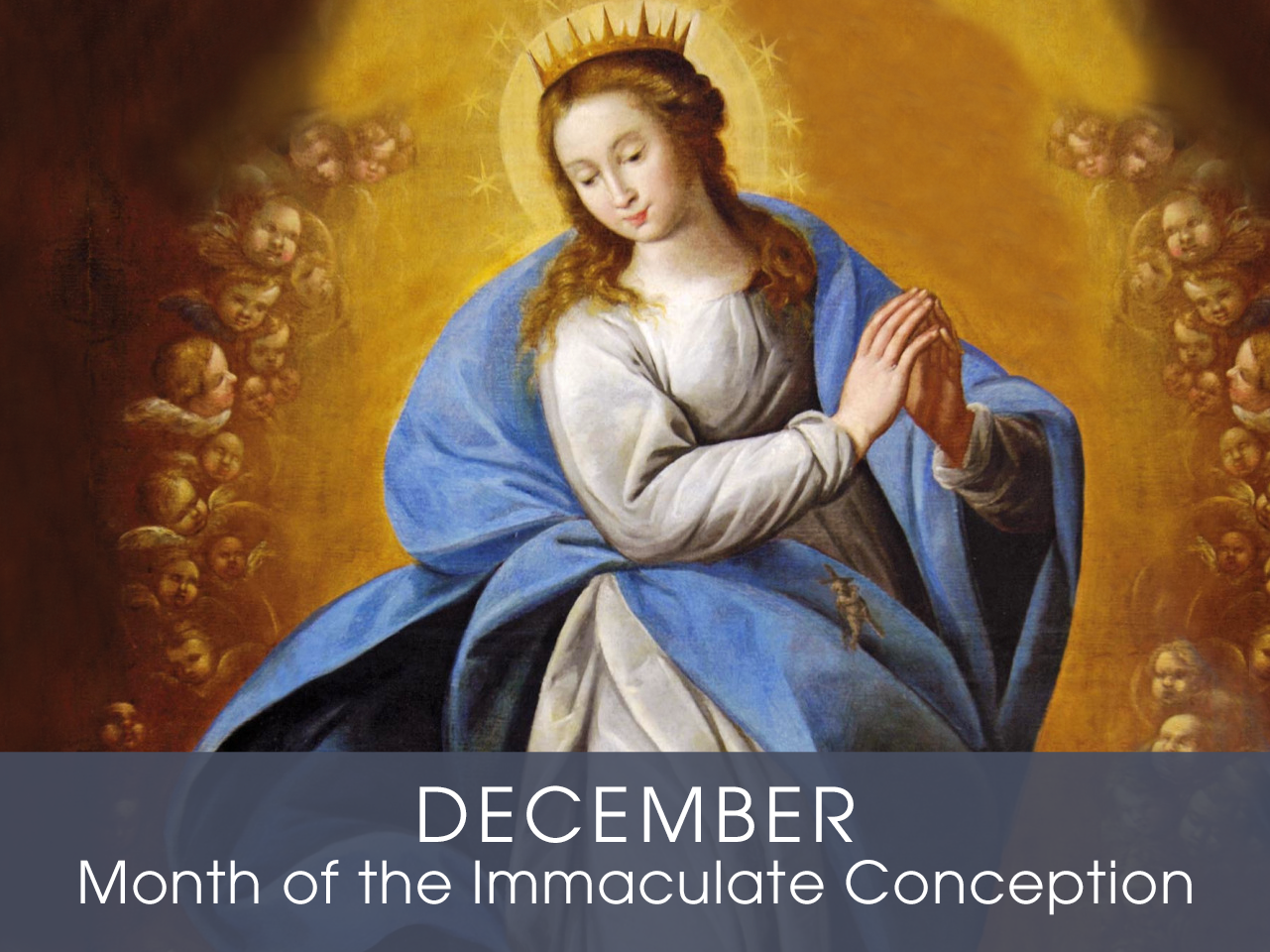 Month of

the Immaculate Conception
Devotion of the Month
The month of December is dedicated to the Immaculate Conception of the Blessed Virgin Mary. Chosen before time to be the Mother of God Incarnate, Jesus Christ, God created Mary perfect and full of grace, preserving her from the stain of Original Sin. Mary Immaculate is the most beautiful fruit of the work of redemption accomplished by her Son, thereby making her the perfect model of holiness for all Christians.
Find a Devotional or Sacramental
Daily Prayers
Prayer for the Dead
In your hands, O Lord, we humbly entrust our brothers and sisters.
In this life you embraced them with your tender love;
deliver them now from every evil and bid them eternal rest.
The old order has passed away: welcome them into paradise,
where there will be no sorrow, no weeping or pain,
but fullness of peace and joy with your Son and the Holy
Spirit forever and ever. Amen.
Prayer of Spiritual Communion
My Jesus, I believe that You are present in the most Blessed Sacrament. I love You above all things and I desire to receive You into my soul. Since I cannot now receive You sacramentally, come at least spiritually into my heart. I embrace You as if You were already there, and unite myself wholly to You. Never permit me to be separated from You. Amen.
Prayer for the Holy Father
Almighty and everlasting God, have mercy upon Thy servant, Pope Francis, our Supreme Pontiff, and direct him, according to Thy loving kindness, in the way of eternal salvation; that, of Thy gift, he may ever desire that which is pleasing unto Thee and may accomplish it with all his might. Through Christ Our Lord. Amen. Our Father. Hail Mary.